Japan's only site where four stone circles were discovered
Isedotai Ruins is a late Jomon Period (ca. 3,000-300 B.C.) archaeological site discovered during the construction of a highway leading to Odate-Noshiro Airport. Featuring four stone circles, the remains have been designated a National Historic Site of Japan in 2001 as a valuable site that reveals the world view and social structure of the people in the Jomon Period.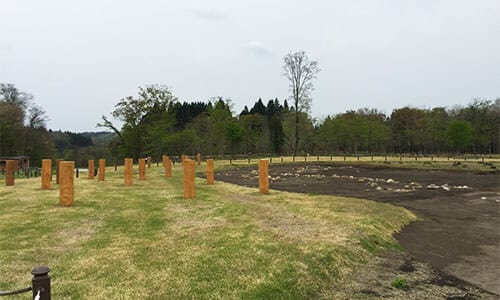 The site is located approximately five minutes by car from Odate-Noshiro Airport in northern Akita Prefecture. Formed roughly 4,000 years ago, four stone circles and several remains were discovered including buildings, pillars, pit graves and stone arrangements. Approximately 200 clay figurines called "dogu" were also unearthed from the site. However, most of them were excavated in fragments as it appears that the figurines were intentionally broken into pieces after the wish was fulfilled, thus only one figurine could be restored to its complete shape.
Location
Name
Isedotai Ruins
Website
https://stayakita.com/things-to-do/things-to-do-79
Address
Isedotai, Wakigami, Kitaakita-shi, Akita
Access
Approximately 15 minutes' drive from JR Takanosu Station
Approximately 5 minutes' walk from Jomon-Ogata Station on the Akita Nairiku Line
Inquiries
TEL: 0186-84-8710 (Isedotai Jomonkan Museum)