The best-known stone circles from the Jomon Period in Akita Prefecture
As you drive from Kazuno City to Lake Towada, the stone circles suddenly come into view in the foothills along the prefectural road. Placed either side across the road, the two large circles named Nonakado and Manza were both constructed around 4,000 years ago during the Jomon Period (ca. 3,000-300 B.C.). Each of them is surrounded by the remains of pillar-supported buildings and other stone structures arranged concentrically.
A large settlement site that gives a glimpse into the spiritual culture dating back some 4,000 years
Each of the two stone circles is formed with a smaller ring inside the larger one, both constructed by arranging stones collected from the nearby river five to six kilometers away. Each circle contains elongated stones standing straight up with surrounding smaller stones in a radiating pattern forming a sundial which points toward the sunset on the summer solstice. They are representative stone circles from the Jomon Period constructed in consideration of their positioning, which suggests that the Jomon people were aware of the sun's movement. Their construction would have required a great deal of labor and a strong spirit, and hence these structures are highly important in learning about the spiritual culture structure of the time. Several artifacts related to festivals and items used for worship have been also discovered, which provide material evidence of the advanced spiritual culture and social structure of the Jomon Period.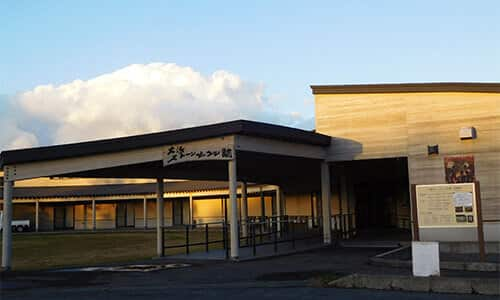 The exhibition hall displays items excavated from the Oyu Stone Circle Site while introducing people's lifestyles at the time using dioramas. Be immersed in the ancient history as you get a glimpse into the everyday life of people in the Jomon Period by observing the remnants up close. There is an atelier where you can experience making a pendant, magatama charm and pottery. You can apply for a guided tour through the Oyu Stone Circle Site at the museum. A free library section and a rest area are also available.
Location
Name
Oyu Stone Circles
Website
https://stayakita.com/things-to-do/things-to-do-464
Address
Manza, Towada Oyu, Kazuno-shi, akita
Access
Approximately 15 minutes' drive from the Towada IC on the Tohoku Expressway
Approximately 35 minutes' bus ride from Kazunohanawa Station on the JR Hanawa Line
Inquiries
TEL: 0186-37-3822 (Oyu Stone Circle Museum)