Hotel Apple Land in the Minamida Hot Spring Resort
Aomori is well known not only for its apples but also for its hot springs. The Hotel Apple Land in the Minamida hot spring resort has apple farms on-site, as well as a large communal bath with apples floating in the bathtub. Properties contained in apples are said to help moisturize the skin and alleviate fatigue and stress. The hotel also offers a variety of meals featuring seasonal local ingredients.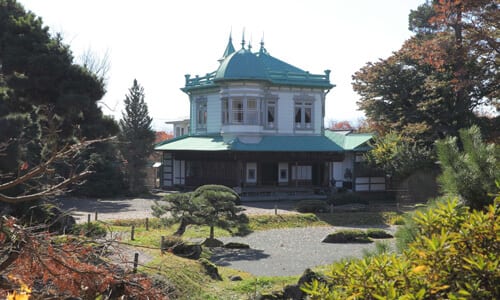 Seibien, located approximately 20 minutes' drive from Hotel Apple Land, is a garden highly recognized for both its scenic beauty and is designed in the Bugaku style of the Edo Period (1603-1868), of which there are many in the Tsugaru region of Aomori Prefecture. There is a two-story building in the garden called Seibikan, which was constructed to allow visitors to appreciate an alternative viewpoint of the garden, and its hybrid structure is very unique: Japanese-style on the first floor and Western-style on the second. Due to its distinctive appearance that blends amazingly well into its surroundings, it has been used as a set in a Studio Ghibli animation movie, "The Secret World of Arrietty."
Hirakawa Sagari, Hirakawa City's unique delicacy
There are a lot of apple farms in Hirakawa City, and many of the farmers gather with their families and friends between periods of farm work to enjoy eating grilled meat together. This local scene, called "Nigu," has become a kind of cultural attraction of the city. Apple farmers enjoy Nigu parties under apple trees and non-farmers do so in their gardens. Sagari (diaphragm) is a soft and flavorful part of the pig or cow and is very popular with the locals. Hirakawa Sagari is available in some restaurants in the city as well as in the Ikarigaseki road-side station.
Location
Name
Hotel Apple Land in the Minamida Hot Spring Resort
Website
https://www.en-aomori.com/hotspring-005.html
Address
166-3 Machiiminamita, Hirakawa-shi, Aomori
Access
15 minutes' walk from Hiraka Station on the Konan Railway
A courtesy bus service is available from the Joto exit of Hirosaki Station (reservation required)
Inquiries
TEL: 0172-44-3711