Experience the life of the Jomon people at the grand archaeological site
Sannai-Maruyama Site is a large settlement site from the early to middle Jomon Period (approximately 3,900 to 2,200 B.C.). The excavation work revealed many remains including pit-dwellings, earthenware and stone artifacts, indicating that people had lived there for more than 1,500 years. The site covers an area of 42 hectares, where the symbolic pillar-supported buildings and the remains of large pit-dwellings are reconstructed, which enable us to trace back through the lifeways of the Jomon people.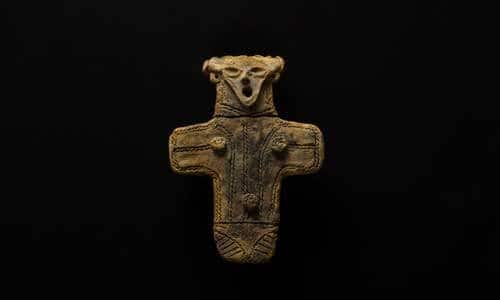 The Jomon Jiyukan, which serves as a guidance facility, reproduces the lives of people from the Jomon Period using dolls so that you can experience life as it was back then. Among the articles displayed, the "Ogata Itajo Dogu (large plate-shaped clay figure)" and Jomon Pochette (knitted basket), which are both designated as an important cultural property of Japan, are a must-see. You can also see many other items as well. With many hands-on activities available such as starting a fire and crafting pochettes, it is a facility where every person from children to adults can enjoy.
Jomon Big Wall is a new facility built within Jomon Jiyukan. The 6-meter-tall large wall encrusted with 5,120 pieces of Jomon earthenware is truly a spectacular display, which can only be created by Sannai-Maruyama Site that has unearthed an extensive collection of Jomon earthenware. At the museum shop on the first floor, original items such as T-shirts and related books are sold, which are perfect as a souvenir. Among the variety of Jomon-style dishes served at the Gosennen-no-Hoshi restaurant, soft-served ice cream using sweet chestnuts that were also eaten in the Jomon Period is particularly recommended.
Location
| | |
| --- | --- |
| Name | Sannai-Maruyama Site |
| Website | https://sannaimaruyama.pref.aomori.jp/english/ |
| Address | 305 Maruyama, Sannai, Aomori-shi, Aomori |
| Access | Approximately 30 minutes' drive from Aomori Airport |
| Business Hours | 9:00 to 17:00 |
| Closed | The fourth Monday of every month (if Monday is a public holiday, then the following day), December 30 to January 1 |
| Inquiries | TEL: 017-766-8282 |
| Admission | Adults: 410 yen; High school and college students: 200 yen; Middle school students and younger: Free |