Kuroishi Yosare Dance and Nakamachi Komise Street

Calls of Kuroishi Yosare "Eccha-ho, eccha-ho!" echo through the old streets
Passed down in Kuroishi, Aomori Prefecture, since olden times, Kuroishi Yosare is said to have originated from a love song sung between men and women 500 to 600 years ago. It is one of the three Nagashi-style dance parades in Japan along with the Awa Dance of Tokushima City and Gujo Dance of Gujo City. The Kuroishi Yosare travels down the picturesque Nakamachi Komise Street, an area with 300 years of history, as 2,000 dancers all wearing braided straw hats and matching yukatas parade through the town.
Kuroishi Yosare dance parade
Kuroishi Yosare consists of three kinds of dances: the Mawari dance, Kumi dance and Nagashi dance. The Nagashi dance performed by around 2,000 dancers is without doubt a sight to behold. However, performed between the Nagashi dances, the Mawari circle dance is another exciting event that gets the audience involved. The Kumi dance is performed by groups of 20 to 30 people from neighboring districts, parading the lively Tsugaru Minyo Teodori dance to the music of shamisen, taiko drums and singing. In recent years, creative dances are added in Kuroishi Yosare, bringing even more excitement to the festival.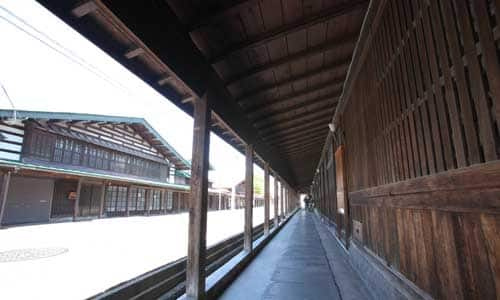 Selected as one of the 100 best roads in Japan, the Nakamachi Komise Street is a historical area with traditional buildings and arcade remaining from the Edo period (1603-1868). A "komise" is an arcaded passage built to keep out snow and rain that is unique to regions of heavy snow. Centered around the Takahashi Residence, an Important Cultural Property, the street is lined with traditional buildings such as sake breweries and storehouses. The houses on Nakamachi Komise Street are particularly well known for their remarkable state of preservation.
Location
Name
Kuroishi Yosare Dance and Nakamachi Komise Street
Website
(In Japanese) https://kuroishi.or.jp/event/summer/kuroishiyosare
Address
Nakamachi, Kuroishi-shi, Aomori
Access
Approximately 10 minutes' drive from the Kuroishi IC on the Tohoku Expressway
Approximately 15 minutes' drive from Kuroishi Station on the Konan Railway
Period of the Event
Kuroishi Yosare: Held mid-August every year. Please see the website for details.
Inquiries
TEL: 0172‐52‐3488