Shimofuro Onsen, the northernmost hot spring on Honshu Island
Shimofuro Onsen is a hot spring resort area facing the Tsugaru Straits with the sea in the forefront and the mountains as a backdrop. This area, infused with a slightly sulfurous scent, attracts a number of visitors due to its abundant supply of natural water and delicious fresh seafood. It is truly a great experience to take a hot bath in winter while observing the rough waves of the straits and the fires lit on the fishing boats. Enamored of this magic, the famous author Yasushi Inoue was inspired to write a novel with this area as its setting.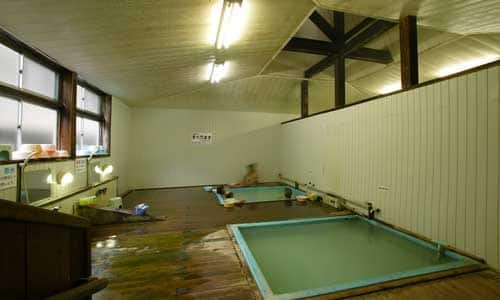 Three hot spring sources for different effects
The two major sources in this area are called Oyu and Shinyu, which are also the names of the public baths located on a hill about 100 meters from the coast. It is very rare to have two hot spring sources of different qualities this close to each other, as one is opaque and the other is clear. Another source near the coast is called Hamayu, which also has a different quality from the other two. Onsen lovers will surely enjoy sampling the different varieties according to the different inns.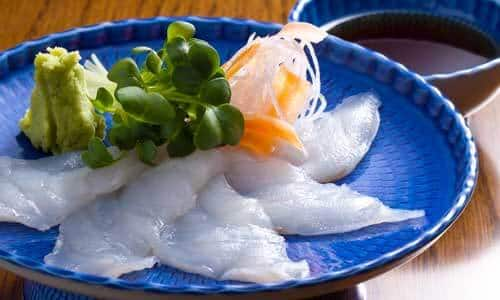 Enjoy an abundance of fresh monkfish
Many inns in this onsen area offer a full course featuring a variety of servings of monkfish. This fish looks quite grotesque, but is actually well known for its savory taste. Kazamaura Monkfish, usually eaten raw at its freshest, is a popular brand from Kazamaura Village. The secrets to its freshness are the great local fishing environment and the special cooking method.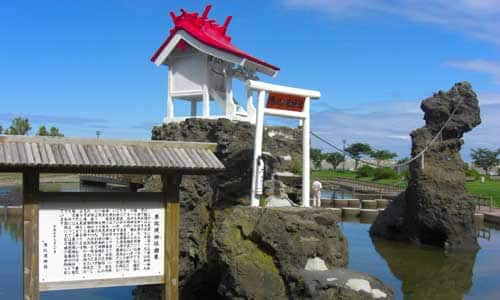 Shimofuro Onsen, the setting for a famous novel
Yasushi Inoue, one of the greatest authors of the Showa Era (1926-1989), visited this area in March 1958 to listen to the sound of migrating birds. Thereafter, ensconced in a room in an inn overlooking the Tsugaru Straits, he wrote the novel "Kaikyo (Straits)" set in the Shimokita Peninsula area in the snowy winter season. This novel brought great fame to this area, and it has been visited by a number of literature fans ever since. There is a monument to this great author that stands in Kaikyo Isaribi Park.
Location
| | |
| --- | --- |
| Name | Shimofuro Onsen |
| Website | https://www.en-aomori.com/hotspring-013.html |
| Address | Shimofuro, Kazamaura-mura, Shimokita-gun, Aomori |
| Access | From Shimokita Station on the JR Ominato Line, take the Shimokita Kotsu Bus bound for Sai for approximately 60 minutes and get off at the Shimofuro bus stop. |
| Business Hours | Differs depending on facility. |
| Closed | Differs depending on facility. |
| Inquiries | TEL: 0175-35-2010 (Shimofuro Onsen Hotel Union) |
| Admission | Differs depending on facility. |