A special inn at the foot of the Hakkoda Mountains in snow country
Sukayu Onsen is an inn with hot spring baths located at the foot of the Hakkoda Mountains in Aomori Prefecture. This hot spring has long been well known for the powerful healing effects of the highly acidic and abundant supply of spring water. This inn also has a self-catering kitchen area for those who come here for long stays. It also has a massive bath area the size of a tennis court.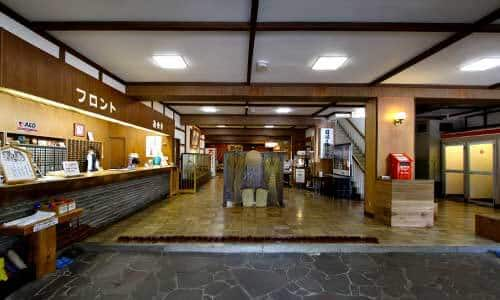 Sukayu Onsen with 300 years of history
Sukayu Onsen hot spring started operations around 300 years ago when a hunter discovered it just after he saw a wounded deer recover very quickly. Thereafter, a local man built a small hut with a bath using this hot spring water as a place for wild plant pickers and hunters to relax. It soon became very famous, however, and started to attract many visitors who wanted to heal their bodies. The beneficial effects of the water were officially recognized in 1945, and it was then made the first national People's Recreational Spa.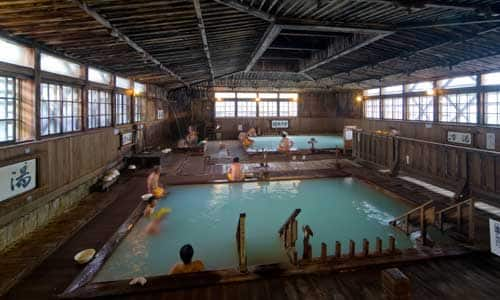 Sukayu's top attraction, Sennin (1,000 person) Bath
This impressive unisex Sennin Bath, made almost completely of cypress, is the most famous attraction of this area, and surprises everyone with its size of 260 square meters. This spacious bath has no pillars and a ceiling around 4 meters in height, and is fed water from four different hot spring sources. It is entirely unisex, except for particular time slots reserved for women only. There is also a small bath called Tamano-yu, which is segregated by gender, and fed by sulfuric opaque water from a different source.
Rime on trees in Hakkoda Mountains
Rime on trees is quite rare in Japan, but is a popular attraction in the Hakkoda Mountains area due to the heavy snowfall. You can see this extraordinary scenery when you reach Sanroku Station by the Hakkoda Ropeway. These mountains offer displays of magnificent natural beauty not only in winter but also in other seasons, for example, the snow corridor in early spring, fresh greenery in summer and colorful leaves in autumn.
Location
Name
Sukayu Onsen
Website
https://www.en-aomori.com/hotspring-008.html
Address
50 Sukayusawa, Arakawayama Kokuyurin, Arakawa-minami, Aomori-shi, Aomori
Access
From JR Aomori Station, take the JR Bus for approximately 70 minutes.
Approximately 40 minutes' drive from the Aomori-chuo IC on the Tohoku Expressway
Courtesy bus available from AUGA parking lot at Aomori Station (hotel guests only)
Inquiries
TEL: 017-738-6400