Dogo Onsen in Matsuyama, Ehime is an extremely popular tourist spot. Another recommendation is healing yourself at the nearby Asuka no Yu hot springs and Isaniwa Shrine, and going on an eating tour in the shopping district.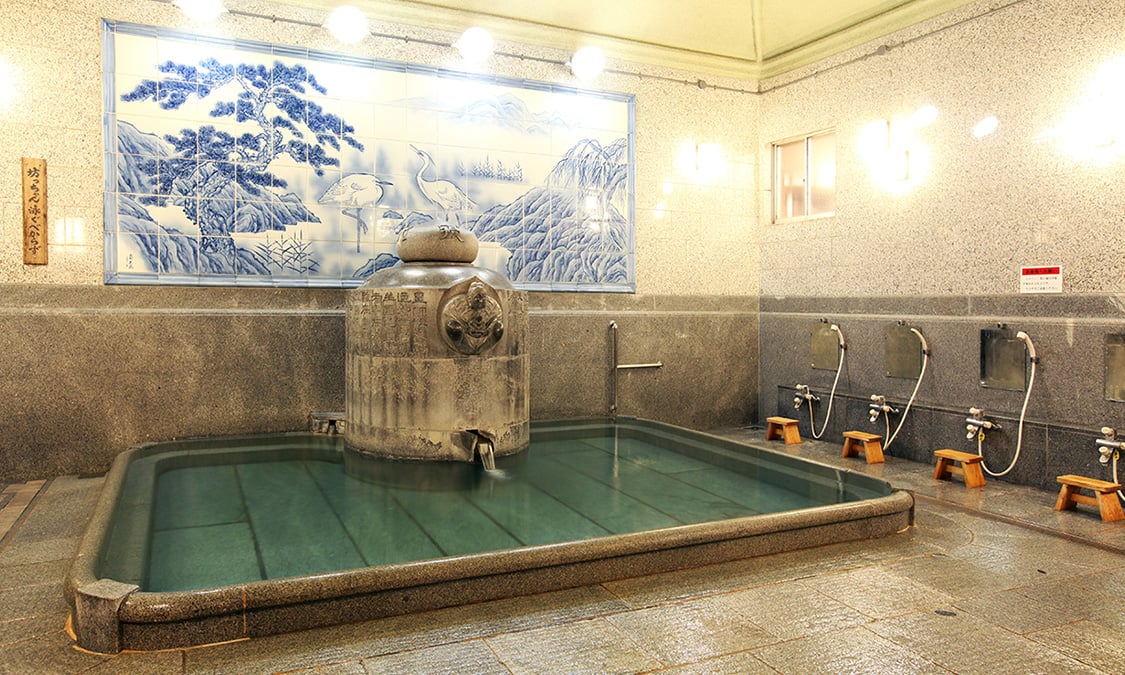 Dogo Onsen Honkan, the Symbol of Dogo Onsen
Dogo Onsen is said to be the oldest hot spring in all of Japan, having opened around 3000 years ago. This historic hot spring is featured in ancient Japanese texts such as the Kojiki and the Nihon Shoki. Prince Shotoku, an ancient Japanese prince, praised the hot springs of Iyo (Dogo Onsen), comparing them to paradise on earth. Dogo Onsen has long been a favorite spot of famous people, and was featured in the Natsume Soseki novel "Botchan." It is said that the silky water of this hot spring makes you beautiful. There are two external hot spring bathhouses, including Dogo Onsen Honkan, as well as foot baths and hand baths than can be used free of charge, allowing visitors to enjoy all this renowned heavenly hot spring has to offer. Dogo Onsen Honkan marks the center of the onsen town, surrounded by hot-spring hotels full of character, with a vibrant shopping district nearby.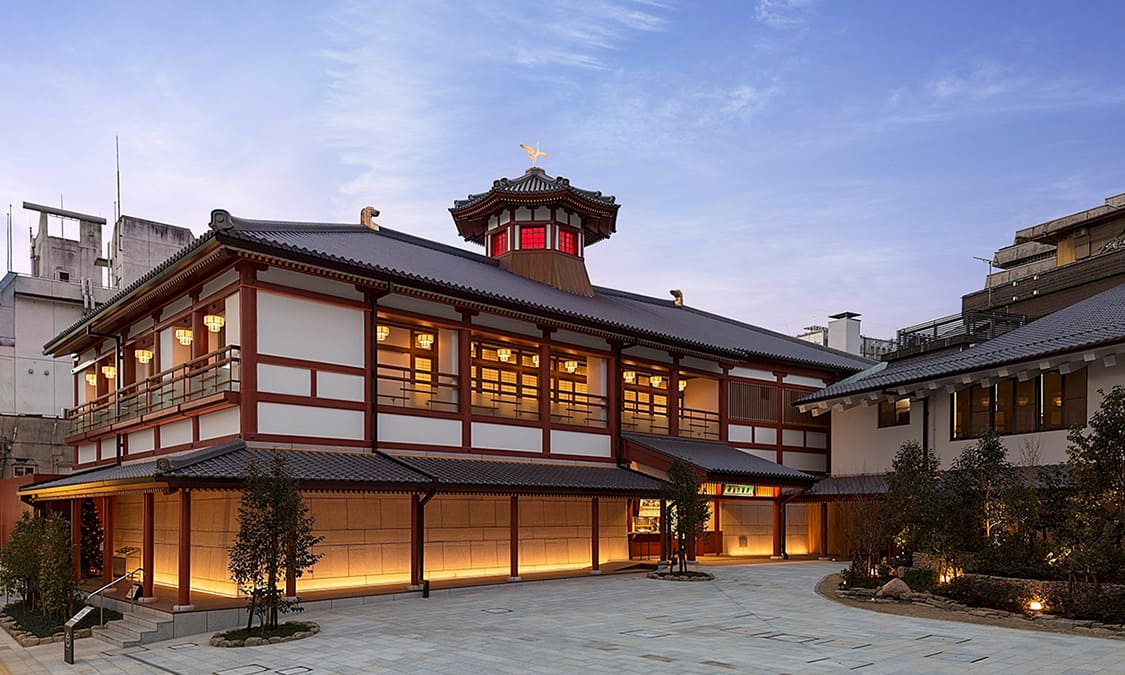 Asuka-no-Yu, opened in 2017!
This public bathhouse captures the architectural style of the Asuka period. As well as a large public bath, the expansive interior of Asuka-no-Yu features an open-air bath, and an exclusive bathroom made to replicate "Yushinden," the private bathroom of the Imperial family. Just like Dogo Onsen Honkan, the hot spring water is direct from the source, with no water added and no reheating. After bathing, you can enjoy wearing a "yucho," the origin of modern yukata, and take it easy in the approximately 100 square meters wide hall or 5 private rooms, which each have their own unique charm. The building is adorned with traditional Ehime crafts, making for a charming artistic atmosphere. Asuka-no-Yu is becoming one of the newest must-go spots in Dogo Onsen.
Onsen Gourmet and Souvenirs in the Shopping District
In front of Dogo Onsen Honkan is Dogo Shopping Arcade "Dogo Haikara Dori", stretching 250 meters and home to around 60 eateries and stores. into the night, with many stores open until 10pm. This arcade is bursting with culinary delights, making it the perfect place for an eating tour. You can sample dishes such as Botchan dango (sweet dumplings), Ehime's famous Tart cake, and traditional Ehime fried minced fish, Jakoten. These streets are also an excellent place to buy a souvenir, with everything from the traditional craft Tobe ware, incomparably soft Imabari Towels, and Ehime mandarin oranges.
Dogo Onsen is said to be the oldest hot spring in Japan. While still going under conservation repair works, the Dogo Onsen Main Building is in operation and visitors can enjoy its wonderful bath. A special event held during the renovation, the Dogo REBORN Project, features a collaboration between the Dogo Onsen Main Building and the manga "Phoenix" by legendary manga artist Osamu Tezuka. In addition to the Phoenix sculpture adorning the building, the amazing "Dogo REBORN x Phoenix" light-up event is for the renovation period only and not to be missed!
Isaniwa Shrine Invites You to the Ethereal World of Medieval Japan
A climb of 135 stone steps lead you to a dazzling vermillion building, which is considered one of the three major shrines in the hachiman-zukuri architectural style and designated an Important Cultural Property by the Japanese government. Once you pass through the gorgeous tower gate, you will have your breath taken away by the majestic beauty of the shrine, with poles adorned with gold lead, carved wooden panels and wooden beams such as "kaerumata (strut)" and "rainbow-shaped tie beams (ebikouryou)".