Ichijodani Asakura Clans Ruins

"Tastes of JAPAN by ANA" is a regional vitalization project that collaborates with the different prefectures in Japan to present the Land of the Rising Sun in all of its diverse glory.
These are the remnants of the magnificent castle town of the warlords of the Asakura Clan, who ruled over this area for 103 years from 1471. The ruins have received three official designations: Special Historic Site, Special Place of Scenic Beauty, and Important Cultural Property. The restored townscape is a restoration of samurai houses and townhouses, made using the foundation stones of buildings and the stone walls of fences, which had been preserved underground, just as they were. You can also try on armor and clothing from Japan's warring states period.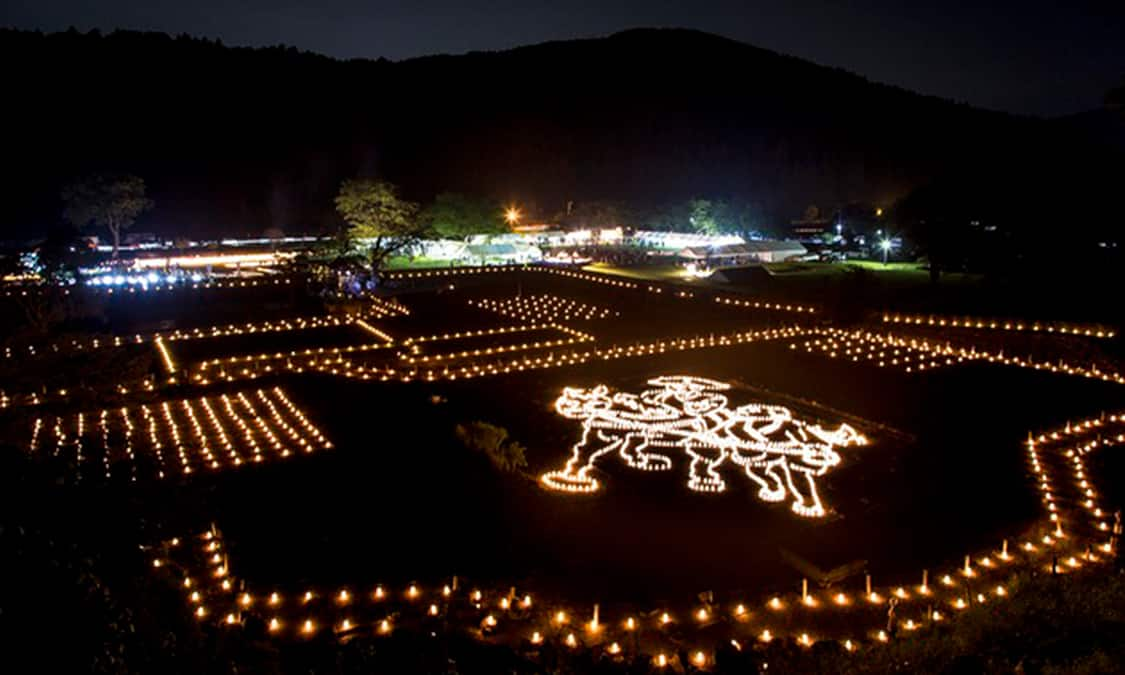 Ichijodani Asakura Clans Ruins is located around 10 kilometers south-east of Fukui City. The castle town of the five generations of Asakura Clan who presided over the area during the warring states period was buried in pristine state under the ground. The ruins are extremely precious, and they stand alongside Kyoto's Kinkaku-ji Temple and Hiroshima's Itsukushima Shrine as a place with three official designations (Special Historic Site, Special Place of Scenic Beauty, Important Cultural Property). The magnificently splendid townscape of this castle town is almost perfectly restored and adorned in the decor of the warring states period. When you visit, it feels like you've been transported back in time. The "Echizen Asakura Mantoya Candle Illumination" and the "Echizen Asakura Warring States Festival" are held concurrently in August every year. The area is transformed into a fantastical realm with over 15,000 candles. You can also see the thrilling scenes of gun smoke as matchlocks are shot.
Location
Name
Ichijodani Asakura Clans Ruins
Web Sites
https://www.fuku-e.com/lang/english/places_to_visit/historical_place.php
Address
28-37 Kidonouchi-cho, Fukui-shi, Fukui
Access
Get on the Keifuku Bus for Jokyoji from JR Fukui Station, and get off at Fukugenmachinami bus stop. It is right outside the bus stop.
Business Hours
Ichijodani Asakura Clans Ruins: Anytime
Restored Houses: 9:00 to 17:00 (Last admission 16:30)
Inquiries
TEL: 0776-41-2330 (Asakura Clan Ruins Preservation Association)
Admission
Restored houses: 210 yen (Group discount available for people over 20)
Free admission for children under 12, the physically handicapped, and the aged over 70