Sightseeing in Mikata Five Lakes, Fukui: Breathtaking Scenery from Rainbow Line Summit Park
Nature tourism is a great way to enjoy the Mikata Five Lakes in Mikatakaminaka District, Fukui Prefecture. The Mikata lakes area is a highlight of Wakasa Bay Quasi-National Park, offering excellent views across picturesque scenery from the Rainbow Line Summit Park.
Mikata Five Lakes is the collective term for the five lakes of Kugushi, Suigetsu, Suga, Mikata, and Hiruga. Each of the lakes has different depths and different types of water, such as salt water, fresh water, and brackish water. The water of the lakes boasts five wonderful colors that transition throughout the four seasons. The lakes are sometimes called the "Five-Color Lakes."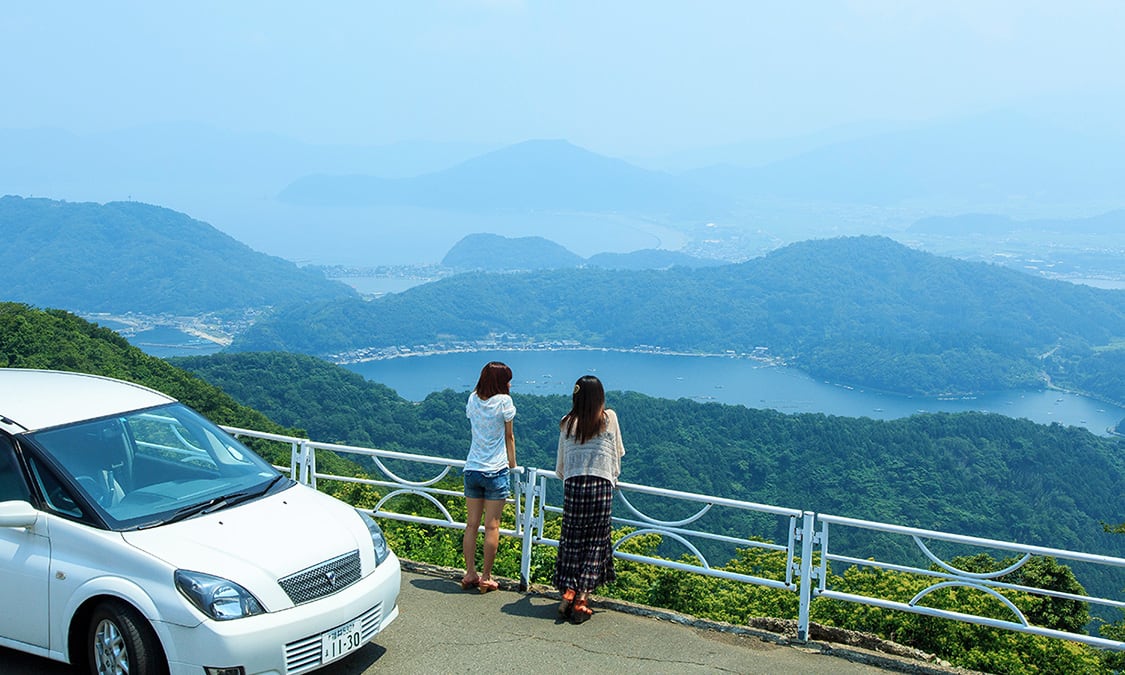 The Rainbow Line is an approximately 11km-long toll road spanning the towns of Mihama and Wakasa. You can take this road to the Summit Park, which offers views across all of the Mikata Five Lakes. You can reach the Summit Park by lift and cable car. As well as a 360-degree panorama across the entirety of the picturesque Mikata Five Lakes and Wakasa Bay, you can also enjoy the view of the majestic scenery as you drive along the Rainbow Line.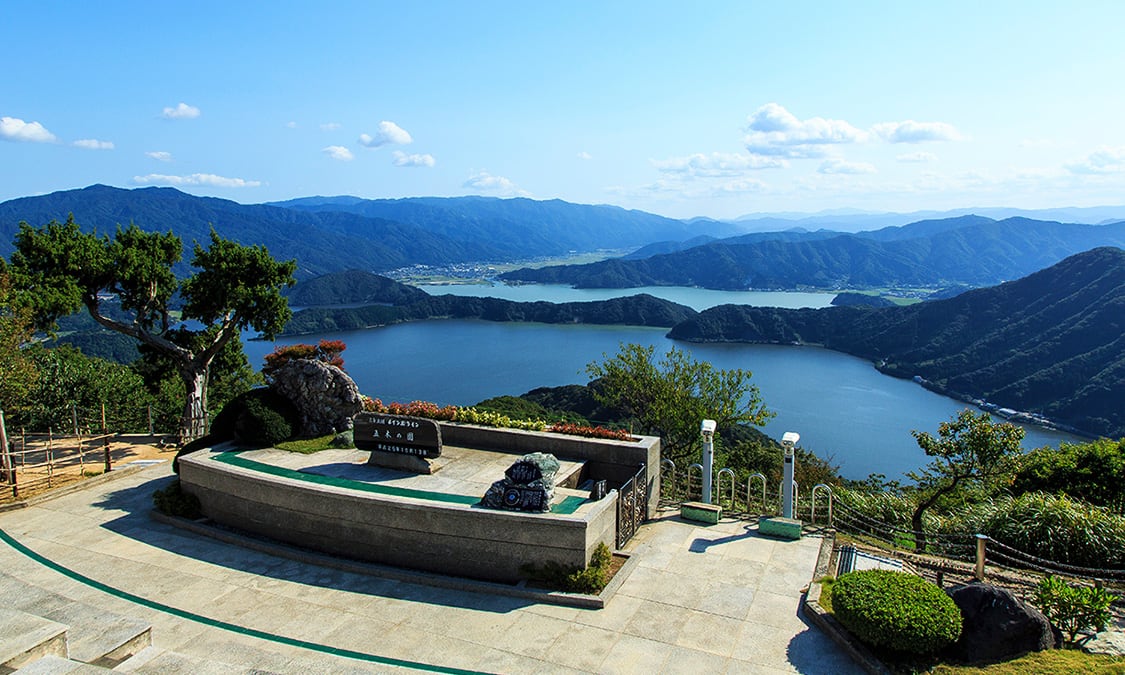 Mikata Five Lakes is a collective term for the five lakes of Mikata, Suigetsu, Suga, Kugushi, and Hiruga. It's not just it's beautiful scenery that the area is known for - it's also famous as a lovers' sanctuary in the Hokuriku region. The Summit Park has a Lovers' Sanctuary monument as well as Wago Shrine, a shrine known for being a place of spiritual energy for love. It's a popular spot where couples and spouses visit together to pray for even more happiness for the two of them in the future.
At the bottom of Lake Suigetsu, one of the picturesque Mikata Five Lakes, sediment accumulated over the past 70,000 years have formed stripe-like patterns. These "varves" are recognized as an international standard for measuring the age of lakes. At the Varve Museum, the 70,000-year-old, 45-meter varve - the worlds longest - is exhibited as stained glass. The museum was newly completed in 2018. There is also an interactive corner, offering visitors a fun learning experience.
Location
| | |
| --- | --- |
| Name | Mikata Five Lakes |
| Web Sites | http://www.mikatagoko.com/eng/ |
| Address | 18-2-2 Kiyama, Wakasa-cho, Mikatakaminaka-gun, Fukui |
| Access | Approximately 20 minutes from Wakasa-Mikata IC on the Maizuru Wakasa Expressway |
| Inquiries | TEL: 0770-45-2678 (Rainbow Line Co., Ltd.) |