Fukui Prefectural Dinosaur Museum

Fukui Prefectural Dinosaur Museum in Katsuyama City that stirs up the curiosity of both adults and children
The Fukui Prefectural Dinosaur Museum is located in Katsuyama City in Fukui where more dinosaur fossils have been excavated than anywhere else in Japan. Being Japan's leading paleontology and geology museum mainly focused on dinosaurs and boasting a large fossil collection and other related materials, the museum never fails to satisfy the curiosity of a wide range of people. The Fukui Prefectural Dinosaur Museum is also contributing to research activities by discovering new species such as the Fukuisaurus.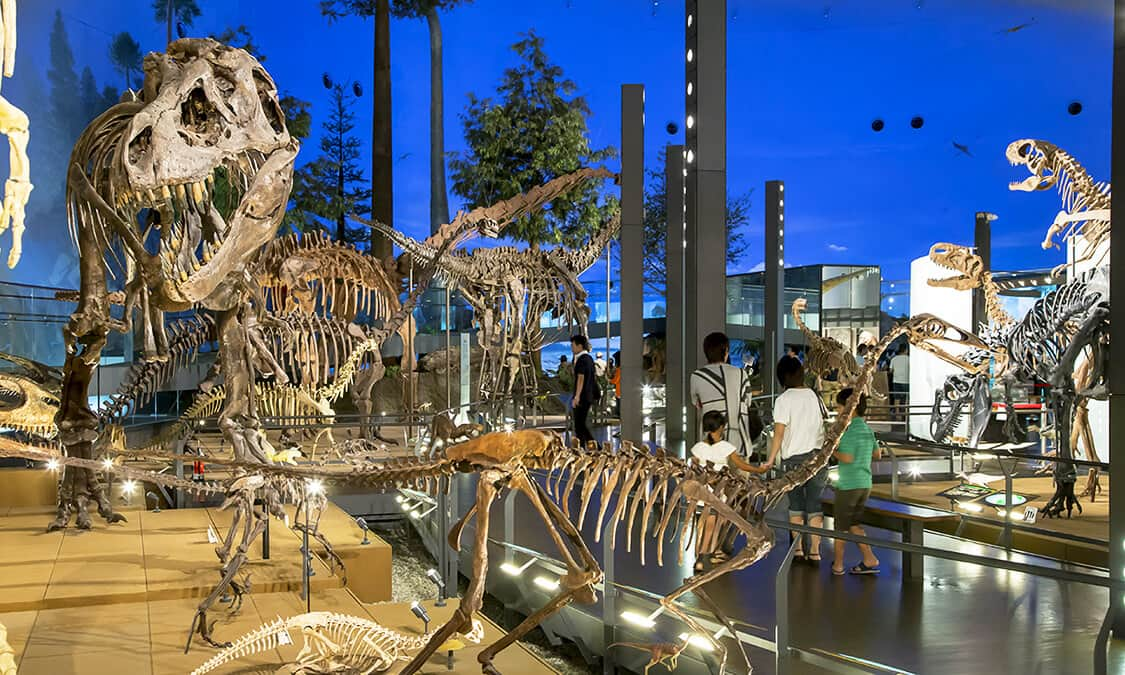 Museum's permanent exhibition
The permanent exhibition of the Fukui Prefectural Dinosaur Museum consists of three zones: Dinosaur World, Earth Sciences and History of Life. At the Dinosaur World zone, 44 whole-body dinosaur skeletons stand in the hall, and of these, 10 skeletons are real fossils. Huge dioramas and large screens let visitors enjoy the feel of the actual dinosaur age. The Earth Sciences zone presents a history of the earth sciences, sediments from land and the ocean as well as rocks and minerals. The History of Life zone shows how life on earth began in the ocean and evolved through the passage of time.
Location
Name
Fukui Prefectural Dinosaur Museum
Web Sites
https://www.dinosaur.pref.fukui.jp/en/
Address
51-11 Terao, Muroko-cho, Katsuyama-shi, Fukui (In Katsuyama Dino Park)
Access
Approximately 15 minutes' bus ride from Katsuyama Station on the Echizen Railway Eiheiji Katsuyama Line
Approximately 10 minutes' taxi ride from Katsuyama Station on the Echizen Railway Eiheiji Katsuyama Line
Business Hours
9:00 to 17:00 (Last admission: 16:30)
Closed
2nd and 4th Wednesdays of the month (the following day if one of these days falls on a public holiday; open every day during summer break), New Year's holidays (December 29 to January 2)
Inquiries
TEL: 0779-88-0001
Admission
Adults: 720 yen; High school and university students: 410 yen; Elementary school and junior high school students: 260 yen