Tracing the history of Kitamae-bune that carried dreams, romance, and vast fortune
Mansions of the Ukons, which once belonged to the Ukon family who owned Kitamae-bune ships, now serves as a museum that recounts the history of the merchant ships that flourished from the middle of 18th century to late 19th century in Japan. Kitamae-bune ships sailed the Japan Sea connecting Osaka and Hokkaido, playing a vital role in not only transporting goods but also in spreading a variety of cultures. Having flourished as a staging post for the Kitamae-bune ships since ancient times, Echizen-cho in Fukui Prefecture has produced some of the most prominent Kitamae-bune shipowners in the Japan Sea coastal region. Immerse yourself in the museum that uses the former residential buildings of the Ukon shipowner family steeped in the history and romance of Kitamae-bune.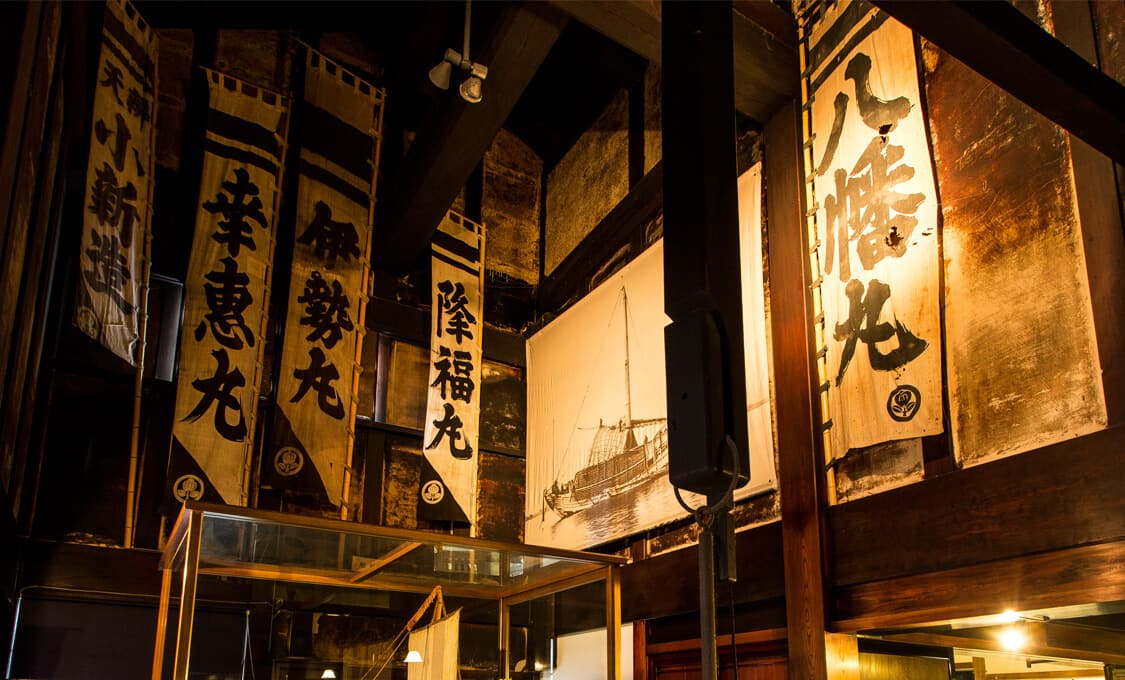 Old materials that recount the glory of Kitamae-bune
Mansions of the Ukons opened in 1990 is comprised of the family's main residence constructed in the 19th century, a warehouse and a Western-style mansion built in the early 20th century, which all stand on the premises owned by the family. The old buildings exhibit various materials used in voyages and trading back then, such as detailed information on sea routes and ports, seals and a Japanese ship "tansu" chest that display the glory of the Kitamae-bune at the time.
Location
| | |
| --- | --- |
| Name | Mansions of the Ukons |
| Web Sites | https://www.fuku-e.com/lang/english/places_to_visit/historical_place.php |
| Address | 2-15 Kouno, Minami Echizen-cho, Nanjo-gun, Fukui |
| Access | Approximately 30 minutes' bus ride from JR Takefu Station |
| Business Hours | 9:00 to 16:00 |
| Closed | Wednesdays, New Year's holidays (December 29 to January 3) |
| Inquiries | TEL: 0778-48-2196 |
| Admission | Adults (high school students and older): 500 yen; Children (elementary and junior high school students): 300 yen |