Go for picking delicious sweet fruits in Fukushima, the Fruit Kingdom of Japan
Located on the Fruits Line road, along with a number of other orchards, Marue Fruit Farm offers a picking experience of different kinds of fruits: cherries, peaches, pears, grapes, and apples. The fresh, fully ripe apples here are very juicy with a refreshing aroma and sweet flavor, a totally different eating experience from in-store apples that are picked before they reach maturity.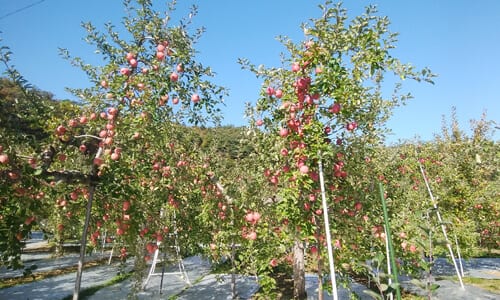 Fukushima's Sun Fuji: the king of apples
Fukushima produces a wide variety of fruits all year round. Many fruit farms here offer fun activities for visitors to pick and taste fresh, juicy and delicious fruits on site. Fukushima's Sun Fuji is different from the Fuji varieties produced in other prefectures due to the climatic conditions: the daily temperature range is wider, the snow arrives later and the hours of sunlight are longer, all resulting in a sweeter-tasting fruit.
Location
Name
Marue Fruit Farm
Website
(In Japanese) http://www.184184.com/marue/
Address
3 Onigoshiyama, Ozaso, Fukushima-shi, Fukushima
Access
Approximately 3 minutes' drive from the Fukushima Ozaso IC on the Tohoku-Chuo Expressway
Approximately 10 minutes' drive from the Fukushima Izaka IC on the Tohoku Expressway
Take the Fukushima Kotsu bus bound for Nakano from JR Fukushima Station and walk for approximately 5 minutes from the Zato-machi bus stop *1
*1 No service on Saturdays, Sundays, and national holidays
Business Hours
From October to mid-December
Picking season: 8:30 to 16:30
The picking season may vary depending on the condition of the crop.
Inquiries
TEL: 024-558-0516