Rengenuma Pond and Nakasenuma Pond Trail (Bandai-Asahi National Park)

A beginner-friendly trail with a magnificent view of a landscape created by the volcanic activity of Mount Bandai
The Bandai-Asahi National Park encompasses a number of mountains stretching over Yamagata, Fukushima and Niigata prefectures, with rich forests, dynamic volcanic areas and beautiful lakes and marshes. These mountains are not only visited by people for leisure purposes but also as sites for mountain worship. One of the outstanding features of the park is the Rengenuma Pond and Nakasenuma Pond Trail, which, being relatively flat, is easy to walk while offering magnificent views created by volcanic activity.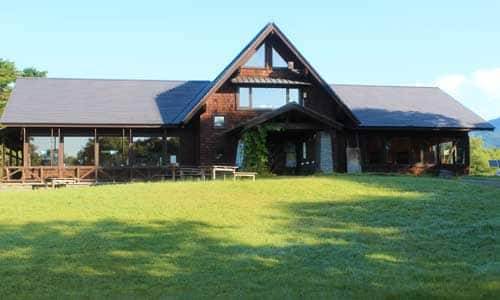 The Urabandai Site Station, located at the starting point of the Rengenuma Pond and Nakasenuma Pond Trail, offers trekking information on the Urabandai area in the Bandai-Asahi National Park and houses a number of displays, such as a 3-dimensional diorama trail and photos of flowers and local scenery. It also offers knowledgeable staff, a viewing spot overlooking Rengenuma Pond and Mount Bandai and a cafe that serves delicious food made from local ingredients.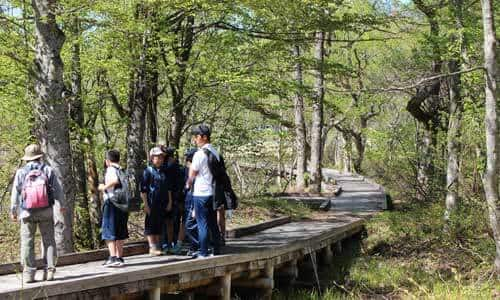 Magnificent scenery of Urabandai
The Rengenuma Pond and Nakasenuma Pond Trail is a one-hour flat course that extends for approximately 2 kilometers. Scattered along the course are small hills and islands called mudflows, which were created through the eruptions of Mount Bandai. The Nakasenuma Observation Point on top of a hill is the prime viewing spot in the Urabandai area, which is home to Nakasenuma Pond surrounded by forests and cliffs created from the volcanic eruptions of Mount Bandai. The trail also attracts many visitors due to the great number of wild birds that inhabit the area.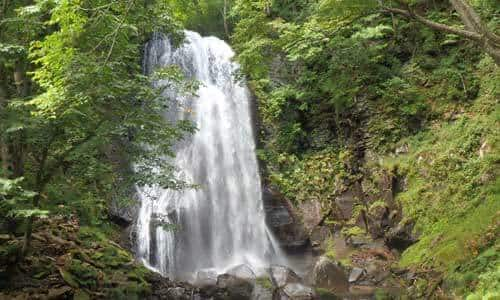 Onogawa Fudotaki Waterfall
A 50-minute, or 1.6-kilometer (round trip), walking path has been laid to allow access to Onogawa Fudotaki Waterfall, consisting of stone paving and stone steps along the Onogawa River. This dynamic waterfall, listed as one of the top 100 waterfalls in Japan, produces an abundance of negative ions, radiating a refreshing coolness especially in the summer. The Onogawa River flows into Lake Onogawa, located to the west of the Rengenuma Pond and Nakasenuma Pond Trail, and onwards to the vast expanse of Lake Inawashiro.
Location
| | |
| --- | --- |
| Name | Rengenuma Pond and Nakasenuma Pond Trail (Bandai-Asahi National Park) |
| Website | https://www.japan.travel/national-parks/parks/bandai-asahi/ |
| Address | Kitashiobara-mura, Yama-gun, Fukushima |
| Access | Approximately 30 minutes' drive from the Inawashiro-Bandaikogen IC on the Ban-Etsu Expressway |
| Inquiries | TEL: 0241-23-7860 |