Enjoy a magnificent and dynamic landscape while driving through one of Fukushima's renowned autumn foliage viewing spots
Located within the Bandai-Asahi National Park, Bandai-Azuma Skyline is Fukushima's representative sightseeing mountain road that has been also selected as one of the 100 Best Roads in Japan. Because the road is closed in wintertime, the reopening of the road in April announces the arrival of spring. The road's maximum elevation reaches 1,622 meters around the Jododaira area, letting you enjoy a driving amid breathtaking volcanic landscapes of the Azuma mountain range as well as lush greenery and bright autumn colors.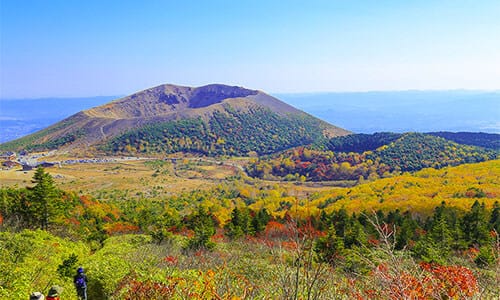 Because of its beautiful conical shape, Mount Azuma-kofuji has gained popularity among the locals as a little Mount Fuji since ancient times. As you drive through the Bandai-Azuma Skyline sightseeing road for about 90 minutes, it takes you to the Jododaira area, the halfway point of the route. The mountain's crater of about 400 meters in diameter appears as you go up the log stairway and gravel pathway from the parking lot. It can be circled in a panoramic 90-minute walk, while gazing into the base of the crater from close by. The views of the Jododaira wetland and Fukushima Basin seen from the top of the mountain are simply breathtaking. When the snow melts away in spring, the remaining snow makes the shape of a rabbit on the side of the mountain known as the "seeding rabbit," considered by the locals as the sign of spring.
There are a few different hiking routes that start from the Jododaira parking lot. The two-hour hike to the Kamanuma pond, which is known for its beautiful clear waters, passes through the Sugadaira marshland and circles around the pond. The Okenuma route is a 20-minute, one-way trip. It offers a glimpse of the pond (a remain of a crater) that glows green reflecting the surrounding lush trees. It is especially beautiful in the seasons of fresh greenery and colorful autumn foliage with the blue sky and trees reflected on the pond surface. The easiest course is the walkway around the Jododaira wetland adjacent to the Jododaira Visitor Center. It has maintained wooden pathways and information boards so that you can easily enjoy a leisurely stroll while observing a variety of sub-alpine plants and flowers.
Location
| | |
| --- | --- |
| Name | Bandai-Azuma Skyline |
| Website | https://bandai-azuma.com/course-english/#sky-line |
| Address | 1 Washikurayama, Tsuchiyuonsen-machi, Fukushima-shi, Fukushima |
| Access | Approximately 40 minutes' drive from Fukushima Station on the JR Tohoku Shinkansen/JR Tohoku Main Line |
| Inquiries | TEL: 024-525-4024 (Fukushima Prefecture Tourism and Local Products Association) |