Enjoy an easy hike and indulge in flowers, autumn foliage and hot springs at Mount Adatara, one of Japan's famous 100 mountains beloved by poets since old times
Located in central Fukushima Prefecture, Mount Adatara is a 1,728-meter-high active volcano selected as one of 100 famous Japanese mountains as well as top 100 flowery mountains. The mountain is also depicted in Man'yoshu (the oldest anthology of Japanese poetry) and has been appreciated by many people since olden times. Not only does the mountain offer a number of hiking courses, but you also get the opportunity to enjoy soaking in hot waters as there are various hot spring baths at the trailhead and foot of the mountain. Adatara is a gentle mountain that is also suitable for beginners if you take the Adatara Ropeway, which lets you hike to the summit in about two hours.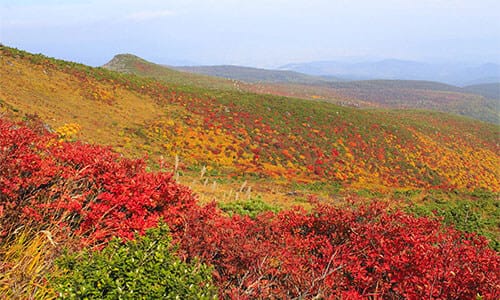 The Adatara Ropeway takes you to the station located at 1,000 meters in the blink of an eye. After passing the Sennyodaira junction, a steep slope awaits, followed by a rocky mound until you reach the summit. From there, take in the spectacular panoramic views of the entire Azuma mountain range and Mount Bandai as well as Lake Inawashiro and the mountainous terrains of Iide and Nasu in the distance. The Kurogane Mountain Lodge is a famous rest stop with a hot spring bath. Mount Adatara is also surrounded by several hot spring villages such as Dake, Okudake, Shiozawa, Noji, Yokomuki and Numajiri.
Mountain endowed with flowers and autumn foliage
Selected as one of the top 100 flowery mountains in Japan, Mount Adatara is a treasure trove of beautiful flowers. From spring to autumn, various flowers such as azaleas, Iwakagami, gentian and cosmos welcome climbers. During the autumn foliage season starting in late September, Japanese oak, beech and other trees brightly dye the entire mountain in yellow, red and orange hues. Those who are not used to walking in the mountains can also enjoy a magnificent view of the autumn colors up close from the gondola of the Adatara Ropeway.
Location
Name
Mount Adatara
Website
https://bandai-azuma.com/mountains-english/#adatara
Address
Nagasaka National Forest, Nagata, Nihonmatsu-shi, Fukushima
Access
Approximately 20 minutes' drive from the Nihonmatsu IC on the Tohoku Expressway
Approximately 30 minutes' taxi ride from Nihonmatsu Station on the JR Tohoku Main Line
Inquiries
TEL: 024-525-4024 (Fukushima Prefecture Tourism and Local Products Association)