Try a Culinary Tour around Hida-Takayama and Get the Most of Takayama Cuisine and Enjoy Souvenir Shopping
A culinary tour is one great way to enjoy Hida-Takayama, in Takayama City, Gifu Prefecture. Dine in various eateries serving local Takayama delicacies that line the streets while looking for a souvenir. You could treat yourself to Hida Beef as part of your lunch and sample sake at local breweries. Take in the traditional atmosphere of the streets of Hida-Takayama as you enjoy its local delicacies, and you're sure to leave with both your hunger and your mind satisfied.
The streets of Takayama are filled with souvenir stores, variety stores, and cafés, and the townscape remains just as it was back in the day when it prospered as both a castle town and a merchant town. With streets lined with curtains hangings over the doorways to old stores and houses with latticed windows, the area is brimming with traditional Japanese ambiance.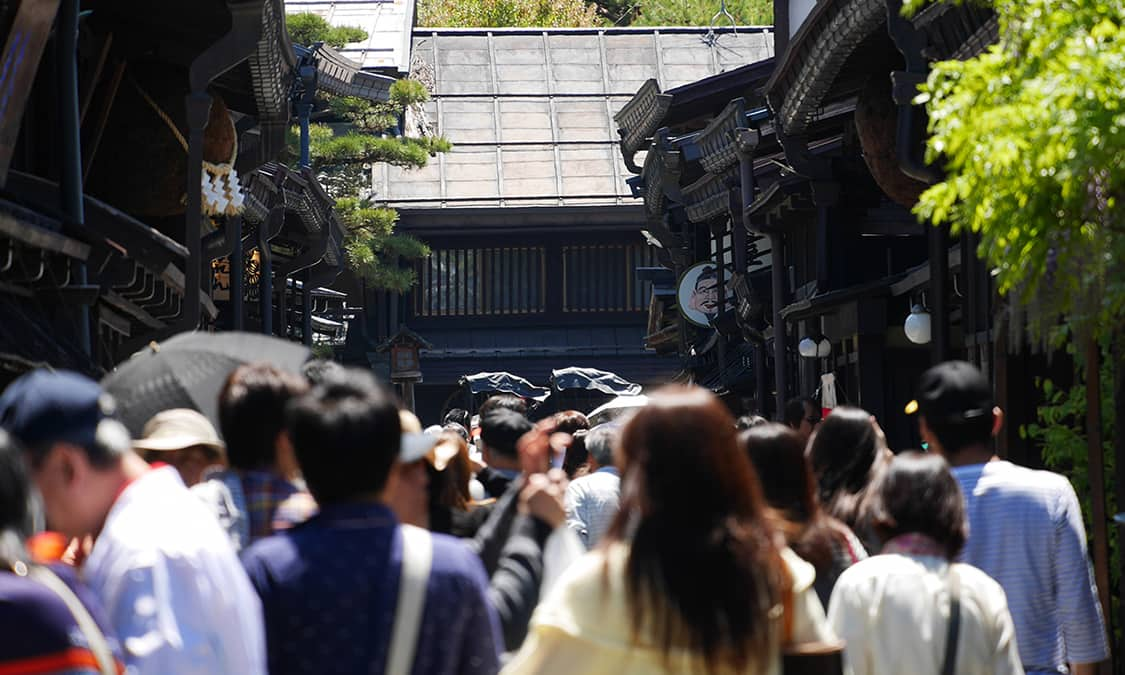 The "Sanmachi" area is known for its traditional buildings. Its streets are lined with souvenir stores, variety stores, and restaurants. Here, you can also enjoy sampling the culinary delights of Takayama, such as skewers of specialty Hida Beef, nigiri sushi, and soy sauce flavored mitarashi dango dumplings. Make sure you don't miss out on tasting sake in the breweries dotted around the town! In particular, from January to March every year, six breweries in the city center take turns opening their premises to the public, allowing visitors the rare opportunity to look inside.
Morning markets kick off the day in Hida-Takayama. There are two-morning markets, one next to Miyagawa river and one in the square in front of Takayama Jinya. Both of the markets are lined with around 40-50 stands, and stand owners energetically greet visitors right from the early morning. Local traditional crafts are available at the morning market, such as Hida region's traditional protective amulet, "Sarubobo," and "Ichii-Ittobori" carvings made from the firm wood of yew trees. Freshly harvested fruits and vegetables are also on sale. The market's diverse lineup attracts many local people and tourists.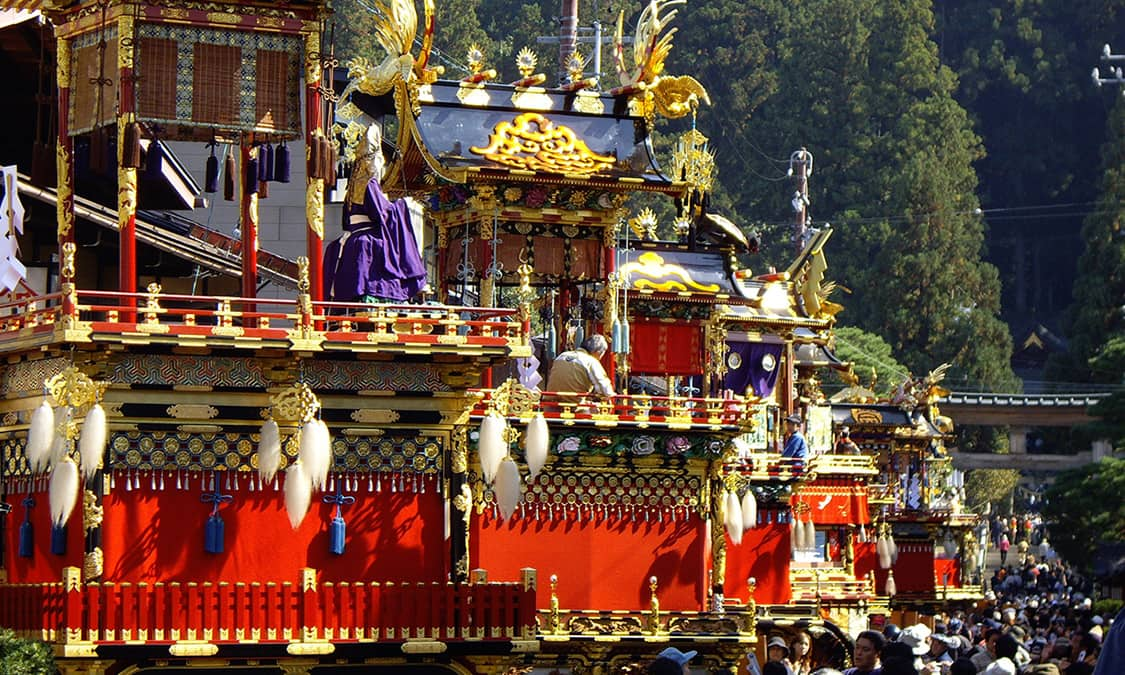 Make sure you don't forget to check out "Takayama Festival" when you're in Takayama. The festival was registered as UNESCO Intangible Cultural World Heritage in 2016. Takayama Festival is a term encompassing both the Sanno Festival held every April 14 and 15, and the Hachiman Festival held on October 9 and 10. Sanno Festival is held at Hie Shrine, and Hachiman Festival is held at Hachimangu Shrine. Extravagant floats are paraded, attracting many visitors trying to catch a glimpse of them. There are 12 floats in spring and 11 in fall. In the evenings, an incredible 100 lanterns are lit on each stand, adorning the streets of Takayama with enchanting lights.