Stroll through the quaint Edo-period post town of Magome-juku in Nakatsugawa, Gifu Prefecture
Magome-juku is a former post town where travelers on the Nakasendo Route could rest at night, located in the present-day city of Nakatsugawa, Gifu Prefecture. Wanderlust-evoking cobblestone streets wind along the sloping terrain, lined with old-fashioned cafes and souvenir shops to snack and shop in as you immerse yourself in the Edo-period townscape. A 7 km hiking path to Tsumago-juku is one of the most popular areas along the Nakasendo walking trail.
Post towns on the Nakasendo Route connecting Edo (present-day Tokyo) and Kyoto were established as stations of sorts, where travelers could change horses and relieve their fatigue. From JR Nakatsugawa Station to Magome-juku is approximately 8 km, about a 25-minute bus ride or 2 to 3 hours of trail walking, which passes through several sightseeing spots such as Nakatsugawa-juku, just a few minutes' walk from JR Nakatsugawa Station; Ochiai-juku; and the cobblestoned pathway of Ochiai through a canopy of woods. There are six inns within Magome-juku as well as four more in the surrounding area, making this a perfect location to stay and refresh during your walk on Nakasendo.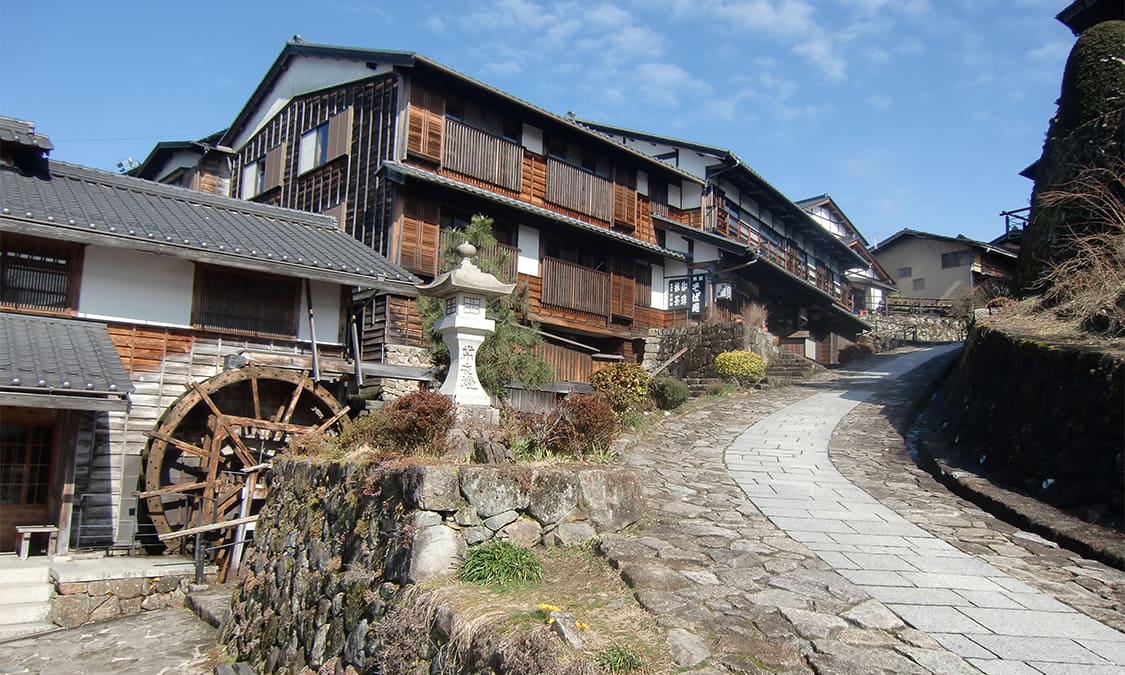 Nakasendo is one of the five routes constructed during the Edo period (1603-1868) and connects Edo and Kyoto in a stretch of approximately 526 km with 69 post towns along the way, of which 17 were located in Gifu Prefecture. The route bustled with people and goods traveling to and from destinations during the Edo period. Today, a number of establishments from the period are still preserved, such as accommodations used by feudal lords and merchant houses, giving visitors a glimpse into how people lived back in those days.
Location
| | |
| --- | --- |
| Name | Magome-juku |
| Web Sites | http://travel.kankou-gifu.jp/en/see-and-do/11/ |
| Address | 4300-1 Magome, Nakatsugawa-shi, Gifu |
| Access | Approximately 25 minutes' bus ride from JR Nakatsugawa Station on the Kita Ena Bus Magome Line |
| Inquiries | TEL: 0573-69-2336 (Magome Tourism Association) |