Notojima Aquarium is home to 40,000 individual animals and 500 different species of mainly fish such as whale shark that can be found wandering about the sea near the Noto Peninsula. There are lots of events to enjoy at the facility which will have visitors losing track of time. There are dolphin and sea lion shows, feeding events with otters, strolls with penguins, an event called Sea Bream's Fantasia of Light and Sound, and more. Notojima Aquarium is an interactive aquarium where visitors can get hands-on experience with feeding and interact with living creatures like dolphins.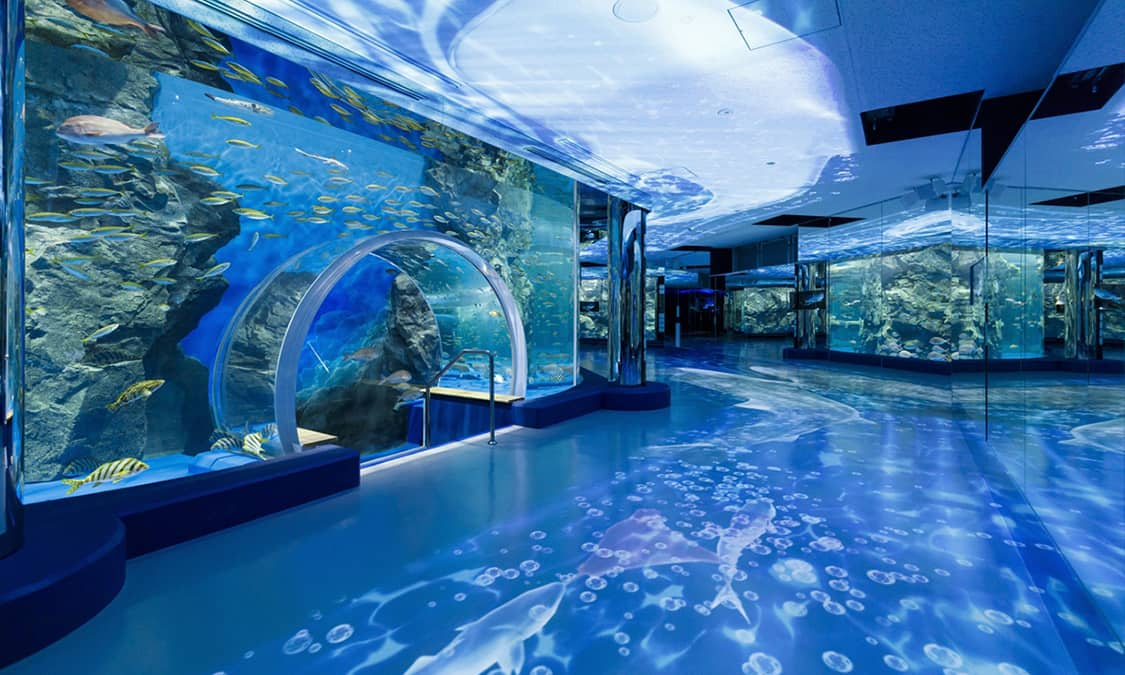 The tank for wandering fish that has been familiar with visitors since the opening of the facility has been renovated and reopened as "Noto Kaiyukairo". There are single-piece acrylic panels which allows for extensive observation of the entirety of the tank, an observation dome where visitors can get a feel for the schools of fish up close, and an always-on projection mapping attraction that is the first of its kind found on the coast of the Sea of Japan. These and other attractions really allow visitors to feel as though they are walking right through the ocean. There's no doubt that you'll get the perfect snapshot for your social media page!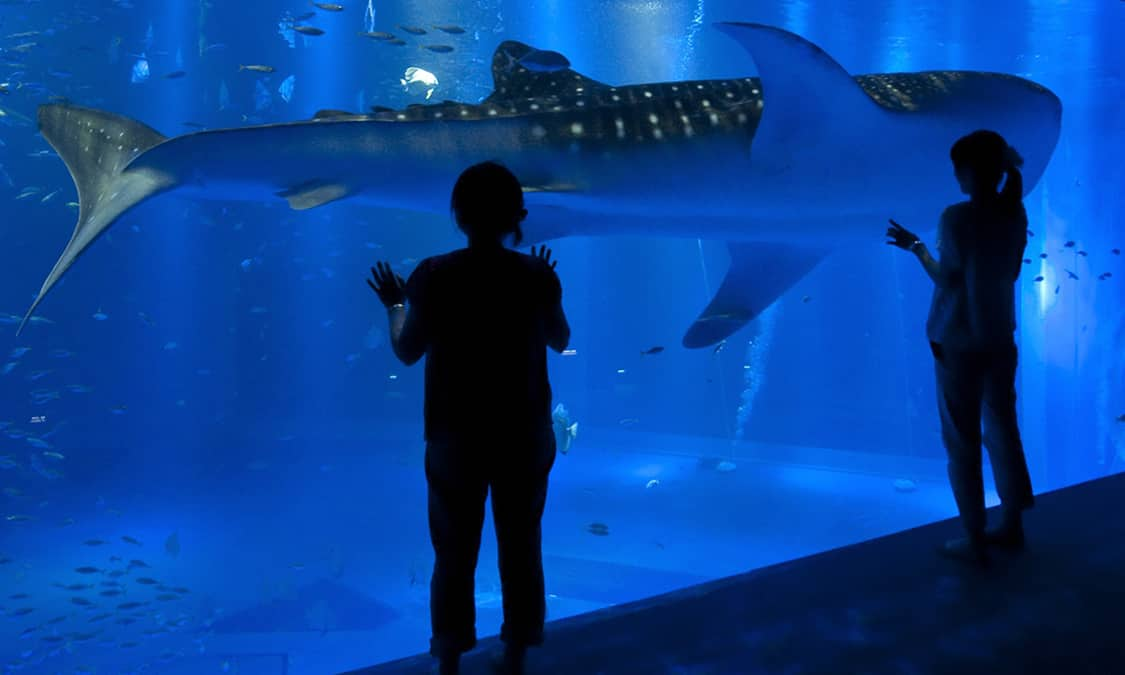 Whale Shark Zone: Blue World is one of the largest water tanks found on the coast of the Sea of Japan and accommodates a volume of 1,600 tons of water. Visitors are able to observe the whale shark from various angles. Animals found here include the only whale shark (the largest fish in the world) that you'll find at an aquarium on the coast of the Sea of Japan. Also on display are primarily sharks, rays, and large warm water fish that inhabit the seas to the south and migrate close to Noto. The sight of a softly swimming whale shark and gulping down its meal together with sea water is absolutely spectacular.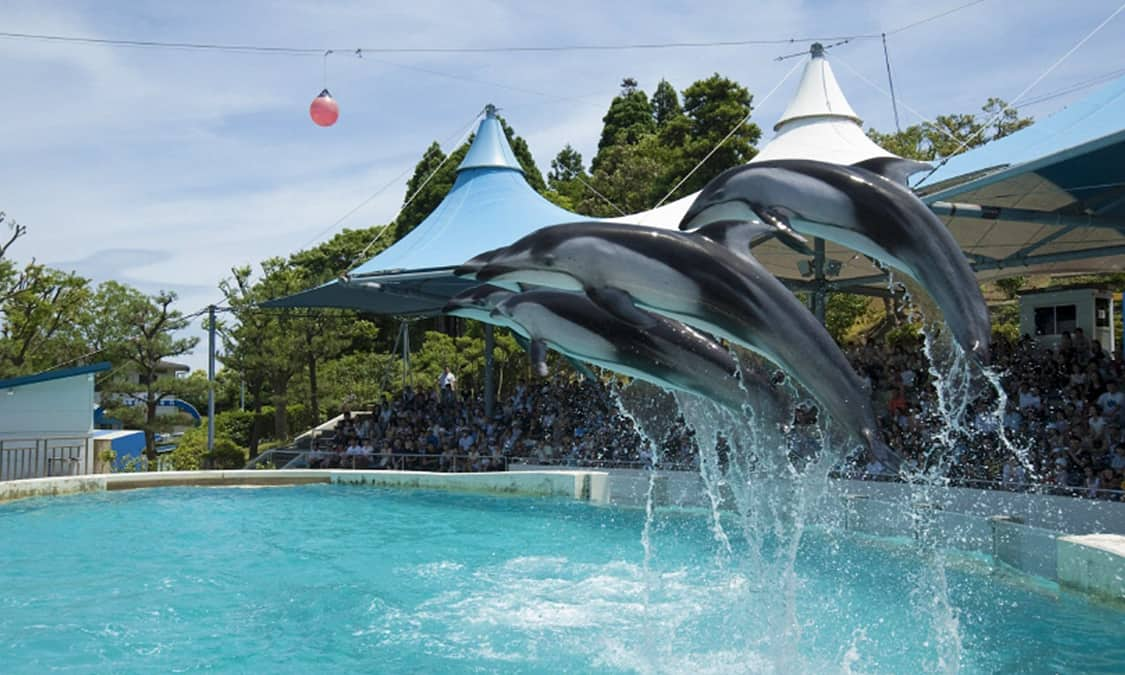 At the dolphin pool, visitors will find dolphin and sea lion shows featuring Pacific white-sided dolphins and California sea lions. These events are particularly popular attractions at Notojima Aquarium. People unexpectedly find themselves cheering at their nimble movements of the Pacific white-sided dolphins performing perfectly synchronized jumps. Without a doubt, you'll find yourself at peace as you watch the seals sporting engaging facial expressions as they put on their comical performances. Shows are put on at the dolphin training center during the period spanning from December 1 to March 19.
Location
Name
Notojima Aquarium
Web Sites
https://www.notoaqua.jp/global/english/
Address
15-40 Notojimamagari-machi, Nanao-shi, Ishikawa
Access
Take the Notojima-Kotsu Bus from Wakura Onsen Station and get off at Notojima Rinkai Koen bus stop
A 20 minutes' drive from the Wakura IC on the Noetsu Expressway
Business Hours
March 20 to November 30: 9:00 to 17:00 Last admission: 16:30
December 1 to March 19: 9:00 to 16:30 Last admission: 16:00
Closed
December 29 to December 31
Inquiries
TEL:0767-84-1271
Admission
Adults (high school-age and above): 1,850 yen/ Junior high school-age and younger (Age 3 and older): 510 yen