Nikusho Jade Kanazawa is a barbeque restaurant directly run by JA Zennoh Ishikawa. This establishment provides a menu full of items using ingredients consisting of safe, sound and fresh agricultural and livestock products produced within the prefecture. What's more, customers visiting from outside the prefecture are recommended to be provided with individual parts of the animal so as to better experience the flavors of Noto Beef (Wagyu raised in Ishikawa Prefecture) and the great-tasting Noto Pork. Nikusho Jade Kanazawa is a brand-name barbeque restaurant when it comes to food in Ishikawa.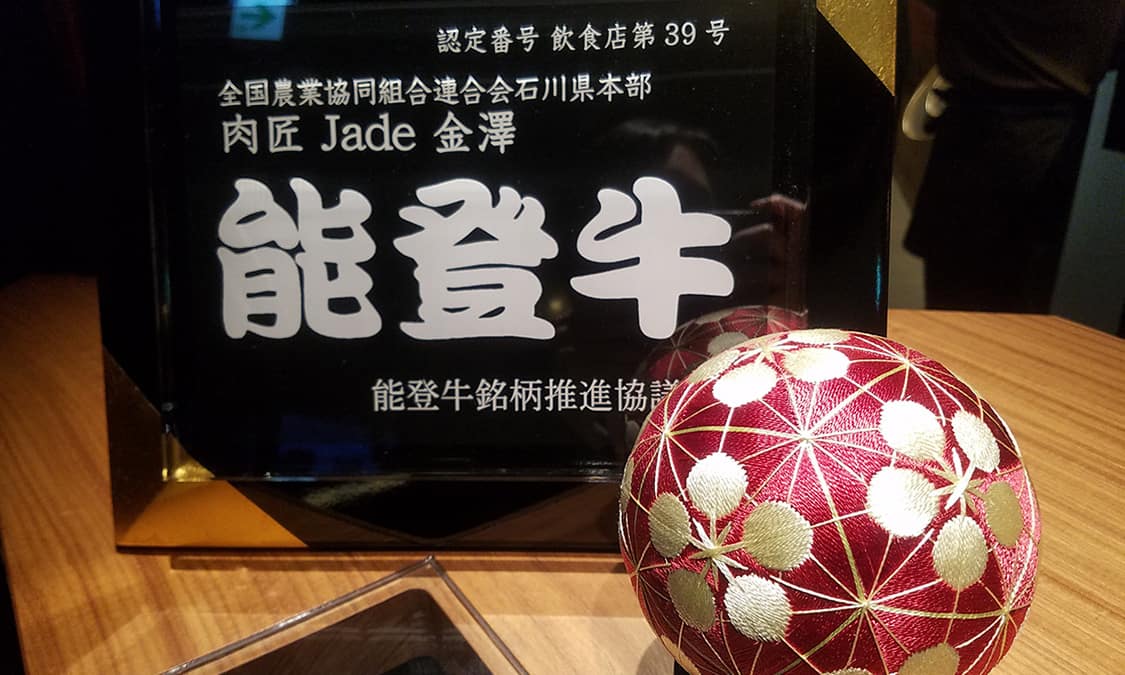 Noto Beef has been raised painstakingly in the beautiful natural surroundings and gentle climate of Noto to bring out a fine quality meat texture and delicious flavor.
The Noto Beef Brand Promotion Council is comprised of beef cattle-related organizations in Ishikawa Prefecture. It promotes Japanese Black cattle (a breed of cattle featuring partially black or dark brown fur) that raised in the prefecture. Meat that is excellent in terms of meat quality, color and other attributes, which are rated as such according to nationally identical criteria, are certified under the name of Noto Beef.
Alpha-no-Megumi Noto Pork is healthy pork which provides diners with a great texture and taste. The meat is soft and includes much more Alpha-Linolenic acid than what you'll find in normal pork. Alpha-Linolenic acid is said to be effective in preventing lifestyle-related diseases and is one of the unsaturated fatty acids found in pork that has been jointly developed by the Ishikawa Prefectural Livestock Exp. Stn., Hokuriku Gakuin University, and The Nisshin OilliO Group, Ltd.
Nikusho Jade Kanazawa uses rice and agricultural products that are of high quality and provide peace of mind thanks to their production process leveraging the climate and geographical conditions of Ishikawa Prefecture.
Location
Name
Nikusho Jade Kanazawa
Web Sites
(In Japanese) https://www.is.zennoh.or.jp/jade/
Address
Live 1 Building (Building B-2F), 3-3, Konohana-machi, Kanazawa-shi, Ishikawa
Access
A 4 minutes' walk from Kanazawa Station
Business Hours
Lunch: 11:00 to 14:00 (Last Order is at 13:30, not available on weekends and holidays)
Dinner: 17:00 to 22:30 (Last Order is at 21:30)
Inquiries
TEL:076-256-1129