Local Sake from Kanazawa, Ishikawa: Souvenirs and Sake Sampling in Kanazawa Jizakegura at "Anto," Kanazawa Hyakubangai
Anto is an area for buying souvenirs inside Kanazawa Hyakubangai in Kanazawa Station in Kanazawa City, Ishikawa Prefecture. If you're planning on buying local sake as a souvenir, you should get it at Kanazawa Jizakegura. You can casually enjoy Ishikawa local sakes - sample drinks at the local sake bar on the premises.
From Kaga to Noto, the prefecture has a thriving local sake industry and many breweries. You can taste rich, sharp brand sakes made from a combination of mineral-rich meltwater such as underground water from mount Hakusan, high-quality sake rice, and traditional techniques performed by Noto chief brewers in the harsh winter.
An American travel magazine praised Kanazawa Station as being one of the most beautiful stations in the world. In it, there is a shopping mall called Kanazawa Hyakubangai, with an area for tourists called "Anto." "Anto" gets its name from "Anyato," the way of saying thank you in the local dialect. Kanazawa's main producers of Japanese sweets are tenants of this tourist area. Kanazawa Jizakegura in Kanazawa Station's Anto has brand sakes from all the breweries belonging to the Ishikawa Sake Brewers Association.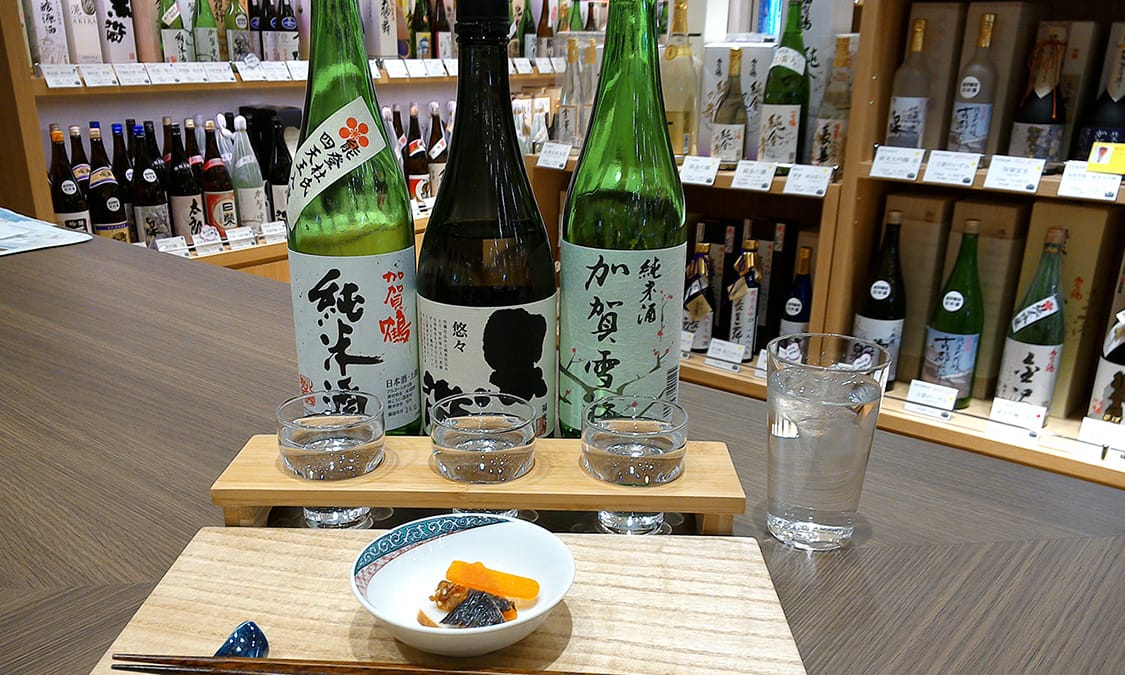 The store also houses a local sake bar, perfect if you want to try sakes before buying. You can enjoy sampling sake with some snacks. The staff give visitors in-depth explanations of the characteristics of the sakes. It's also okay just to sample different sakes without eating anything. There is a sake sampling vending machine here, allowing visitors to enjoy Ishikawa local sakes for affordable prices. All sake lovers should definitely come and sample delicious Ishikawa sakes here when in Kanazawa Station.
Location
| | |
| --- | --- |
| Name | Kanazawa Jizakegura |
| Web Sites | (In Japanese) https://www.hot-ishikawa.jp/spot/21113 |
| Address | Anto Kanazawa Hyakubangai, 1-1 Kinoshinbo-machi, Kanazawa-shi, Ishikawa |
| Access | Inside Kanazawa Station |
| Business Hours | 8:30 to 20:00 (Last order 19:30) |
| Inquiries | TEL: 076-260-3739 |