Esashi-Fujiwara Heritage Park

Explore the magnificent Heian culture in the grand historical park
Oshu-Esashi, where the park is located, is the birthplace of Kiyohira Fujiwara, the first lord of the Oshu-Fujiwara clan, and his father Tsunekiyo. Kiyohira is also known as the person who built Chuson-ji Temple's Konjikido in Hiraizumi, a golden hall registered as a World Cultural Heritage site. On the 20-hectare area of the historical park stand a number of buildings such as residences of Heian nobility which have been faithfully recreated based on the townscape of the Heian Period (794-1185). The park also serves as a location for filming TV dramas and movies.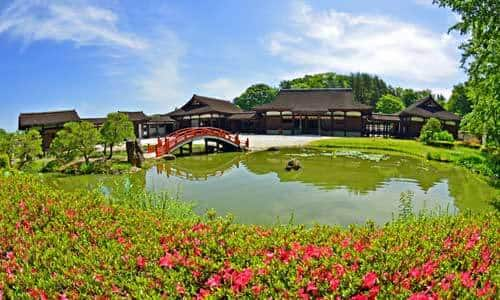 The Fujiwara Family's 100 years of glory
Oshu-Fujiwara is a noble family who ruled the Tohoku region in prosperity for 100 years from the early 11th century. While Kyoto was going through the maelstrom of war, Oshu, governed by the Fujiwara Family, developed an independent culture. The buildings on the park's vast area that have been recreated based on background research from ancient times make you feel as if you traveled back in the time of the Heian Period. Being the only historical theme park featuring the Heian culture, the 20-hectare park houses approximately 120 buildings, including residences of the noble and lord families as well as "Seicho," the center of political power. In addition, there are great attractions that allow you to experience the Heian culture such as dressing in "Junihitoe (multi-layered ceremonial kimono)" or samurai armor, as well as archery and clamshell painting. Esashi-Fujiwara Heritage Park is also famous for viewing beautiful seasonal flowers, but in particular, the Chuson-ji lotus flowers in early summer are truly epic. There is also the Esashi Native District Cultural Museum where you can learn about Buddhist art during the Heian Period as well as local culture.
Location
Name
Esashi-Fujiwara Heritage Park
Website
https://www.fujiwaranosato.com/en/
Address
86-1 Konamaru, Esashi Iwayado, Oshu-shi, Iwate
Access
Approximately 15 minutes' drive from JR Tohoku Shinkansen Mizusawa-Esashi Station
Approximately 25 minutes' drive from JR Tohoku Main Line Mizusawa Station
Approximately 20 minutes' drive from the Mizusawa IC on the Tohoku Expressway
Inquiries
TEL: 0197-35-7791