Tanikawa Beikokuten, a renowned restaurant serving Sanuki udon noodles, is found in the town of Manno in Kagawa Prefecture's Nakatado district. The popular way to enjoy their handmade udon noodles, which have a good, firm texture, is to pour soy sauce over them and top them with green chili peppers. This is one restaurant you don't want to miss if you're planning to try the different Sanuki udon in the area.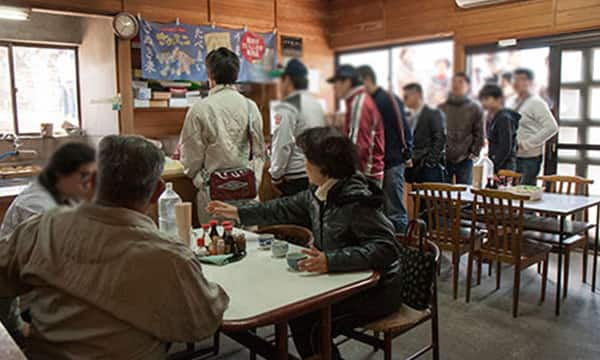 In fact, one of the reasons for the popularity of Sanuki udon is that people enjoy the adventure of searching in such a remote place for this store that is like eating in the corner of a noodle production factory. For people from outside the prefecture, the rustic buildings, the serene atmosphere, and particularly the inconvenience of it all creates a fresh experience. At Tanikawa Beikokuten, which has particularly tranquil scenery even in comparison to other Sanuki udon stores, customers offer their seats to one another in the small store as they happily slurp the udon noodles.
Exceptional noodles that you cannot taste elsewhere
Some people go back for multiple servings of these noodles that have a soy sauce base that is accented with vinegar, egg, or the famous pickled green chillies (may not be available in spring and summer as they are pickled in August)
Above all, you will be amazed by the delicious noodles at Tanikawa Beikokuten that are both springy and yet firm. It is a point of pride that, even without the addition of a soup stock, the flavor of the udon noodles can be enjoyed just by adding soy sauce in the same way as sashimi. The flavors and prices while on a Sanuki udon tour are impressive. Each store has different attractions, so many people enjoy eating at as many of the udon stores as possible. Start your fascinating Sanuki udon tour with a visit to the head store of Yamagoe Udon, which has many different attractive features.
Location
| | |
| --- | --- |
| Name | Tanikawa Beikokuten |
| Address | 1490, Kawahigashi, Manno-cho, Nakatado-gun, Kagawa-ken |
| Price | Small JPY 150, Large JPY 280 , Egg JPY 50 |
| Hours | 10:30 to 13:30 (or until the noodles are sold out) |
| Closed | Sundays (speical closures on other days) |
| Telephone | 0877-84-2409 |