Shiogamazakura (Shiogama Shrine)

Shiogamazakura cherry trees that color the shrine grounds in pink
Shiogama Shrine situated in Shiogama City is a traditional shrine believed to be over 1,200 years old. In addition to Shiogamazakura cherry trees that are a designated National Natural Monument, about 300 cherry trees, including Somei Yoshino and Shidarezakura with pink double flowers, are planted around the shrine grounds. Shiogamazakura is a gorgeous variety that has around 35 to 50 light pink petals in one flower. Because it is a late-blooming type of cherry tree, you can enjoy it in full bloom after the best period for viewing other cherry tree varieties is over. In addition, the shrine provides a magnificent view of Matsushima Bay.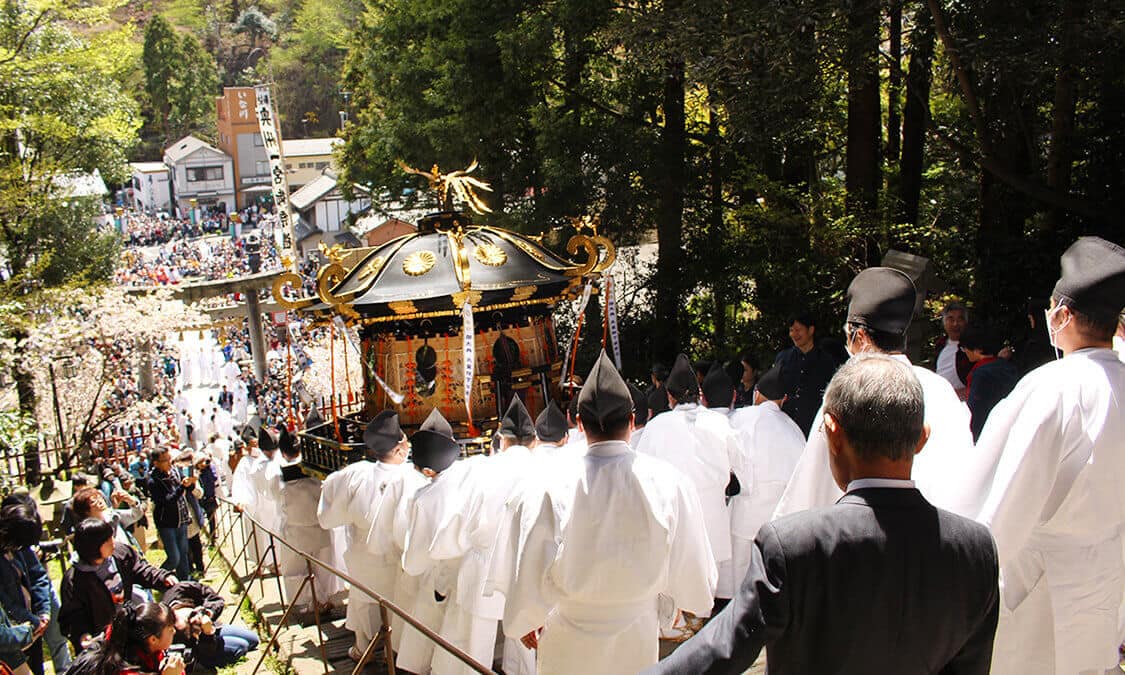 Shiogama Shrine flower festival
The flower festival of Shiogama Shrine is held on the fourth Sunday of April every year. Legend has it that the festival began around the late 1700s. Suffering from poor harvest due to natural disasters, people in the area visited the shrine to offer a prayer for a good harvest. Then, the crops began to grow, and people walked throughout the town carrying Mikoshi, or a portable miniature shrine, to express their appreciation, which is believed to be the origin of the festival. Today, 16 men stroll around the streets of Shiogama carrying a Mikoshi weighing 1 ton. In a solemn ritual, the scenery of the Mikoshi marching along to the echoes of the ancient Gagaku court music represents a proud tradition of Shiogama City. Carrying the Mikoshi up over 200 steep stone steps to the shrine's front entrance is the highlight of the festival. It is quite a thrilling sight to see the 16 men descend and ascend these steps with the Mikoshi on their shoulders. The festival is held when the shrine is blessed with the 300 cherry trees in full bloom, which together with the splendid view of the Matsushima Bay fascinates a great number of visitors.
Location
Name
Shiogamazakura (Shiogama Shrine)
Website
http://www.shiogamajinja.jp/topics/pdf/pamphlet-english2018.pdf
Address
1-1 Ichimoriyama, Shiogama-shi, Miyagi
Access
Approximately 10 minutes' drive from the Rifu-naka IC on the Sanriku Expressway
Approximately 15 minutes' walk from JR Hon-Shiogama Station
Business Hours
5:00 to 20:00
Inquiries
TEL: 022-367-1611 (Shiwahiko Shrine and Shiogama Shrine Office)