Mount Kurikoma adorned with gorgeous autumn leaves
Located in the center of the Tohoku region, the 1,626-meter Mount Kurikoma is a popular hiking destination that offers six courses with Iwakagami-daira as a starting point, and is suitable both for beginners and advanced climbers. From mid-September to mid-October, broad-leaved trees such as beech and maple adorn the entire mountain with impressive layers of autumn foliage. Climb up to the summit and indulge in the unbroken views of the superb colorful leaves that can only be seen from the top.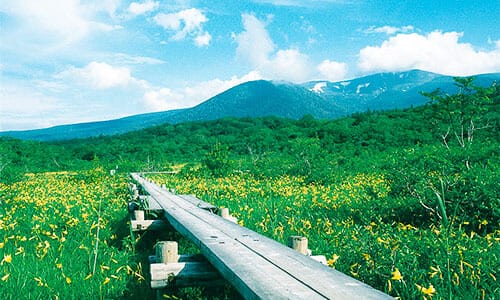 Sekai Yachi Wetlands Native Flower Park
Sekai Yachi, meaning "large wetlands," is a treasure trove of alpine flora that spreads across the southern foothills of Mount Kurikoma. Approximately 150 varieties of alpine plants grow wild in clusters in the understory of primeval beech forests. Particularly, nikkokisuge flowers (day lilies), designated as the city flower of Kurihara City, are in full bloom from mid- to late June, painting the entire area in orange. Wooden paths are available over the wetlands, surrounded by trees that creates a perfect backdrop for a safe and leisurely walk in the midst of beautiful autumn foliage as well as during the lush greenery season.
Location
| | |
| --- | --- |
| Name | Mount Kurikoma |
| Website | https://www.kurihara-kb.net/en/publics/index/25/ |
| Address | Koeihigashi, Kurikomanumakura, Kurihara-shi, Miyagi |
| Access | Approximately 1 hour and 10 minutes' drive from Kurikoma-Kogen Station on the JR Tohoku Shinkansen |
| Inquiries | TEL: 0228-25-4166 (Association of general Kurihara-shi sightseeing product) |