Mount Fuji World Heritage Centre

Try a Virtual Climbing Experience at Mount Fuji World Heritage Centre!
If you're visiting Shizuoka's famous Mount Fuji, make sure you check out the Mount Fuji World Heritage Centre in Fujinomiya, Shizuoka Prefecture. It's a museum, and there's an exhibit with virtual climbing experience. In the observation hall, you can get a head-on view of Mount Fuji from inside the building, allowing you to enjoy the diverse beauty of Mount Fuji no matter what the weather.
Mount Fuji World Heritage Centre introduces the history, culture, and nature of Mount Fuji from a variety of perspectives. It was opened in December 2017. Here is a guide to the highlights of the center, covering both the content of the exhibitions and its external appearance, with distinctive features such as its inverted cone exhibition tower and water basins extending in front of it.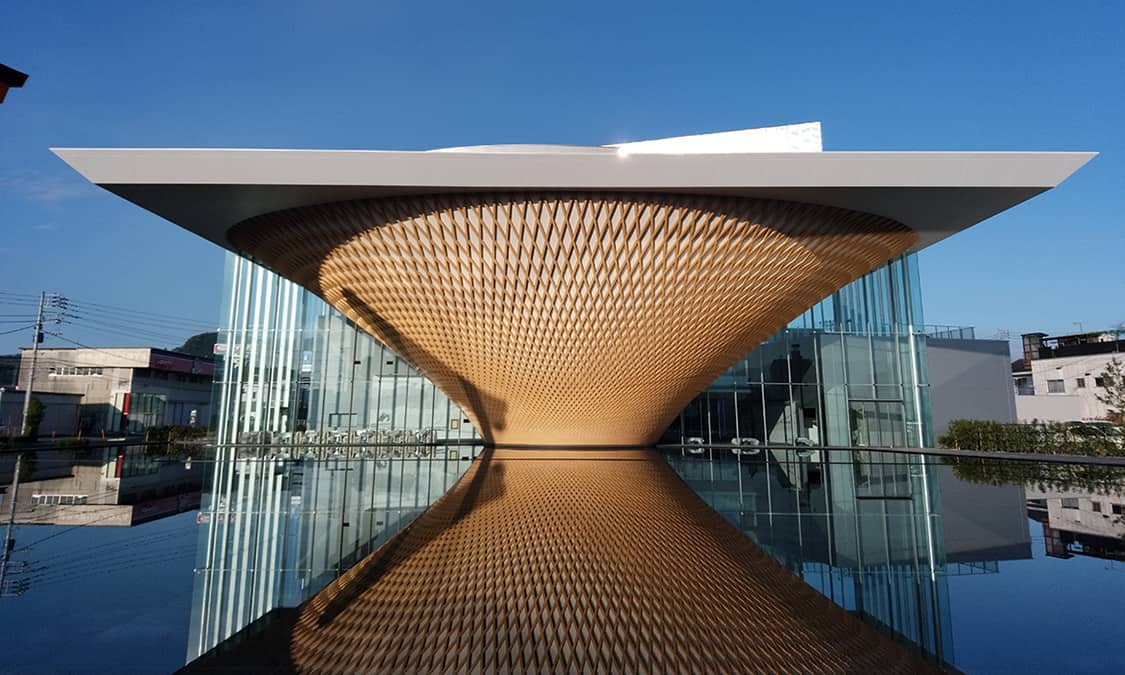 When you visit the center, the first thing you'll notice is the inverted cone exhibition tower that looks like an upside-down Mount Fuji. The reflection in front of the exhibition tower creates an image of the shape of Mount Fuji. The tower is covered in a wooden grid made from the wood of 4,300 Fuji cypresses taken from local forests. The exterior has many different faces to enjoy. From certain angles, the real Mount Fuji can also be seen in the reflection, creating an inverted Fuji in the water. As well as this, it is lit up at night until 22:00.
The first exhibition as you enter the building is "Ascending Fuji." A video of progressively higher altitudes is played as you follow the 193-meter spiral slope inside the inverted cone tower to the higher floors. The video projected on the walls is taken from the perspective of someone climbing Mount Fuji. By watching this video as you climb, you can try a virtual experience of climbing Mount Fuji from the sea, something Shizuoka Prefecture is known for. The videos show an entire day - from morning to evening - allowing you to experience climbing Mount Fuji at various times of the day. Between the videos, there's an effect that makes it look like your shadow is climbing alongside the climbers - you'll feel just as if you're really climbing!
Once you climb to the top of the spiral slope, you'll arrive at the "Observation Hall". If you climb to the peak the actual Mount Fuji, you won't be able to enjoy a view of the mountain itself. Here, on days of good weather, you will be able to enjoy an unobstructed, straight-on view of the real Mount Fuji after you've finished the virtual climbing experience. Mount Fuji seen from the through the window called, "Picture Window" built into the wall looks just like a painting.
Location
Name
Mount Fuji World Heritage Centre
Web Sites
https://mtfuji-whc.jp/en/
Address
5-12 Miya-cho, Fujinomiya-shi, Shizuoka
Access
8 minutes' walk from Fujinomiya Station on JR Minobu Line
Business Hours
9:00 to 17:00 (In July to August, open until 18:00)
Last admission 30 minutes before closing time
Inquiries
TEL: 0544-21-3776
Admission
Adults: 300 yen (Groups of 20 or more: 200 yen) Children under 15 years old, students, elderly 70 years old and older, people with disabilities, etc: free admission