Tokko-no-Yu, the symbol of Shuzenji Onsen
Tokko-no-Yu is the oldest hot spring in the Shuzenji Onsen resort in Izu, Shizuoka Prefecture. Legend has it that in 807, when renowned Buddhist priest Kukai visited the area, he was deeply touched by the deeds of a son caring for his sick father and struck a river rock with his tokko (a Buddhist ritual tool) to produce the famous hot spring. Today, Tokko-no-Yu is only open for observation, and dipping your hand and feet or bathing in the water is not allowed.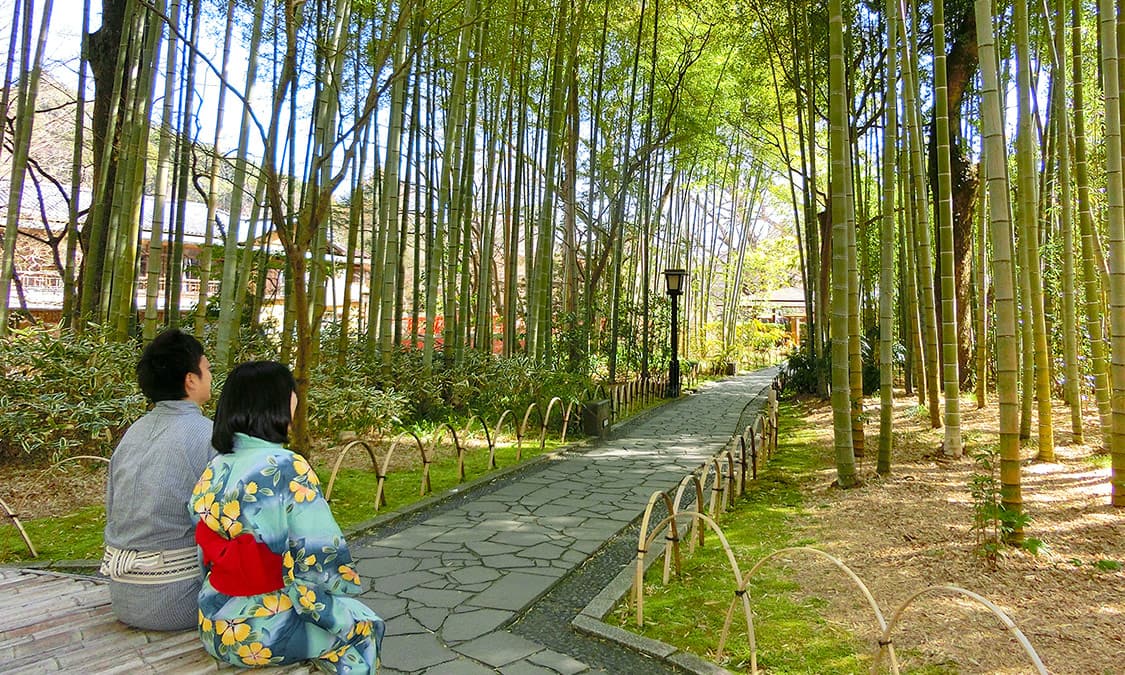 Chikurin-no-Komichi, a bamboo forest path
This scenic path stretches along the Katsura River, which runs through the center of the town, for 300 meters past the Tokko-no-Yu hot spring to the beautiful vermillion-lacquered Katsura Bridge and Kaede Bridge, and continuing upstream to the Takishita Bridge. The picturesque bamboo forest and cobbled pathway make this a popular spot among visitors.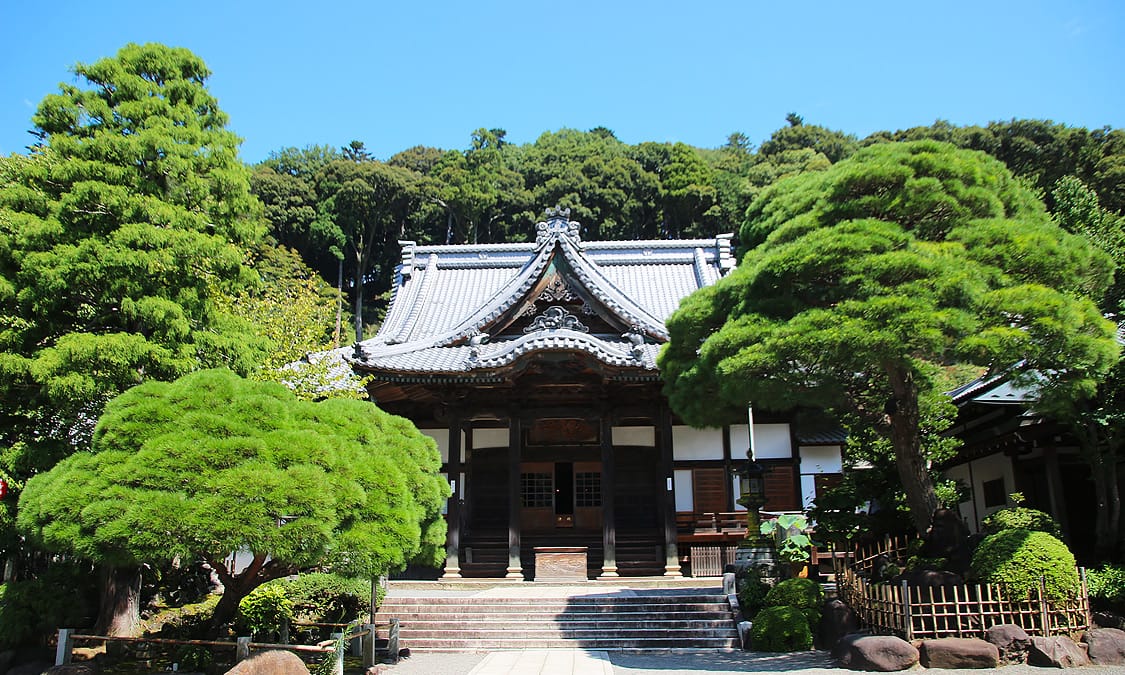 Shuzenji, a Soto-school Fukuchizan temple
Located at the center of the resort, the temple was founded by Kukai in 807 and became the birthplace of Shuzenji Onsen. The treasure museum Zuihozo exhibits valuable items passed down in the temple for generations, including the gold-copper tokko, or iron club, that Kukai is said to have used to produce the hot spring. In September 2014, along with the restoration of the temple gate, a new nio-do temple was constructed to enshrine the Kongo Rikishi statues, the powerful two guardians of the Buddha.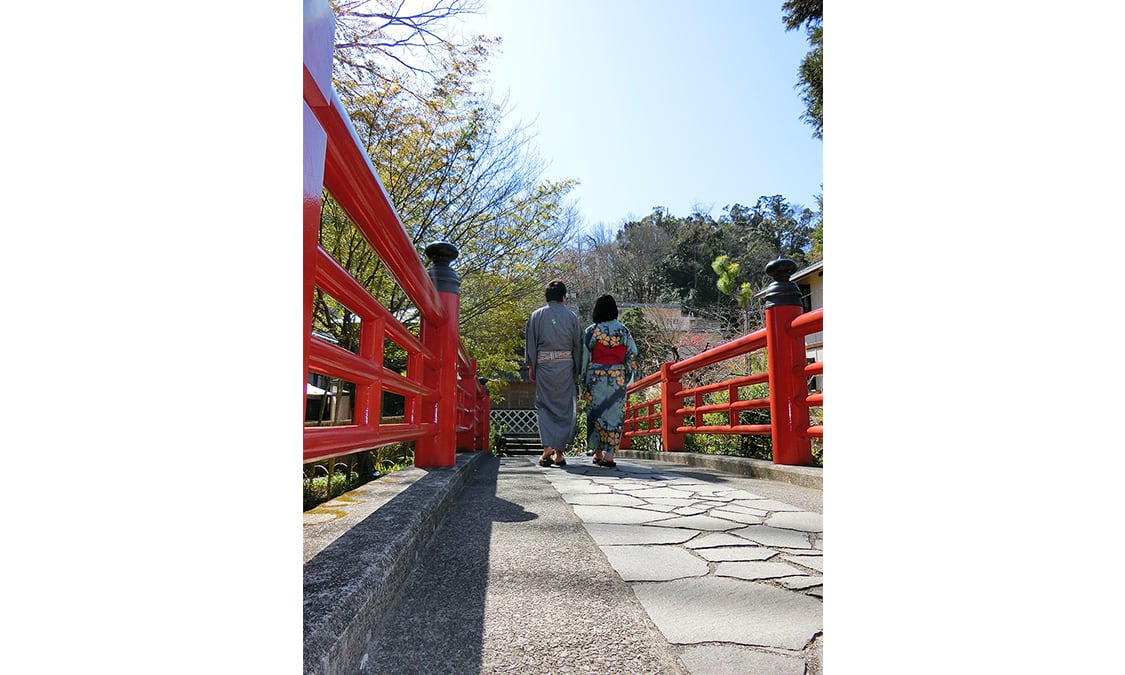 Power spot for succeeding in love: the five red bridges over Katsura River
There are five red bridges crossing the Katsura River, which runs through the center of Shuzenji Onsen. If you cross all five bridges while making a wish for love, it is said to come true. Shuzenji is the setting of the famous modern kabuki play "Shuzenji Monogatari," in which the shogun Yoriie Minamoto falls in love with the daughter of a mask maker that Yoriie asks to carve his mask. The five bridges each have romantic nicknames: Togetsu Bridge is nicknamed Misome-bashi ("love at first sight" bridge), Kokei Bridge is Akogare-bashi ("longing" bridge), Katsura Bridge is Musubare-bashi ("joined together" bridge), Kaede Bridge is Yorisoi-bashi ("leaning on each other" bridge), and Takishita Bridge is Yasuragi-bashi ("peaceful" bridge).
Location
| | |
| --- | --- |
| Name | Shuzenji Onsen |
| Web Sites | (In Japanese) http://www.shuzenji-kankou.com/walkingmap.html |
| Address | Shuzenji, Izu-shi, Shizuoka |
| Access | 3 minutes' walk from Shuzenji Onsen Station |
| Inquiries | TEL: 0558-72-2501 (Izu Tourist Association Shuzenji Branch) |