Jantokoi Uozu Festival, the most exciting time of year in Uozu
Suwa Shrine in Uozu, Toyama, is the main stage of the Jantokoi Uozu Festival, the city's biggest event of the year. A series of exciting events are held around town from Friday to Sunday in the first week of August every year, centered on the Tatemon Festival as well as the Marine Fireworks Display and the Serikomi Choroku Dance.
Tatemon Festival, a summer night tradition
Tatemon are giant floats with over 90 lanterns arranged in triangular sail shape and framed with a picture underneath on a large pillar about 16 meters tall. The Tatemon is placed on a 10-meter base, and vigorously pulled and paraded by around 80 people with just human power. The total weight amounts to an astonishing five tons. The townspeople, praying to god for a good catch and safety at sea, send out seven of these Tatemon floats. The valiant festival is a proud summer night tradition of Uozu and was registered as a UNESCO Intangible Cultural Property in 2016.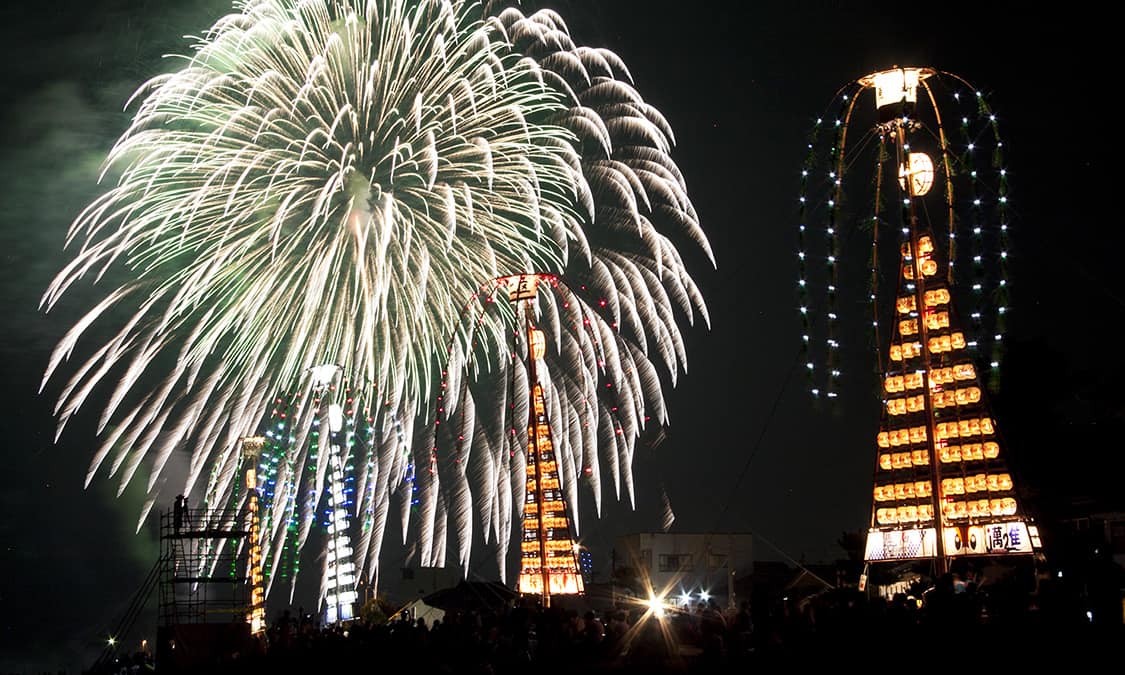 Marine Fireworks Display lights up the night sky
The Marine Fireworks Display is staged on the second day (first Saturday of August every year) of the Jantokoi Uozu Festival. The starmine fireworks launched from ships out in sea are unobstructed by buildings, so you can fully experience the fireworks' intensity. From the side where Suwa Shrine is located, you can enjoy both the Tatemon and fireworks together.
Serikomi Choroku, the butterfly dance
Uozu Serikomi Choroku is a folk song passed down in Uozu since the Edo period (1603-1868). Moving with the strong chanting rhythm, dancers hold fans, hats, and lanterns and dance like heavenly butterflies. The highly emotional song is one of the representative folk songs of Toyama and is designated as an intangible folk-cultural property of Uozu.
Location
| | |
| --- | --- |
| Name | Suwa Shrine |
| Web Sites | http://www115.sakura.ne.jp/~suwajinjya/ |
| Address | 1-16 Suwa-machi, Uozu-shi, Toyama |
| Access | 5 minutes' drive from Uozu Station on the Ainokaze Toyama Railway |
| Inquiries | TEL: 0765-24-5973 |