Etchu-Yatsuo Tourist Center

Gorgeous Yatsuo Hikiyama festival floats will leave you in awe
Passed down for centuries from the 1740s, the Hikiyama Festival in Toyama City, Toyama Prefecture, is a spring tradition. It represents the merchant culture of Yatsuo that thrived from production and trade of raw silk, silkworm eggs, Japanese paper, and charcoal. The rich culture of Hikiyama floats and local performing arts has been handed down as a symbol of the prosperity of Yatsuo. In the museum, visitors can enjoy traditional Hikiyama-Bayashi music together with three beautiful Hikiyama floats on display.
Etchu-Yatsuo Hikiyama Festival
The Hikiyama floats of Yatsuo are said to have originated when Hina dolls that were given by Masatoshi Maeda, the lord of Toyama domain at the time, and amateur actors were paraded around by the townspeople of Kamishinmachi. Later, different towns began creating Hikiyama floats as if to flaunt the wealth of Yatsuo merchants, competing to craft the most extravagant float, resulting in the six beautiful Hikiyama floats today. Lavishly adorned with artworks by master craftsmen of the time, such as Inami sculptures, Johana lacquer, and Takaoka engravings, the gorgeous floats are both evidence and pride of the flourishing Yatsuo merchant culture built on the region's sericultural industry (silkworm eggs and silk) and Japanese paper production. The Hikiyama Festival is held annually on May 3.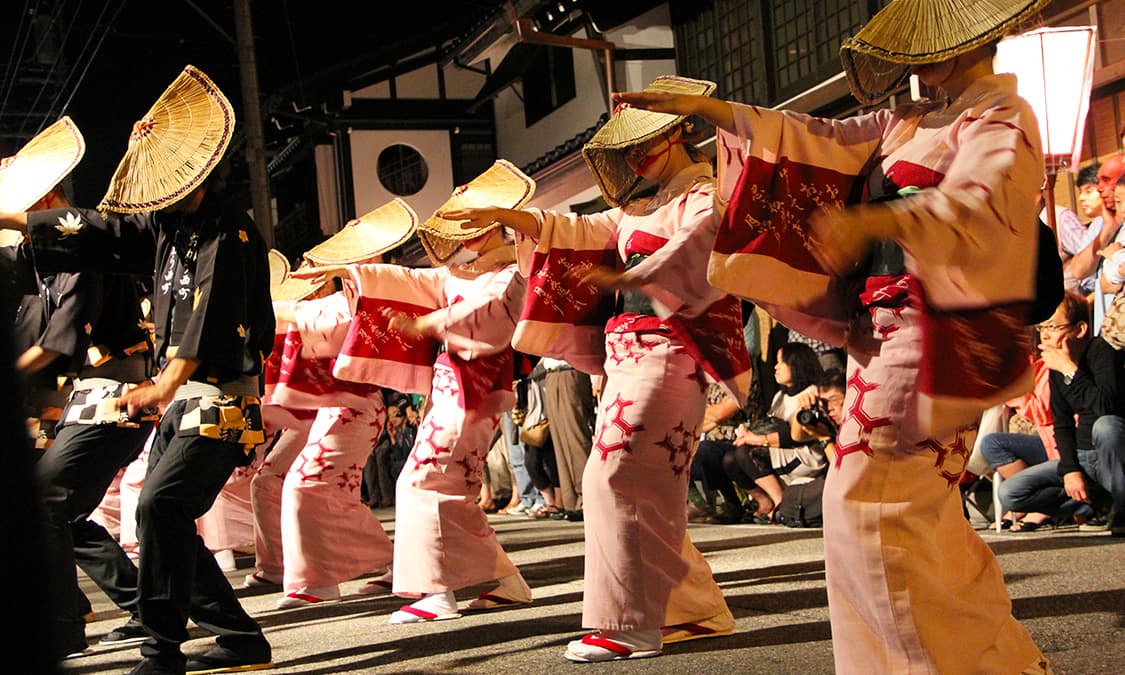 Etchu-Yatsuo Owara Kaze-no-Bon Festival
As the first autumn winds blow, the Owara Kaze-no-Bon Festival commences. The dance festival is held from September 1 to 3 every year. Past the twilight hour when the mountains are blazing red, lanterns lining the streets are softly lit, and men and women elegantly dance along to the refined sounds of shamisen, kokyu (traditional Japanese instrument), and drums through the hillside town. During the festival period, stage performances are held every night at the Etchu-Yatsuo Tourist Center, in addition to parades and ring dances in each town. Visitors can also enjoy the Owara Kaze-no-Bon dance stage performance year-round at Etchu-Yatsuo Tourist Center, held on the second and fourth Saturdays of every month.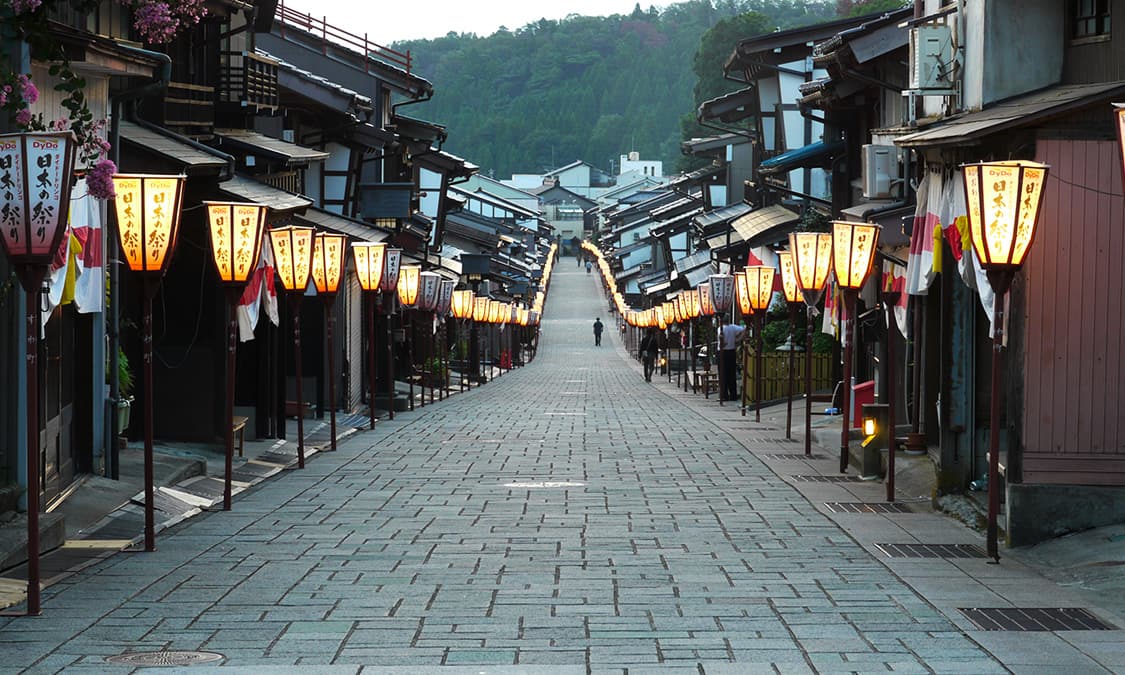 The Owara Kaze-no-Bon Festival begins around nightfall, when young men and women gracefully dance through the streets dressed in matching yukatas for each of the 11 towns. One picturesque stage of the parade is Suwamachi Street, a gentle stone-paved slope lined with white-walled houses with wood gratings. Reminiscent of the streetscape of the Edo period (1603-1868), the street is regarded as one of the most iconic spots to complement the Owara dance, and has been selected among the Hundred Roads of Japan and Hundred Soundscapes of Japan.
Location
Name
Etchu-Yatsuo Tourist Center (Festival Float Museum)
Web Sites
(In Japanese) http://www.yatsuo.net/kankou/KAIKAN/
Address
2898-1 Kamishinmachi, Yatsuo-machi, Toyama-shi, Toyama
Access
From JR Etchu-Yatsuo Station on the Takayama Main Line, take the Yatsuo Machi-meguri bus for 11 minutes and get off at Hikiyama Tenjikan-mae bus stop
Business Hours
9:00 to 17:00 (Final entry: 30 minutes before closing)
Inquiries
TEL: 076-454-5138
Admission
Adults: 500 yen; Children (high school students and under): 300 yen; Children (preschool age): free
Others
Kaze-no-Bon stage
Fee: 1,500 yen per person
Dates held: Second and fourth Saturdays of every month
Time: 13:30 to 14:30 (duration 60 minutes)