Ooiwasan Nisseki-ji Temple

Prayer, encounters, and experiences of Ooiwasan Nisseki-ji Temple instilled from 1,300 years of history
Ooiwasan Nisseki-ji Temple is a Shingon-school Buddhist temple located at the foot of Mount Tsurugi in the spectacular Tateyama Mountain Range in the town of Kamiichi, Toyama. The temple is fondly referred to as Ooiwa-no-Ofudo-san for its enshrined god, the approximately 3.5-meter-tall stone image of the powerful guardian deity Fudo Myo-o, which is dually designated as a national historic site and important cultural property. In addition, the premises has numerous sites and small temples, including the three-storied pagoda, temple gate, Jizodo temple, six waterfalls, and Sengankei gorge.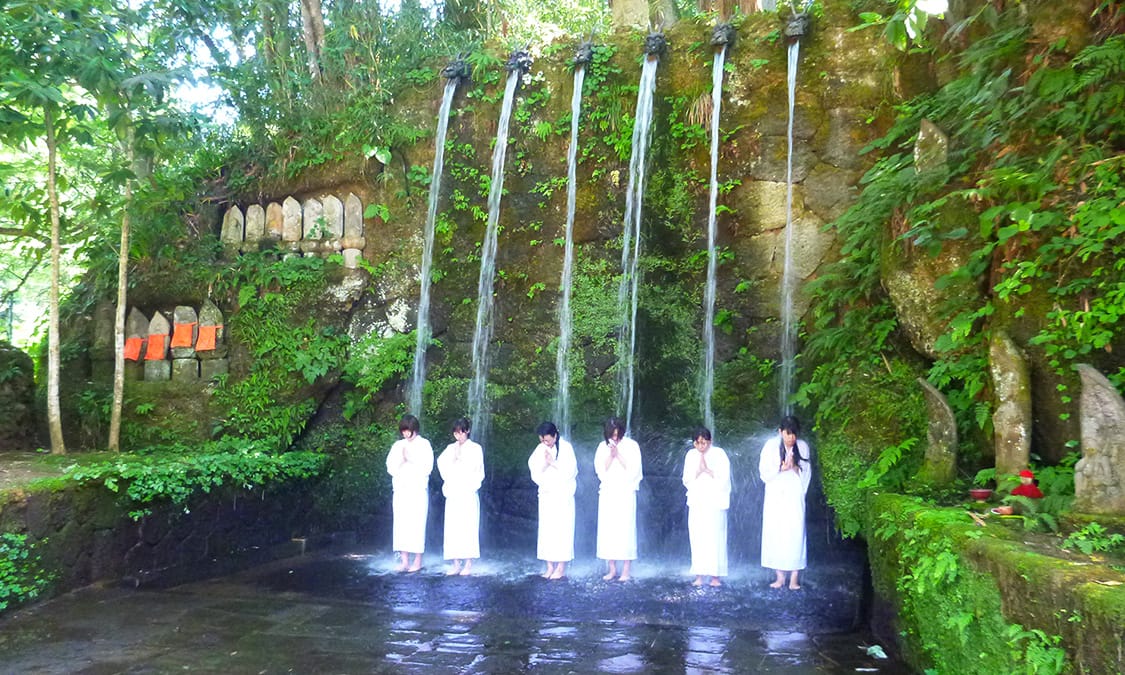 Training experience at Nisseki-ji
Nisseki-ji has been a site of prayer and training from ancient times, including being the temple to pray for fertility by the Maeda family, feudal lord of the Kaga domain. Today, visitors of all ages, gender, nationality, and religion are welcome to experience training at the temple all year round. Takigyo, or waterfall meditation training, is a rigorous cleansing ritual held in January, the coldest time of year, attracts followers from around the country and has become a winter tradition. On the other hand, the shabutsu training is a quiet, spiritual training of putting your heart into carefully tracing over the image of the Fudo Myo-o. In purifying the body and mind through takigyo and sharpening your spirit through shabutsu, you may be able to discover a new part of yourself in Ooiwa.
Fudo Myo-o image (Main hall)
The stone image of Fudo Myo-o is said to have been carved in 725 by Gyoki, a renowned Buddhist priest. The seated statue of Fudo Myo-o, believed to have manifested as the sacred Mount Tsurugi, is carved on a massive tuff-rock along with four other figures. It is highly acclaimed as one of the best statues of its kind in the country for its size, beauty, and state of preservation. The archaic style of the Fudo Myo-o's facial expression, with his eyes open wide and upper teeth biting into the lower lip, has a dignified presence with a sense of compassion and intensity. Also, in his left palm is a sacred gem, a detail that is unique to this statue.
Delicious somen noodles in Ooiwa temple town
At restaurants and inns along the Hyakudanzaka slope of Nisseki-ji, visitors can enjoy delicious somen noodles, Japanese jelly noodles, mountain vegetable cuisine, and mountain trout. The somen noodles are especially famous, with many worshippers seeking the cool, refreshing dish during the summer. The secret behind their great taste is first and foremost the local spring water, which is taken from the same source as the Ooiwa Nisseki-ji Temple's fujimizu, designated as one of Toyama's best waters and believed to remedy eye troubles. The water is combined with noodles matured for three years for a simple yet delectable taste and texture. The somen noodles beautifully served like silk are sure to satisfy both the eyes and palate.
Location
| | |
| --- | --- |
| Name | Ooiwasan Nisseki-ji Temple |
| Web Sites | (In Japanese) http://ooiwasan.com/home.html |
| Address | 163 Ooiwa, Kamiichi-machi, Nakaniikawa-gun, Toyama |
| Access | 15 minutes' drive from Tateyama IC on the Hokuriku Expressway |
| Business Hours | 9:00 to 16:00 (Office) |
| Inquiries | TEL: 076-472-2301 |