Uchikawa area, a beautiful port town dubbed the "Venice of Japan" in Imizu City, Toyama Prefecture
The Uchikawa area in the city of Imizu faces the Sea of Japan and flourished as a transit point of Kitamae-bune merchant ships in the 19th century. The nostalgic sight of fishing boats tethered along both sides of the river has earned Uchikawa the nickname "Venice of Japan," and has also recently become a hot spot as a filming location.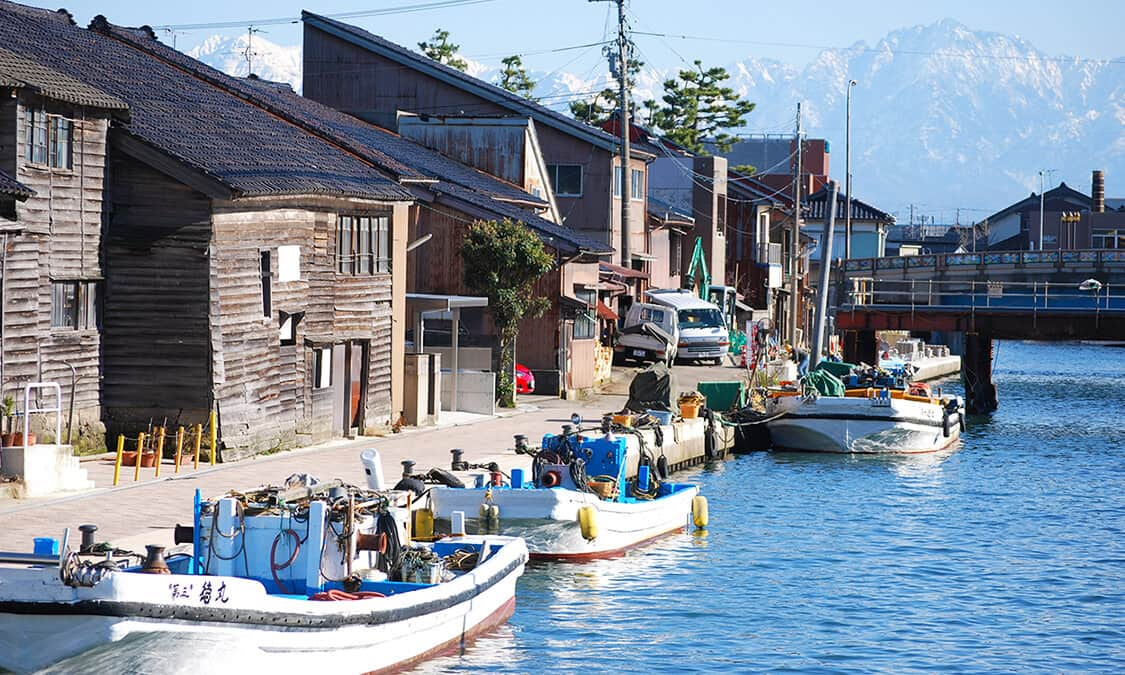 The Uchikawa River stretches approximately 3.5 kilometers east-west from the Port of Toyama-Shinko. Alongside the river lies a lively port town with salty and nostalgic air. Reflections on the river surfaces evoke a forgotten feeling of the changing seasons. The riverside is lined with warehouses that once belonged to the Kitamae-bune merchants that sailed the Sea of Japan. Today, the river remains an important water channel, with numerous fishing boats anchored along the river bank.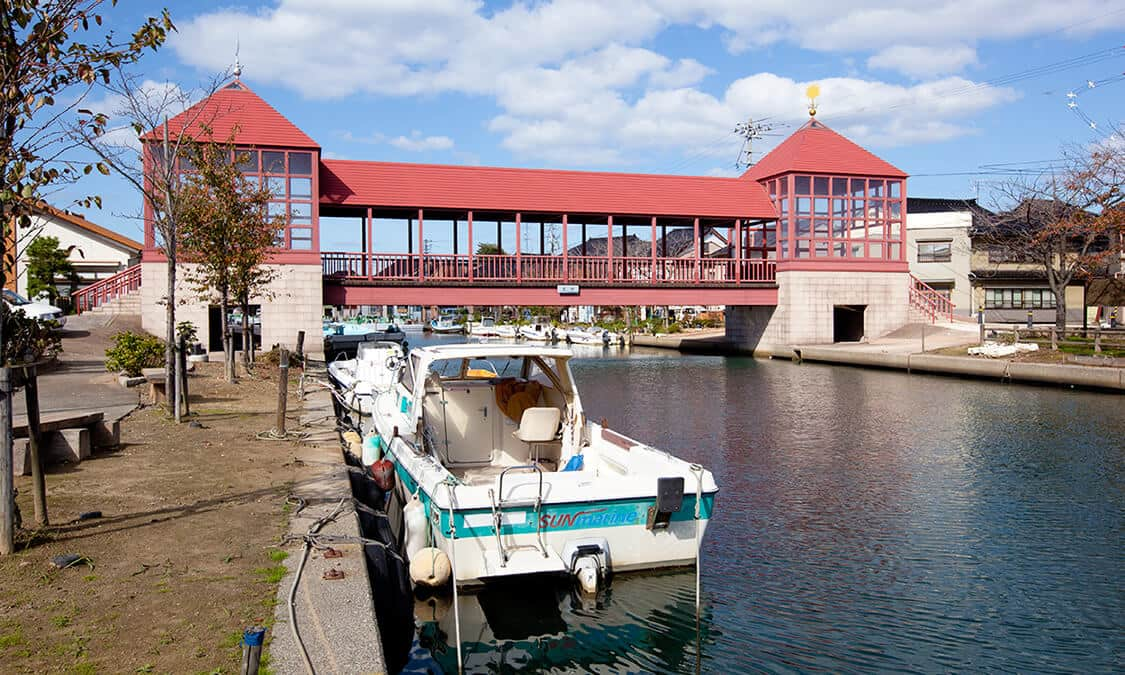 Shinminato sightseeing cruise on the Uchikawa River
The sightseeing ship Manyomaru departs from Kaiwomaru Park and cruises the Uchikawa River and its 12 unique bridges. Each bridge is rich in character with distinct scenery, such as the Ninomaru-bashi Bridge designed like a castle, the Azuma-bashi Bridge with a red gable roof and the Kagura-bashi Bridge nicknamed the "Rainbow Bridge" for its brilliant stained glass.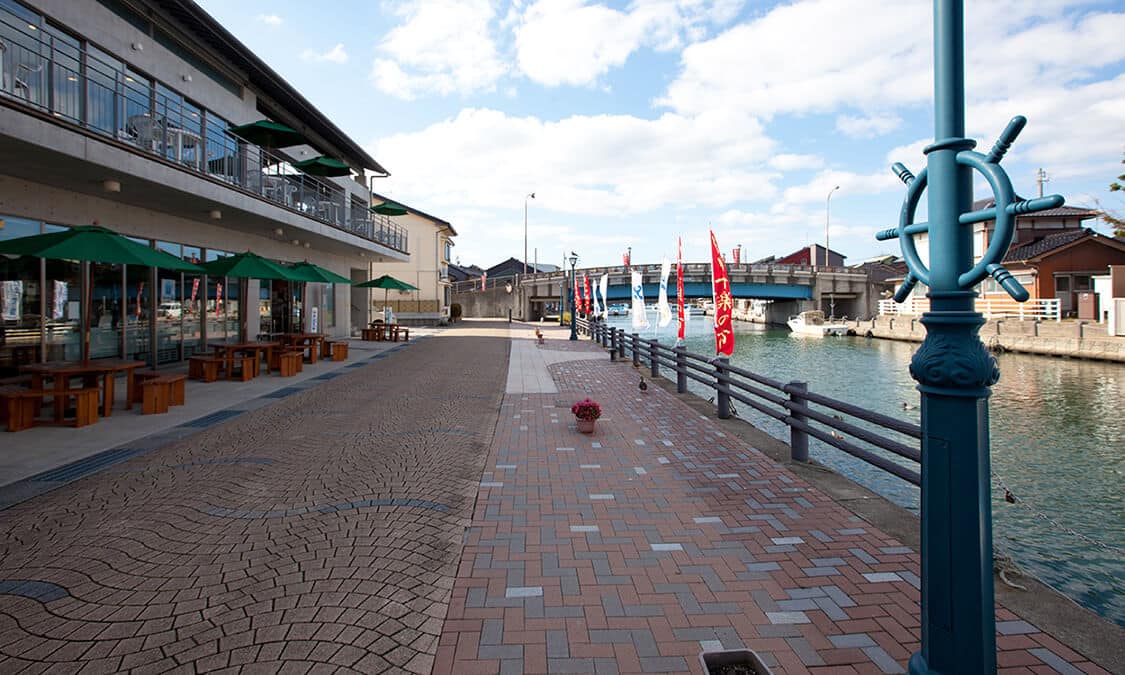 Shinminato Kawa-no-Eki riverside station
The riverside station is located along the Uchikawa River and is a great starting point for exploring the Uchikawa area. The Shinminato sightseeing cruise departing from Kaiwomaru Park stops here, so feel free to get on board. The riverside station also features the Umaimon Shop selling various specialties of Imizu; an exhibit of the lavish Hikiyama float paraded during the Shinminato Hikiyama Festival held on October 1st every year; a cafe restaurant where you can enjoy the quaint atmosphere of Uchikawa; and a bicycle rental service.
Location
Detail Information of Shinminato Kawa-no-Eki Riverside Station
Name
Shinminato Kawa-no-Eki Riverside Station
Web Sites
(In Japanese) http://www.kawanoeki.jp/
Address
1-26 Tatemachi, Imizu-shi, Toyama
Access
Approximately 8 minutes' walk from Shinmachiguchi Station on the Manyo Line
Approximately 20 minutes' drive from Kosugi IC on the Hokuriku Expressway
Business Hours
9:00 to 21:00 (9:00 to 18:00 during February)
Café: 9:00 to 18:00
Closed
Fourth Wednesday every month (if Wednesday is a public holiday, then the following day)
Café: Wednesdays
Inquiries
TEL: 0766-30-2552
Detail Information of Shinminato Sightseeing Cruise Dock (inside Kaiwomaru Park)
Name
Shinminato Sightseeing Cruise Dock (inside Kaiwomaru Park)
Web Sites
https://foreign.info-toyama.com/en/spot/?spot_id=102&ret_list_p=3
Address
2 Kaio-machi, Imizu-shi, Toyama
Access
20 minutes' drive from Kosugi IC on the Hokuriku Expressway
From Takaoka Station on the Ainokaze Toyama Railway, take the Manyo Line for approximately 40 minutes and get off at Kaiomaru Station, then walk 5 minutes
Business Hours
8:30 to 17:00 (Operating hours: 9:00 to 16:00)
Varies depending on season. Please check the website for the latest information.
Closed
Wednesdays (if Wednesday is a public holiday, then the following day)
Inquiries
TEL: 0766-82-1830
Admission
Uchikawa Sightseeing Course
Adults: 1,500 yen; Children: 800 yen; Preschool and under: free
Shinminato Sightseeing Course
Adults: 1,000 yen; Children: 500 yen