Zuiryu-ji Temple, a national treasure in a beautiful Zen Buddhist building arrangement
Modeled after Medieval Chinese temple architecture, Zuiryu-ji was constructed over a span of around 20 years and completed in 1663. It is the family temple of Toshinaga Maeda, the second feudal lord of the Kaga domain and founder of the city of Takaoka. The gorgeous temple structures exemplify the enormous wealth of the Kaga domain, one of the richest during the Edo period (1603-1868). The Sanmon gate, Buddha hall and lecture hall are designated as national treasures as masterpieces in pre-modern temple architecture. In addition, the Somon gate, meditation hall, tea hall, tall corridor, north corridor, southeast corridor and southwest corridor are listed as important cultural properties.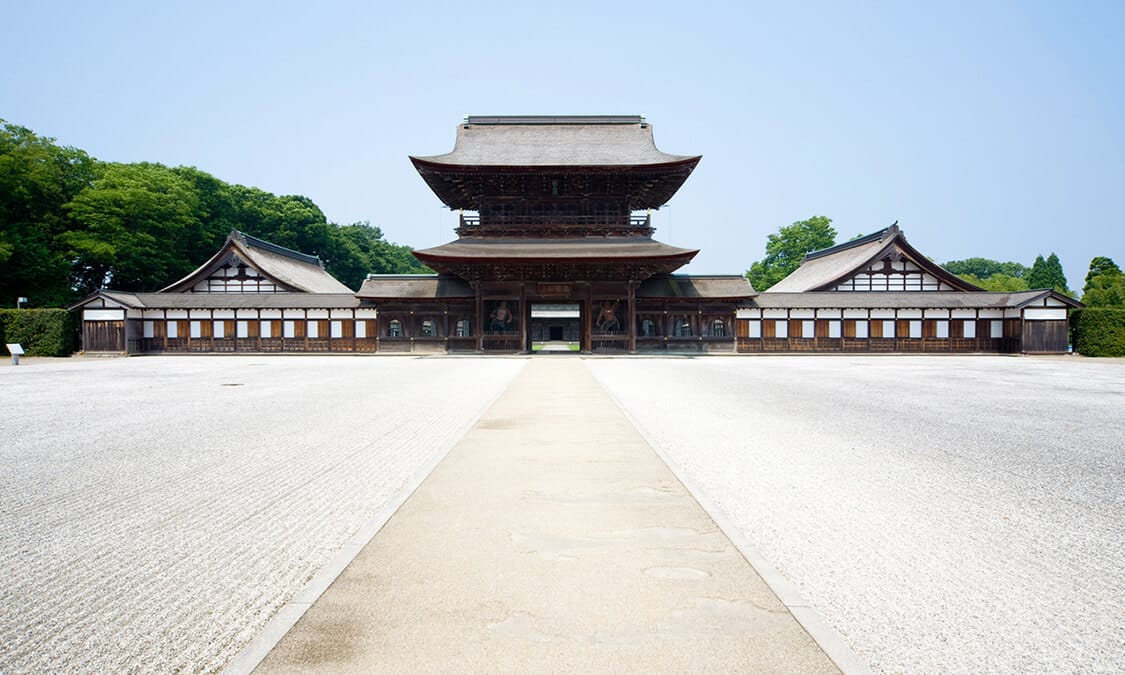 Garan, the buildings of Zuiryu-ji Temple
Garan is a collective term that refers to all temple structures. The Garan of Zuiryu-ji Temple are modeled after Chinese temple architecture introduced to Japan during the Kamakura period (1185-1333). It is characterized by the arrangement of the Somon gate, Sanmon gate, Buddha hall and lecture hall in a straight line, with the meditation hall on the left and Daikuri kitchen on the right in symmetry. Connecting these buildings with corridors, the Garan building arrangement in Zen Buddhist style creates an awe-inspiring beauty. Enter through the national treasure Sanmon gate, and the first sight is the Buddha hall, a unique architectural masterpiece with a rare lead-tiled roof and exteriors in Zenshuyo Buddhist style. The lecture hall, where the spirit tablet of Toshinaga Maeda is enshrined, is the largest building on the temple grounds and built entirely of Japanese cypress. Visitors can also receive the popular goshuin stamp with a photo.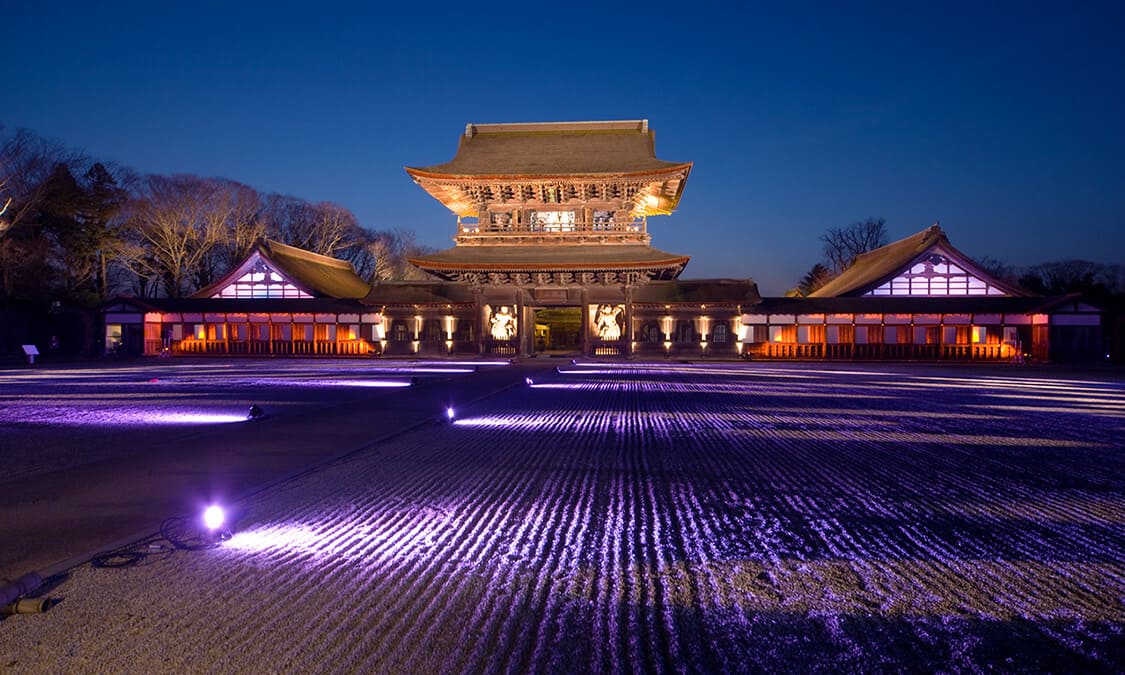 Light-up of Zuiryu-ji Temple
During several nights in April and August, the buildings of Zuiryu-ji are beautifully illuminated in light-up events. In the "Night Prayer and Daifuku-ichi Market" in August, the temple buildings are lit up in illuminations of numerous colors. The "Spring Light-up and Monzen-ichi Market" in April is even more spectacular and artistic, with a show combining sounds and lights as well as projection mapping. The light-up events are held together with markets participated in by various eateries and shops from around Toyama Prefecture and beyond, creating a festive atmosphere during the periods.
The tomb of Toshinaga Maeda
The tomb of Lord Toshinaga Maeda can be found after walking about 10 minutes from Zuiryu-ji Temple on the hatcho road lined with stone lanterns. One of the largest individual tombs belonging to a daimyo lord, the Tomuro-stone mausoleum is built in two tiers and decorated on the sides with 130 raised engravings of lotus flowers said to be based on a sketch by painter Tanyu Kano. Normally, visitors can only walk up to the torii gates, but the tomb is open to the public once a year during the festival honoring Toshinaga Maeda held annually on September 13.
Location
Name
Kokozan Zuiryu-ji Temple
Web Sites
http://zuiryuji.jp/history/english.php
Address
35 Sekihon-machi, Takaoka-shi, Toyama
Access
10 minutes' walk from Takaoka Station on the Ainokaze Toyama Railway
15 minutes' walk from JR Shin-Takaoka Station
10 minutes' drive from Takaoka IC on the Noetsu Expressway
Business Hours
9:00 to 16:30 (Closes at 16:00 during winter season from December 10 to January 31)
Please enter within 30 minutes prior to closing.
Inquiries
TEL: 0766-22-0179
Admission
Adults: 500 yen; Junior high and high school students: 200 yen; Elementary school students: 100 yen