Samurai Experience at Toyama Castle Park where Toyama Castle stands still
Toyama Castle Park that covers the grounds of the former Toyama Castle is a popular spot for cherry blossom viewing in spring. Rebuilt in 1954, the current castle standing at the corner of the park is now home to the Toyama Municipal Folk Museum. The entire area is imbued with the samurai spirit. Samurai armor can be rented at the information center located within the park, so prepare yourself to become a real samurai.
Toyama Castle and Toyama Municipal Folk Museum
The current Toyama Castle is a castle keep reconstructed in 1954, but the castle's walls and moats that remain in the park still exude the same dignity from ancient times. Inside the castle is the Toyama Municipal Folk Museum where you can learn about the castle's history spanning over four centuries in detail through models and videos. The observation deck on the fourth floor lets you feel the actual size of the castle 400 years ago, which was about six times larger than the current park.
Located within the park, the Sato Memorial Art Museum opened in 1961 with the support from late Sukekuro Sato who was an entrepreneur and a tea master from Tonami City in Toyama. The museum contains two rooms that were moved from the Sato family residence: One is the hall made entirely of hinoki Japanese cypress tree and the other is the tearoom. The museum houses an extensive art collection dedicated mainly to oriental art such as old ceramics from Japan, China, and Persia as well as Japanese modern paintings, which are open to the public about four times a year through exhibitions.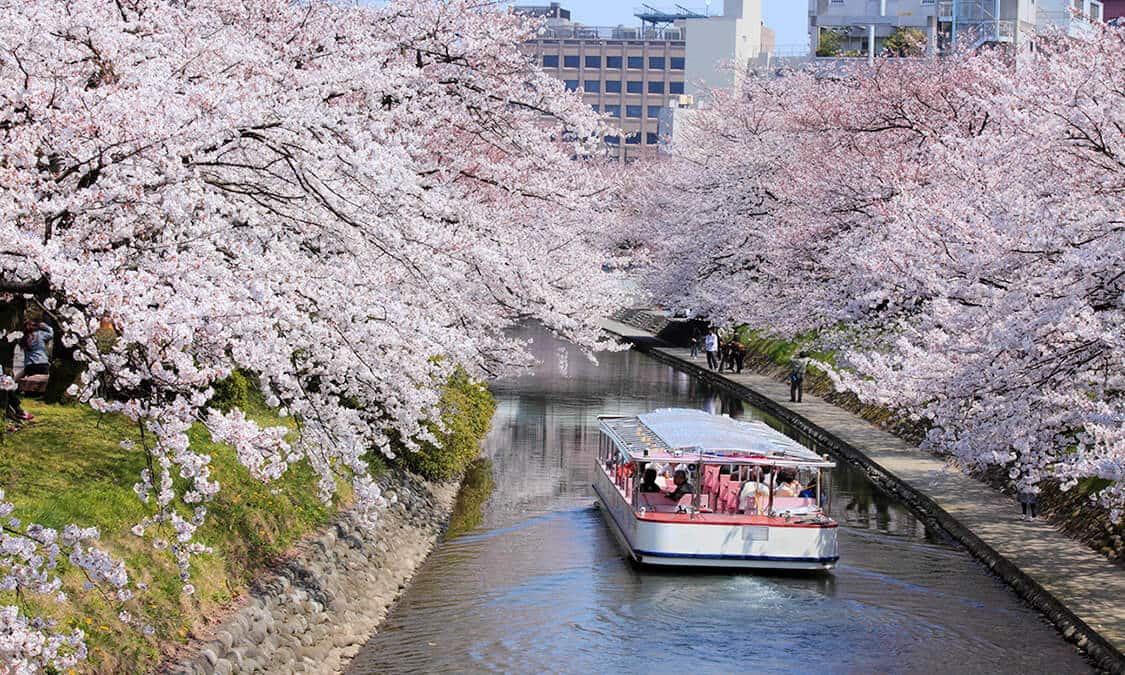 The Matsukawa River that flows around Toyama Castle Park is a relic of the old Jinzu River, which once served as a natural moat for the protection of the castle. Alongside the river are cherry trees lined up for about 2.5 kilometers, making it one of Japan's top 100 cherry blossom viewing sites. The boat departs from Matsukawa Chaya, a teahouse by the Shiokura Bridge, and sails through the river for about 2.4 kilometers. You can listen to the cruise captain talk about the history of Toyama while enjoying a relaxing moment surrounded by the gorgeous seasonal views during the 30-minute round-trip.
Location
Detail Information of Toyama Castle
Name
Toyama Castle
Web Sites
https://foreign.info-toyama.com/en/spot/?spot_id=60&ret_list_p=3
Address
1-62 Honmaru, Toyama-shi, Toyama (within Toyama Castle Park)
Access
Approximately 10 minutes' walk from South Exit of Toyama Station on the JR Ainokaze Toyama Railway
Approximately 15 minutes' drive from the Toyama IC on the Hokuriku Expressway
Approximately 2 minutes' walk from the Kokusai-kaigijo-mae stop on the Toyama City Tram Loop Line (CEMTRAM)
Business Hours
9:00 to 17:00 (Final entry: 16:30)
Closed
New Year's holidays (December 28 to January 4)
May be temporarily closed due to maintenance.
Inquiries
TEL: 076-432-7911 (Toyama Municipal Folk Museum)
TEL: 076-432-9031 (Sato Memorial Art Museum)
Admission
Adults: 200 yen; High school students and younger children: Free
Detail Information of Matsukawa River Cruise
Name
Matsukawa River Cruise
Web Sites
https://matsukawa-cruise.jp/en/
Address
1-34 Honmaru, Toyama-shi, Toyama (Matsukawa Chaya)
Access
Approximately 10 minutes' walk from South Exit of Toyama Station on the JR Ainokaze Toyama Railway
Approximately 15 minutes' drive from the Toyama IC on the Hokuriku Expressway
Approximately 2 minutes' walk from the Kokusai-kaigijo-mae stop on the Toyama City Tram Loop Line (CEMTRAM)
Business Hours
From late March until before the cherry blossom season: In principle, booked cruises only
During cherry blossom season: 9:30 to 17:00 (9:00 to 17:30 on Saturdays and Sundays)
After the cherry blossom season until the end of November: 10:00 to 17:00 (based on timetable) *1
*1 10:00 to 16:15 from the middle of October to the end of November due to early sunset
Closed
Mondays
Inquiries
TEL: 076-425-8440 (Reservation center/office)
Admission
Spring cruises (March 30 to April 20):
Adults: 1,800 yen; Children: 900 yen
Before and after the spring cruise:
Adults: 1,600 yen; Children: 750 yen