Dohara Falls and Mount Chokai

Subsoil waters of Mount Chokai gush into Dohara Falls
Straddling both Yamagata and Akita prefectures, Mount Chokai is a uniquely beautiful mountain that rises from zero elevation at the Sea of Japan straight to the mountain top. At a height of 2,236 meters, it is the highest independent summit in the Tohoku region. The famous waters of Dohara Falls is the subsoil waters that spring from the rock face on the mountainside of Mount Chokai.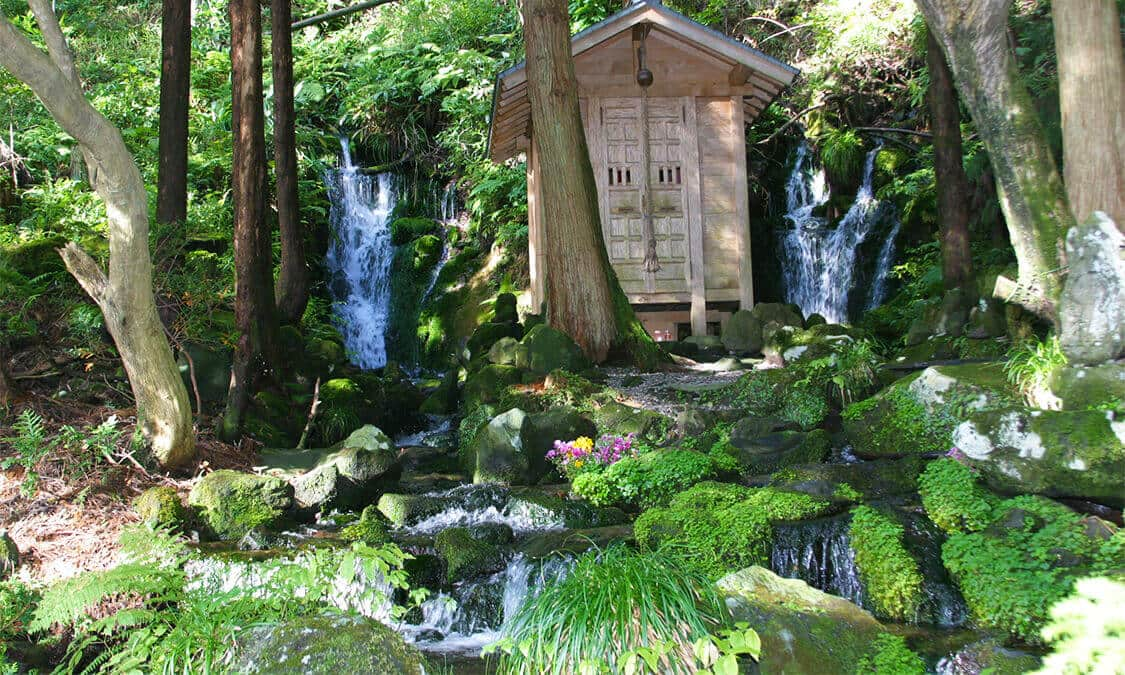 The renowned waters of Dohara Falls
Dohara Falls, which means the "waterfall of the belly," got its unusual name because it appears as if the subsoil waters of Mount Chokai are gushing from the belly of the mountain. The waterfall drops in two streams with a shrine in between. Surrounded by moss-covered rocks and Buddha statues, the cedar forest has a cool air that creates a mystical atmosphere. The waterfall constantly draws visitors coming to collect the delicious water, said to taste differently on each side.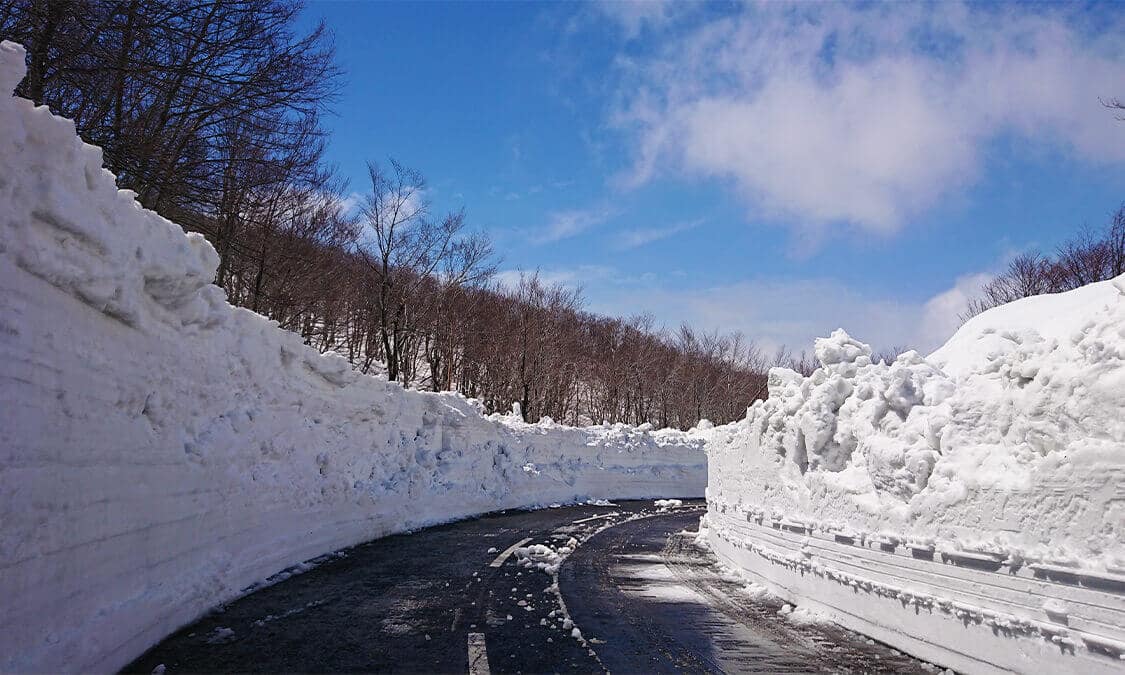 Enjoy the great view for every season from the Chokai Blue Line
The Chokai Blue Line is a 34.9-kilometer scenic mountain road that starts at sea level and climbs straight to an elevation of 1,100 meters, spanning both Yamagata and Akita prefectures. During a pleasant drive, you can enjoy stunning views of the vast foothills of Mount Chokai during the seasons of lingering snow, fresh greenery and fall foliage, as well as the blue waters of the Sea of Japan and the beautiful Shonai Plain. When the weather is clear, you may even see as far as the islands of Tobishima and Sado. The sunset view of the Sea of Japan from the Chokai Blue Line is truly breathtaking. (Closed from late October to late April.)
Lake Chokai, a paradise of alpine plants
Lake Chokai is a caldera lake formed near the Ohama area at the seventh station of Mount Chokai. An iconic part of Mount Chokai, the lake becomes surrounded by a field of alpine plants in the summer with the scenic Shonai Plain and Sea of Japan expanding far in the distance. An especially beautiful setting is when the mirror-like lake turns bright red as the sun rises.
Location
Name
Dohara Falls and Mount Chokai
Website
http://yamagatakanko.com.e.db.hp.transer.com/spotdetail/?data_id=257
Address
Yoshide, Yuza-machi, Akumi-gun, Yamagata
Access
Approximately 10 minutes' drive from Yuza Station on the JR Uetsu Main Line
Approximately 20 minutes' drive from the Sakata-Minato IC on the Nihonkai-Tohoku Expressway
Inquiries
TEL: 0234-72-5666 (Yuza Chokai Tourism Association)