SHONAI HOTEL SUIDEN TERRASSE

Hotel floating on the rice paddy fields of Shonai region
The Shonai region in Yamagata Prefecture is one of leading rice producing areas in Japan and is known for its beautiful landscape of rice paddy fields. SHONAI HOTEL SUIDEN TERRASSE, opened in 2018, was built as if floating on the paddy field. Conveniently located close to Shonai Airport and JR Tsuruoka Station, the hotel building is designed by world-renowned architect Shigeru Ban to blend in with the rural scenery of Shonai and garnering attention for its wonderful view of the seasonal scenery of the beautiful paddy fields.
Walk through the path resembling ridges between rice fields into the entrance, and a spacious lobby area with a soaring ceiling expands into view. At the front counter on the second floor, there are key boxes made of tubes of paper, an icon of architect Shigeru Ban. Large terraces are situated on the north and south sides, and in the open commune area with natural light coming through the glass walls, there is a stylish souvenir shop, a library containing 1,000 books and a restaurant serving cuisine made of delicious local produce. In addition, various events such as markets and workshops are held occasionally.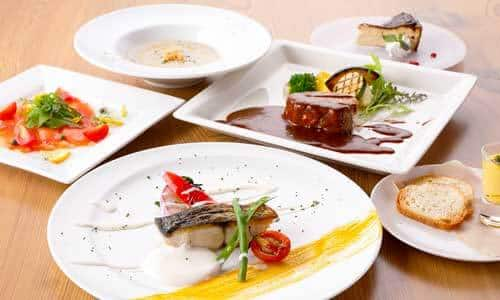 The restaurant focuses on ingredients sourced from Shonai and Yamagata such as vegetables grown in directly owned farms, rice produced in Shonai and fresh local fish from Shonai Beach. The Japanese-cuisine breakfast uses seasonal ingredients in local and traditional Shonai dishes including Shonai-produced rice and miso soup. For lunch, try the casual dishes such as pasta and curry with touches of Yamagata cuisine. Dinner offers carefully selected Yamagata produce in a French style such as Yamagata beef steak.
Shop for Yamagata souvenirs and crafts
The hotel shop offers various souvenirs and crafts created from the natural blessings of the Shonai region and by the handwork of Yamagata craftsmen. The tastefully selected items are perfect for gifts. The shop also carries various foods such as locally produced sake and wine, snacks for pairing with alcohol, homemade sweets and Yamagata-made gelato that can be enjoyed in your room or around the hotel while enjoying the superb views.
Location
Name
SHONAI HOTEL SUIDEN TERRASSE
Website
https://suiden-terrasse.yamagata-design.com/
Address
23-1 Shimotorinosu, Kitakyoden, Tsuruoka-shi, Yamagawa
Access
Approximately 10 minutes' drive from the Tsuruoka IC on the Yamagata Expressway
Approximately 8 minutes' drive from JR Tsuruoka Station
Approximately 20 minutes' drive from Shonai Airport
Business Hours
Restaurant
Breakfast: 6:30 to 9:30; Lunch: 11:00 to 14:00; Dinner: 17:30 to 22:00
Closed
None (Closed occasionally)
Inquiries
TEL: 0235-25-7424