Hiyoriyama Park: full of the historic atmosphere of prosperity brought by the Kitamae-bune cargo ships
Kitamae-bune cargo ships were once very active along routes on the Japan Sea from the 18th and 19th centuries and brought a great deal of prosperity to the Sakata area. A half-size replica of this ship, which is the largest in Japan, is on display in Hiyoriyama Park, as well as Japan's oldest wooden hexagon lighthouse and a zodiac direction stone, all providing an atmosphere typical of a port town. The sunset over the Japan Sea and cherry blossoms in spring are other must-see attractions in this park.
400 cherry trees that brighten up the scenery in spring
When spring arrives, the 400 cherry trees in and around Hiyoriyama Park start to bloom and brighten up the area with their beauty. In mid-April every year, the Sakata Hiyoriyama Park Sakura Festival is held and welcomes visitors with a variety of stalls lining the streets. At night, the park turns into a different world with brightly lit lanterns and an illuminated Kitamae-bune. There are so many photo opportunities to be found here, day or night.
Kaiko-ji Temple: Enshrining two spiritual self-mummified monks
The bodies of two self-mummified monks are enshrined in Kaiko-ji Temple adjacent to Hiyoriyama Park. These monks underwent extreme training by remaining in the mountains even after their death with their spirits living on. There are 17 kinds of these practices in Japan, six of which can be found in the Shonai region. At this temple, you can learn about this interesting practice.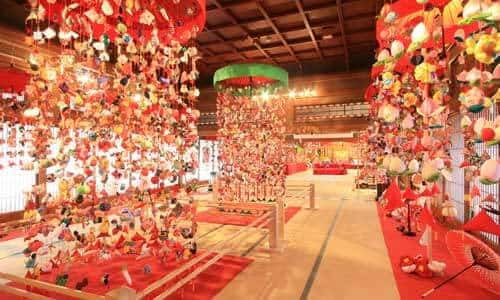 The Sanno Club, once a high-class restaurant, now welcomes visitors with colorful Kasafuku ornaments
The Sanno Club, a designated National Tangible Cultural Property, was once a high-class restaurant and can be found when walking down the hill from Hiyoriyama Park. It was established in 1895 as one of the most prestigious restaurants in the Sakata area and has recently been renovated into a facility for tourists to learn about the history of Sakata, which once prospered due to the Kitamae-bune. One of the main attractions is Sakata's Kasafuku, which were originally made as offerings to temples and shrines. Recognized as one of the top three hanging ornaments in Japan, it consists of colorful arrangements in a variety of shapes. These include eggplants, monkeys, flowers and prawns hung from red umbrellas (kasa), all of which bear a special meaning, for example, fertility and good health. This facility houses displays of these lovely ornaments and offers a hands-on experience of making these items. These colorful kasafuku are the symbol of Sakata's prosperity brought by the Kitamae-bune.
Location
Name
Hiyoriyama Park
Website
https://sakatacity.com/todo/hiyoriyama-park/
Address
1-127 Minami-shinmachi, Sakata-shi, Yamagata
Access
Approximately 6 minutes' drive from JR Sakata Station
From JR Sakata Station, take a bus for 5 minutes, get off at the Kotobuki-cho bus stop and walk for approximately 5 minutes.
Approximately 17 minutes' drive from the Sakata-Chuo IC on the Nihonkai-Tohoku Expressway
Inquiries
TEL: 0234-26-5745 (City Planning Division, Sakata City)