Immerse yourself in the nostalgic atmosphere of a hot spring town lit by the soft glow of gas lamps
Ginzan Onsen is a secluded hot spring town nestled in the mountains of Obanazawa City in the northeast of Yamagata Prefecture. The city is known as a major producer of watermelons in Japan as well as the birthplace of a traditional dance called Hanagasa odori, but its main claim to fame is the Ginzan Onsen, one of the most popular hot spring towns in Yamagata. As the name Ginzan Onsen that literally means "silver mountain hot spring" indicates, the area flourished as a giant silver mining town in the 1600s. The wooden architectures of the traditional Japanese inns (ryokan) built in the early 1900s along the banks of the small river evoke a nostalgic feeling.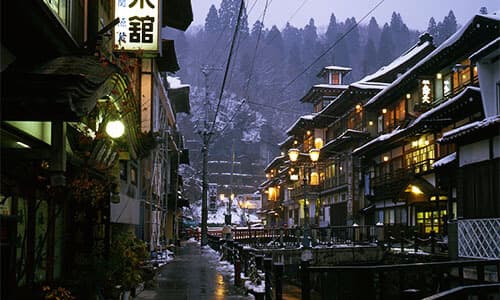 Step back in time to the early 1900s
Traditionally styled ryokan line both sides of the river that flows through the center of the town. The three- or four-story wooden buildings of the ryokans boast a Western-style structure that were built nearly 100 years ago. The small bridges across the river, the cobblestone streets and the gas lamps that illuminate the town with warm light in the evening add to the romance and nostalgia of this beautiful town. Steeped in a quaint atmosphere, it makes you feel as if you have taken a trip back into a small Japanese town in the early 1900s. Ginzan Onsen has different faces for every season. It fascinates visitors with the Hanagasa Odori dance festival held every summer on weekend nights, while in winter, the snow-covered scenery enhances the beauty of the hot spring town.
Take a leisurely stroll around the enchanting hot spring town
Stroll through the streets of the hot spring town packed with many attractions such as a footbath and two public baths ideal for a day-trip, souvenir shops where you can find cute kokeshi dolls and restaurants that offer street food to accompany your stroll. Ginzan Onsen is crammed with delicious local specialties among which curry bread made using flour produced in Yamagata as well as tofu with a rich texture are especially recommended. You can also rent and walk in a traditional kimono costume of the styles that gained popularity in the early 1900s, which match perfectly with the retro townscape (kimono rental shop is closed during wintertime).
Take a side trip to waterfalls and the remains of the silver mine
The beautiful nature near the hot spring town is also worth visiting. There are a few courses for strolling into the surrounding mountains where you can enjoy lush greenery in summer and autumn foliage. Along the course, you can observe the 22-meter-tall Shirogane-no-taki falls that fill the air with negative ions. The caves and the remains of the silver mine as well as the Taki-no-Fudoson temple situated near the waterfalls make you feel as if you have set out on an adventure.
Location
Name
Ginzan Onsen
Website
https://www.tohokukanko.jp/en/attractions/detail_1265.html
Address
429 Ginzan Shinhata, Obanazawa-shi, Yamagata
Access
Approximately 1 hour and 40 minutes' drive from Shonai Airport
Approximately 2 hours' drive from Sendai Airport
Inquiries
TEL: 0237-28-3933 (Ginzan Onsen Information Center)