Studio Sedic Shonai Open Set

A movie set open to the public in the midst of the nature of the Shonai area
Studio Sedic Shonai Open Set nestled at the foot of Mount Gassan in Tsuruoka City, Yamagata Prefecture, is a complex featuring various sets for shooting movies and dramas that have been preserved as they were built. Open to the public, visitors can enjoy different sets such as unspoiled fishing and farming villages, a post town and traditional mountain settlements.
Travel back in time to an old Japanese village
As you step inside the premises, you will be surprised of its large size and the abundant nature surrounding the site. Each set naturally blends into the landscape and makes you feel like as if you have taken a trip back in time to a quaint Japanese village. Shooting sets are dotted around the vast 88-hectare area, which is comprised of six areas such as a fishing village, a farming village and a post town. You can walk around the sets, but there is also a convenient tour bus that connects each area (500 yen).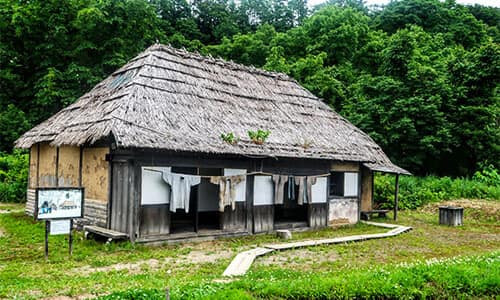 Six areas featuring diverse shooting sets
Owing to its vast site and abundant nature, the sets have been mainly used in many historical movies featuring samurai warriors. Particularly, the large front castle gate standing in the Sengoku Otemon area appears in many period piece films. The farming village area has rice fields flooded with water and the birthplace of the heroine of the movie "Oshin," which was filmed in 2013 based on NHK's serialized morning TV drama. Visitors can see all sets up close. You almost forget these are sets as they perfectly blend in with the surrounding nature.
Don't miss other fun attractions
Other than the shooting sets, the facility offers various attractions such as costumes for rent, exhibitions of photo panels featuring several works, a cardboard maze as well as a place where you can play with old toys. Get dressed in a ninja costume and indulge yourself in the set reproducing the world of the Warring State Period (1482-1558). Also, there is a place to rest that serves noodles, curry rice and soft-serve ice cream. Some areas may not be available during TV or film shooting.
Location
Name
Studio Sedic Shonai Open Set
Website
https://yamagata-shonai.com/spot_attraction.html
Address
102 Higashimasukawayama, Kawadai, Haguro-machi, Tsuruoka-shi, Yamagata
Access
Approximately 50 minutes' drive from Shonai Airport
Business Hours
Late April to September: 9:00 to 17:00 (Last admission: 16:00)
October to mid-November: 9:00 to 16:00 (Last admission: 15:00)
Mid-November to late April: Closed during winter
Inquiries
TEL: 0235-62-4299
Admission
Adults (junior high school students and older): 1,300 yen; Children (elementary school students): 900 yen