1,984-meter-high mountain with 360-degree panoramic view: A mountain of faith blossoming with alpine plants
Mount Gassan is the highest of the Three Mountains of Dewa (Mount Haguro, Mount Yudono and Mount Gassan), rising at the center of Yamagata Prefecture. Gassan Shrine stands at the peak of eastern Japan's largest object of mountain worship, where alpine plants bloom and worshippers and climbers come to visit constantly. At the foot of Mount Gassan are various spots for families to enjoy such as a farm, a beautiful lake with a large fountain and a winery.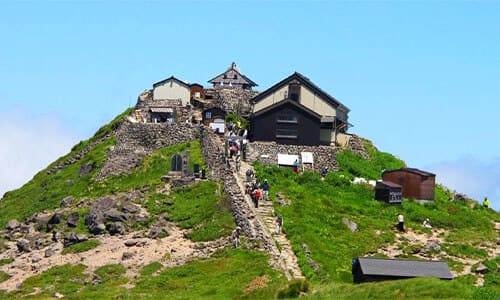 Drive up to the eighth station by car and then visit Gassan Shrine at the top of the mountain
Gassan Shrine is located at the top of the mountain, and worshippers have been visiting the place of mountain worship since ancient times. From the mountain top, enjoy a 360-degree view that extends from the Shonai Plain to Mount Chokai and the Asahi Mountain Range, and to as far as Mount Iwaki and Mount Hachimantai. Up to the eight station of the trail can be reached by car or bus (departure from Shonai Kotsu Tsuruoka S-mall Bus Terminal). From the eighth station, where the Gassan Rest House is located, there is a trail to the summit about 4.3 kilometers long, approximately a three-hour climb. If you are hiking to the summit, be sure to come prepared with climbing gear such as mountaineering boots, cold insulated clothing and a raincoat.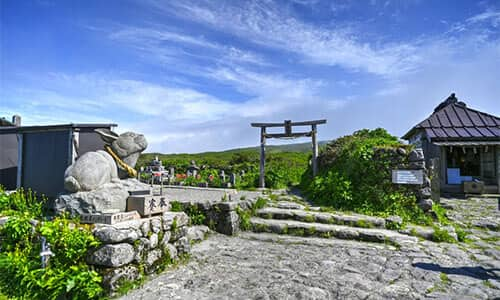 Midagahara Marsh, a treasure trove of alpine plants at the eighth station
Expanding beyond the parking lot of the Gassan Rest House, Midagahara Marsh is a plateau meadow at an altitude of 1,400 meters with more than 130 species of flowers such as day lilies and skunk cabbage. The area is acclaimed as one of Japan's best places to observe alpine plants. There is also a wooden promenade to enjoy a two-kilometer nature walk that takes about 60 minutes. Walk about 10 minutes from the Gassan Rest House to reach Midahara Shrine, the inner shrine of Gassan Shrine, and find a stone statue of the Nade Usagi (patting rabbit) said to be a messenger of the god of Gassan.
Summer skiing in the perpetual snow of Mount Gassan's summit
The area around the summit of Mount Gassan is known to have up to 15 meters of snow during winter. The perpetual snow remains all year, even in the summer. Careful measures for climbing the snowy mountain should be taken until late July. While the Mount Gassan Ski Resort located around 1,600 meters above sea level cannot accommodate skiing in the winter due to extremely heavy snow, it opens in April when other ski slopes are closing. You can enjoy skiing and snowboarding in the fresh greenery until July.
Location
Name
Mount Gassan
Website
http://www.dewasanzan.jp/en/publics/index/27/
Address
Higashi-masukawa-yamachinai, Kawadai, Haguro-machi, Tsuruoka-shi, Yamagata (Mount Gassan eighth station)
Access
Approximately 70 minutes' drive from Shonai Airport
Approximately 2 hours 15 minutes' bus ride from JR Tsuruoka Station

Business Hours
8:00 to 16:00 (Open from July to early October)
Closed
Closed from mid-October to June
Inquiries
TEL: 090-2607-5111