Environmental Targets and Information Disclosure
ANA Group Targets by Fiscal 2050
The ANA Group has set the following environmental targets for fiscal 2050.
Reduce CO2 emissions from Aircraft Flight Operations by 50% (compared to fiscal 2005)
Eliminate CO2 emissions from all Non-Aircraft Flight Operations such as facilities, airport vehicles, facilities, etc.
Zero waste rate of resources such as plastic, paper, etc.
Reduce food waste such as in-flight meals by 50%
ANA Group's Next Phase Environmental Plan
The ANA Group has adopted the Basic Approach to the Environment and the ANA Group Environmental Policy, and are working to reduce our environmental impact based on the 2012-20 medium- to long-term environmental plan, ANA FLY ECO 2020. In fiscal 2020, the final year of the ANA FLY ECO 2020, we set long-term targets for fiscal 2050, and are formulating the next medium- to long-term environmental plan for fiscal 2030 to achieve these targets.
ANA FLY ECO 2020 Targets and Results
ANA FLY ECO 2020 incorporates targets reflecting the international airline global standards established by the ICAO. Our plan calls for controlling CO2 emissions, researching the regular use of sustainable aviation fuel (SAF), conserving resources, working for regional environmental preservation, and other measures to reduce our environmental footprint.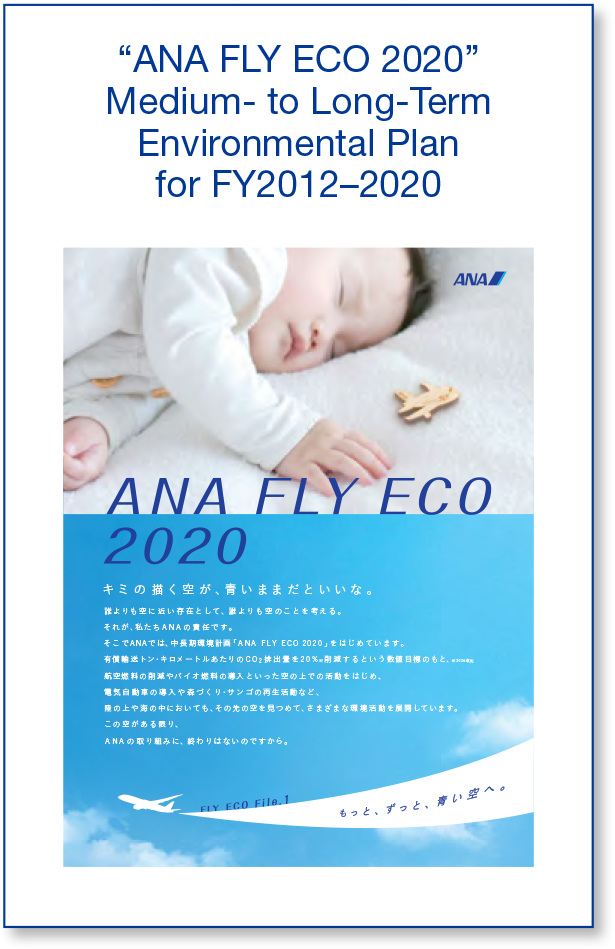 Evaluation by Carbon Disclosure Project (CDP)

Reduced to20%
Per-Unit Targets

Reduce CO2 emissions per revenue ton kilometer (kg-CO2/RTK, total for domestic and international routes) by 20% before FY March 2021 (compared to FY March 2006)

Results

Reduced FY March 2020 volume 20% compared to FY March 2006

Controlled to4.00million
tons
Overall Targets

Control domestic route CO2 emissions to an annual average 4.4 million tons from FY March 2013 to FY March 2021

Results

Controlled to 4.00 million tons
Reduce Energy Used in Offices

Reduced by9.1%
Targets

Reduce total office energy consumption 1% per year (compliance with the Revised Act on the Rational Use of Energy)

Results

Reduced by 9.1% year on year per cost unit
Adoption of SAF

Determinedto purchase
SAF*1 fuel
Targets

Research the regular use of SAF by FY March 2021

Results

In June 2019, we agreed with Lanza Tech,inc.in the US to purchase an alternative fuel, SAF(Sustainable Aviation Fuel), which will be manufactured and supplied in the US after FY2021
In October 2019, we purchased SAF manufactured by Lanza Tech,inc. on delivery flight of new Boing 777 aircfart
We are working with NEDO(New Energy and Industrial Technology Development Organization) to support Japan made manufacturing SAF
Meet Aircraft Emissions Standards

All
aircraftmet standards
Targets

Meet ICAO emissions standards for all aircraft (including leased aircraft)

Results

All aircraft met standards
Adopt Low-Emission Vehicles

Adopt1841vehicles
Targets

Adopt low-emissions vehicles and research use of bio fuel

Results

Currently, 1,841 of the group's 4,863 vehicles (37.9%) are low-emissions, low fuel consumption*2 models


*2 Fuel-cell vehicles, electric vehicles, hybrid vehicles, vehicles meeting exhaust emissions regulations
Initiatives as an Eco-First Certified Company
In 2008, ANA became the first-ever company in the airline and transport industry to be certified by the Minister of the Environment as an Eco-First Company. We received this honor in recognition of our commitment to social responsibility.
The ANA Group supports and conducts awareness activities for COOL CHOICE, a program led by the Ministry of the Environment to take measures against global warming. Further, we participated in the Plastics Smart forum in 2018. This forum is another initiative of the Ministry of the Environment aiming to reduce marine plastic litter.
Disclosure of Information on Climate Change
Declaration of Our Support for TCFD
As of March 2019, the ANA Group has become the first airline group in Japan to declare support for the Task Force on Climate-Related Financial Disclosures (TCFD). We will analyze the risks and opportunities that climate change brings to our business, reflecting this analysis in our corporate strategy and working to disclose more relevant information.
Evaluation by Carbon Disclosure Project (CDP)
Evaluation by CDP seeks to disclose data and information about company strategy related to greenhouse gas emissions and climate change in response to stakeholders demands. As of FY2016, the ANA Group has categorized its greenhouse gas emissions into Scopes 1, 2, and 3 in accordance with the standards set by the Act on the Rational Use of Energy. This environmental data has been certified by third parties and disclosed. Our rating in 2018 was B. (The industry average is C)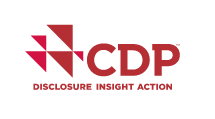 SBT(Science Based Targets)
Greenhouse gas reduction targets based on scientific evidence consistent with the Paris Agreement. The ANA Group declared our commitment to the SBTs in May 2020. We are participating in a technical subcommittee creating reduction targets and rules for the aviation sector.