Environmental Policies and Management
ANA Group Environmental Principles
The mindset to value the environment starts with recognition of the burden we place on the Earth.
We will use natural resources and energy with care and contribute to attaining a prosperous and sustainable society.
We will take the initiative in environment conservation activities and share our care for the Earth with people around the world.
ANA Group Environmental Policies
ANA Group, recognizing the global environmental issues, including global warming and the conservation of biodiversity, as a quintessential management task, aims to be an "Environmental Leading Airline Group" through all engaged activities.
We will precisely grasp and analyze the impact of our business activities on the environment, and disclose it to society.
We will promote environmental preservation in line with social needs that go above and beyond the pertinent laws and regulations, through widespread conversations with stakeholders.
We will promote measures to reduce the environmental impact in all related businesses and operations, and we actively pursue possibilities of new technologies and services for this purpose.
We will constantly pay close attention to the environmental consideration of supply-chains, and promote the environment-conscious procurement.
We will intensify the "3R" (Reduce, Reuse, Recycle) activities and waste management in an effort to contribute to the creation of a recycling society.
We will encourage our workforce to engage in environmental preservation activities, raising each and every employee's awareness and consciousness.
The ANA Group will also continuously encourage its business partners and suppliers not only to support the Policy but also to adopt a similar policy. All corporate activities stated above include due diligence on investment and M&A.
Implementation Structure and Environmental Management System
Implementation Structure
The ANA Group has established a Group ESG Management Promotion Committee whose members include board members, executives, and our company's full-time auditor to discuss and decide important policies concerning environmental activities. In-house meetings are organized under the Eco-First Subcommittee to discuss aircraft operations to reduce environmental impact and the Ground Energy Subcommittee to discuss ground operations excluding aircraft operations. Eco-First Subcommittee and Ground Energy Subcommittee meetings are held more than twice a year under the chairmanship of the General Manager of the Sustainability Promotion Department who is an ANA executive, and members of the committee from the environmental departments of major Group companies. Based on the decisions made by the Group ESG Management Promotion Committee, we have formulated environmental activity policies and are applying them to all ANA Group companies. In addition to the Group ESG Management Promotion Committee, important matters that are related to management policies are discussed at the Group Management Strategy Committee executive meetings and reported to the Board of Directors.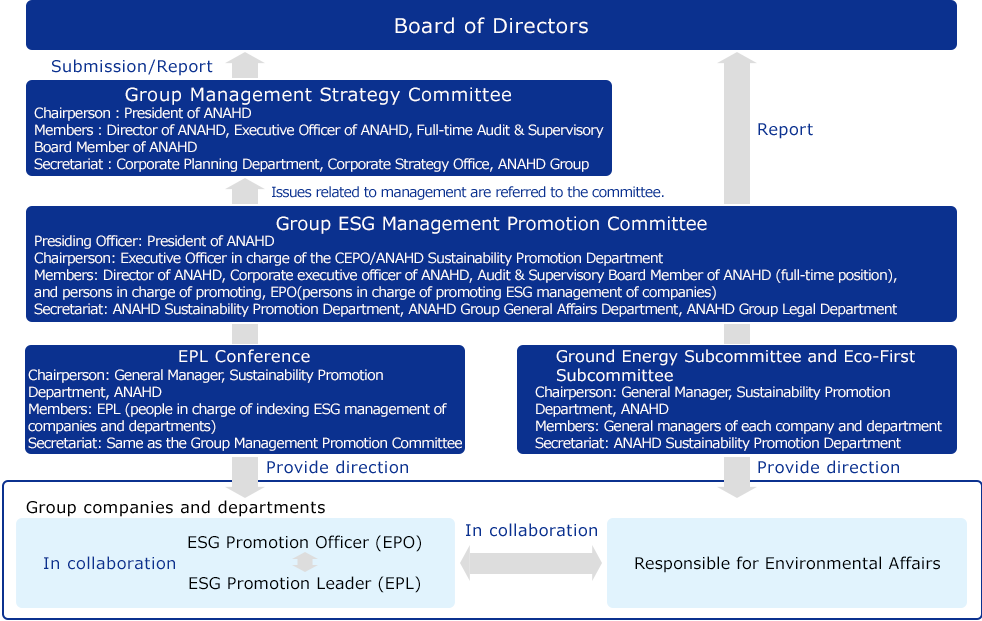 Environmental Management System
In accordance with ISO 14001, Act on the Rational Use of Energy and, Act on Rational Use and Proper Management of Fluorocarbons JAPAN, the ANA Group has been promoting an environmental management system through monitoring and analysis by introducing our own energy management standards developed within the group and an integrated energy data management system, "ANA Eiims"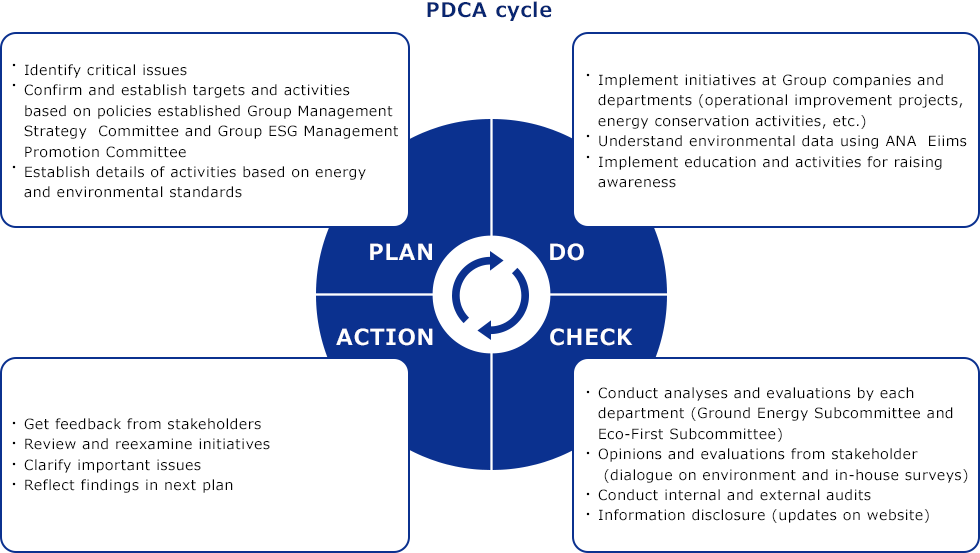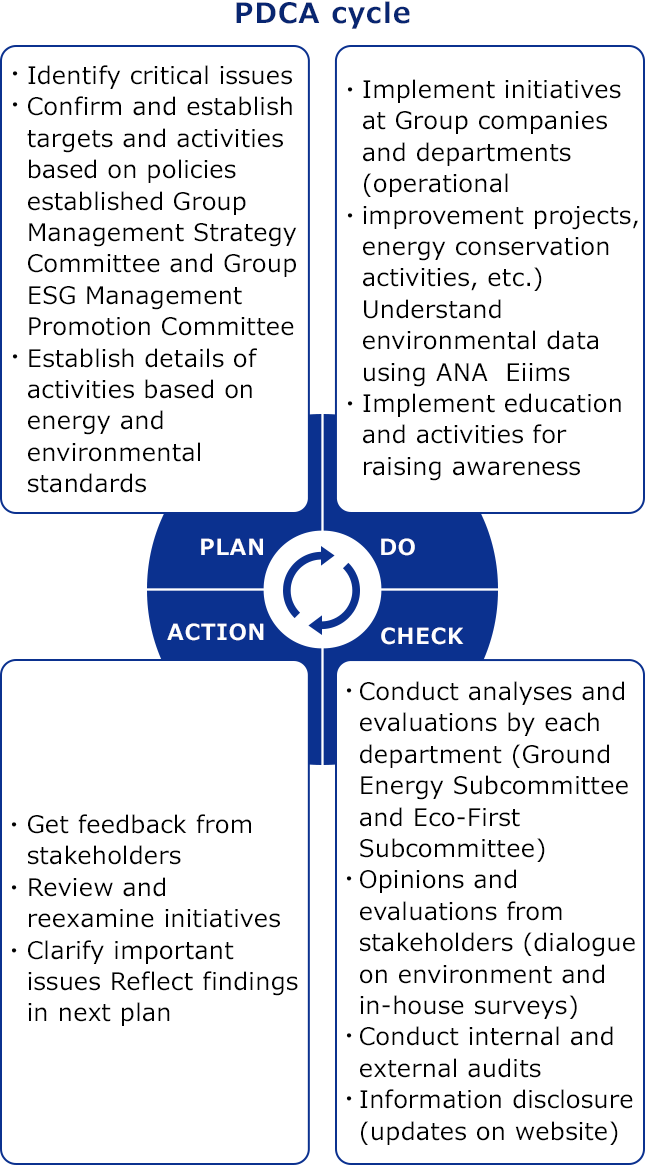 Dialogue with Stakeholders
Click here for details on the Environmental Dialogue
Climate Change Risks and Opportunities
The ANA Group was the first Japanese airline group to express its support in March 2019 based on the recommendations of the TCFD (Task Force on Climate-related Financial Information Disclosure).
The ANA Group is working to minimize its financial impact on corporate management by conducting scenario analyses of IPCC (Intergovernmental Panel on Climate Change) reports/RCP2.6 and Nationally determined contributions (NDCs), identifying climate-related risks and opportunities in the short- to medium-to-long term, and assessing and managing their impact to achieve the targets based on the Paris Agreement, which considers probable future climate change.
TCFD Scenario analysis
Climate change adds to the risks that already exist in the natural and human system and poses new risks. Controlling the magnitude and rate of climate change can reduce the overall risk of future climate change impacts.
As a mitigation to control global warming to 2 °C, it is essential for the aviation business to reduce CO2 emissions. The ANA Group complies with ICAO / CORSIA regulations to prevent CO2 emissions from increasing aircraft operations, and it is necessary to introduce fuel-efficient equipment, improve operations and procure SAF and CO2 credits in order to control CO2 emissions. Therefore, we are trying to optimize management costs by assuming financial costs. In addition, based on Nationally determined contributions (NDCs), we are formulating plans to reduce CO2 emissions at offices and airports in Japan, such as fuel-efficient equipment, use of renewable energy, and EV conversion of vehicles.
On the other hand, if this initiative cannot be achieved, the increase in natural disasters (typhoons, heavy rains, floods, heavy snow), which are physical risks associated with the aggravation and increase of abnormal weather, will have a bigger impact on the aviation business.
We anticipate that flight cancellations, aircraft damage, airport facility malfunctions, increased disaster recovery costs, and supply chain outages will have a significant financial impact on the business. Annually, natural disasters cause about 10 billion losses.
Haneda Airport, which is the main airport, and the main server of the system are located on the coast, so they are greatly affected by typhoons.
In preparation for cases where the ANA Group's flight monitoring facilities cannot be used due to the suspension of operations due to the occurrence of a large-scale disaster or the main server going down due to flooding, not only Haneda Airport (Tokyo) but also Tonomachi (Kanagawa Prefecture) adjacent to the airport has an office of ANA Systems Co., Ltd., and has established an emergency system as a backup system for data related to operations.
In addition, we have established a Business Continuity Plan (BCP) that summarizes policies and procedures to ensure the health and safety of our customers and all ANA Group officers and employees, minimize the impact, and restore the business as soon as possible. We have established business continuity management.
The ANA Group is working to minimize the impact of natural disasters on customers and management by spending labor costs and facility maintenance costs for simulated training to put BCP into practice every year. In addition, taking advantage of the experience that had a major impact on the aviation business, such as the closure of Kansai Airport during the heavy rains in western Japan in 2018, the ANA Group immediately prepared and started operation of a manual (BCP) in the event of a similar disaster. As a result, typhoons No. 15 (Typhoon Hagisou Peninsula in the first year of Reiwa) and No. 19 (Typhoon East Japan in the first year of Reiwa) in October 2019 can avoid major effects.
The ANA Group believes that this RCP2.6, Nationally determined contributions (NDCs) scenario can be achieved by conducting scenario analysis in this way and reflecting it in the "ANA Group 2030-2050 Environmental Targets" in April 2021, which is aiming for net zero CO2 emissions for 2050.
ANA Group 2030-2050 Environmental Targets
The achievement of the ANA Group's environmental targets will be considered in the future as it corresponds to the scenario of RCP4.5 / 6.0 / 8.5.
Transition Risk
Policies & legal regulations
Risk Aspect
Business impact
Strengthening regulations on greenhouse gas emissions
Increased costs due to CO2 credit purchases under the CORSIA
Strengthening policies on greenhouse gas emissions for each country
Increased carbon offsetting obligations and costs due to compliance with ETS in EU and other countries
Increased fuel costs associated with the introduction of a carbon tax
Carbon price
Higher costs due to higher carbon prices
Lawsuits and fines
Lowered evaluation due to delay in climate change measures, decline in corporate value, decline in business performance, and potential litigation due to loss of trust from stakeholders
Technology

| Risk Aspect | Business impact |
| --- | --- |
| Shift to low-carbon technologies | Increased development and purchasing costs associated with the introduction of Sustainable Aviation Fuel (SAF) |
| Investment in new technology | Increased costs due to technological improvements in fuel-efficient equipment and investment in the development of domestic aircraft |
Market

| Risk Aspect | Business impact |
| --- | --- |
| Changes in consumer behavior | Decline in short-term air travel demand associated with cancellations due to areas vulnerable to natural disasters |
| Fluctuations in raw material (fuel) costs | Fluctuations in crude oil purchase costs due to further changes in aviation demand |
Reputation

| Risk Aspect | Business impact |
| --- | --- |
| Changes in consumer preferences | Sluggish demand for air travel due to accelerated shift to rail and ship transportation modes |
| Concerns from stakeholders | Changes in evaluation criteria for corporate stance toward climate change |
physical risk
Acute
Risk Aspect
Business impact
Increasing severity of abnormal weather
Short-term decline in demand such as cancellations in areas vulnerable to extreme weather events such as typhoons and heavy snow
Damage to aircraft, impaired functions of airport facilities, increased disaster recovery costs and impact on supply chains
Chronic
Risk Aspect
Business impact
Changes in rainfall and weather patterns
Concentration of flight cancellations in areas vulnerable to extreme weather and fluctuations in demand, and creating operational plans accordingly
Creating flight plans, changes in service details and fluctuations in fuel consumption due to westerly winds
Rise in sea levels
Fluctuations in flight plans and demand due to takeoff and landing restrictions at airports built on landfills, which are susceptible to rises in sea levels from typhoons and heavy rains
Opportunities
Technology
Risk Aspect
Business impact
Shift to low-carbon technologies
Build supply chain for SAF procurement
Investment in new technology
Technological improvement of fuel-efficient aircraft and investment for domestic aircraft development and technological innovation of aircraft
Investing as Boeing 787 launch customer and contributing to technological innovation through early launch in the industry
Reputation

| Risk Aspect | Business impact |
| --- | --- |
| Expectations from our stakeholders | Changes in evaluation criteria for corporate attitude in responding to climate change |