Overcoming the crisis and building a new business model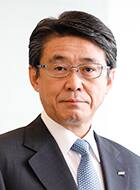 We would like to thank all our shareholders and investors for your support of the ANA Group.
In the first six months of the fiscal year ending March 2021, the Group continued to report significant losses due to a reduction in sales caused by the impact of COVID-19. As regards the core airline business, compares to the first quarter, domestic passenger demand has gradually recovered as a result of thorough measures to prevent infection throughout the country, and the launch of the Go To Travel campaign. On the other hand, although some restrictions on immigration in the most countries have been partly eased, international movement of people has been still restricted in place, and operating revenues have fallen significantly compared with the same period last year. Under the circumstances, however, we managed to secure demand for our international cargo services.
Assuming that the impact of COVID-19 will continue to be felt for the foreseeable future, we will continue to optimize the scale of our operations to maximize revenue while keeping an eye on fluctuations in demand. We will also gradually improve the balance between revenue and expenditure by thoroughly advancing various cost-cutting measures. However, our earnings forecast for the full year predicts 740 billion yen in operating revenues, 505 billion yen in operating losses, and 510 billion yen in losses attributable to owners of the parent company. In view of the current business environment, we regret that dividends for this fiscal year will be suspended, as in the previous fiscal year. Furthermore, in preparation for the long-term effects of the COVID-19 pandemic, we intend to maintain the soundness of our financial structure by concluding a credit agreement consisting of a subordinated loan of 400 billion yen.
In order to implement emergency measures such as proper production volume and reducing fixed costs to overcome this unprecedented crisis and grow again, the Group will endeavor to transform its business model with a focus on the following three pillars of reform:
Get through the COVID-19 crisis by adapting the scale of the airline business, particularly the ANA brand, to meet trends in demand.
Transform the airline business into a business model capable of sustainable growth even in the new post-COVID world.
Establish a platform business that makes use of customer data assets accumulated by the Group to create new revenue opportunities.
Going forward, the ANA Group will summon its full strength to reinvent itself in pursuit of a resilience business structure capable of responding to all changes to the business environment, including any reemergence of the pandemic.
We would like to express our sincerest thanks to all our shareholders and investors for your continuous support and patronage of the ANA Group.
October, 2020
President and CEO
Shinya Katanozaka