Shifting to a resilient business structure that can respond to change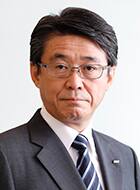 We would like to thank all our shareholders and investors for your support of the ANA Group.
Even as our Group has suffered a severe decrease in air-travel demand due to COVID-19, all of our employees have been working day after day to keep our customers safe, implementing thorough measures to prevent transmission of disease in airports and in our aircraft.
In the three months of third quarter ending March 2021, our sales in domestic passenger travel and international cargo transportation have been comparable to our results from the six months of second quarter. However, December signaled the start of tougher times in domestic passenger travel demand, with the "Go To Travel" campaign completely suspended and in international passenger travel demand has been decreased due to travel restrictions in to and out of Japan remaining in place. On the other hand, in our international cargo business, we have been maximizing use of our cargo aircraft and have managed to firmly capture the healthy demand for products like vehicle parts, semiconductors and medical equipment.
To overcome this unprecedented crisis, the ANA Group is implementing emergency measures including curbing the scale of our flight operations and reducing fixed costs. We are also steadily pushing forward with transforming our business model, as announced in October last year, in order to achieve renewed growth.
The effects of COVID-19 are expected to fundamentally change the awareness and actions with the quality and quantity of air-travel demand changing accordingly. Having enhanced our ability to adapt to risks and strengthened our financial standing, we have increased our capital by 297.6 billion yen via a public offering to allow us to swiftly and surely reform our business structure to adapt to this "new normal." The acquired funds will be used for facilities investments—including the purchase of Boeing 787 aircraft, which will drive our medium- to long-term growth—and also to pay back long-term debts.
Going forward, the ANA Group will strive to create a resilient business structure that will be able to respond to any number of changes in our environment, including the resurgence of the pandemic. We would like to express our sincerest thanks to all our shareholders and investors for your continuous support and patronage of the ANA Group.
January 2021
President and CEO
Shinya Katanozaka