Toward a stronger business structure in unprecedented and challenging times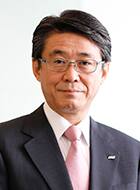 We would like to thank all our shareholders and investors for your support of the ANA Group.
Firstly, we would like to extend our heartfelt sympathy to those affected by the heavy rains in July 2020, and also to those affected by Coronavirus(COVID-19).
In the first quarter of the fiscal year 2020, the ANA Group was severely impacted across all segments, particularly the core air transportation business. The spread of COVID-19 led to a sharp decline in air-travel demand, as movement of people in Japan and abroad was greatly restricted by entry and travel restrictions worldwide, as well as the declaration of a state of emergency in Japan. As a result, the company recorded a significant loss in its first quarter results. As it is unclear when the COVID-19 situation will be resolved, it is impossible to reasonably estimate the performance outlook, and the forecast for the fiscal year ending March 2021 cannot be determined at the present time.
With no signs of containing the spread of the COVID-19 situation, the ANA Group is making a concerted effort to adjust the scale of operations and reduce costs in areas such as personnel. ANA has also launched the "ANA Care Promise", implementing a variety of infection-prevention measures in cabins and airports, so that passengers can fly with clean and sanitary environments. Peach has also implemented similar measures.
The effects of COVID-19 are likely to have a great impact on people's behavior, and we will keep an eye on these changes as we move forward with a rapid transition to a stronger business structure capable of responding to drastic changes in this unprecedented situation.
We would like to express our sincerest thanks to all our shareholders and investors for your continuous support and patronage of the ANA Group.
July 2020
President and CEO
Shinya Katanozaka