We will do whatever it takes to overcome this challenge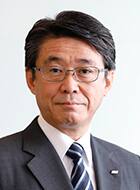 We would like to thank all our shareholders and investors for your support of the ANA Group.
First and foremost, we would like to take a moment to think about those who have sadly passed away due to Coronavirus, and to express our sympathy and best wishes to all those who are suffering from the disease or who have been affected by it.
During the fiscal year ended March 31, 2020, we were generally favorable for the nine months ended December 31, 2019. However, since mid-January the whole business of ANA group has been impacted by worldwide travel restrictions, as well as the voluntary restraint on leaving home in Japan, and in March our core air transportation business saw a dramatic and unprecedented drop in passenger demand for both international and domestic flights. As a result, we have seen a significant decrease in overall income and profits for the fiscal year compared with the previous year. In light of this, and taking into account the extremely our harsh business environment, we regret to inform that we have taken the decision to not to pay dividends.
As of late April, the immigration restrictions imposed by Japan and various countries remain in place, and this is having a huge impact on the world economy. In order to weather this unprecedented adversity, ANA Group's focus will be on taking various measures to cut costs such as furlough of employees to reduce personnel expenses, apply for employment adjustment subsidy, reduction of executive remuneration and manager wages, and postpone the fleet delivery plan, also continuing to procure funds from financial institutions in order to secure liquidity in hand for the whole group.
It's unable to make any prediction when the Coronavirus situation will be resolved, but we anticipate that its effects on society and the economy will continue for some time. It is therefore very difficult to forecast where we will be at the end of the fiscal year ending March 2021. However, this is not the first time the ANA Group has overcome difficulties. We will do whatever is necessary to deal with this situation, including considering scenarios where the impact of Coronavirus persists long term.
We would like to express our sincerest thanks to all our shareholders and investors for your continuous support and patronage of the ANA Group.
April 2020
President and CEO
Shinya Katanozaka