We will improve and enhance earnings of all businesses throughout the entire ANA Group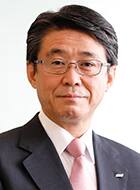 We would like to express our deepest gratitude for the support you have provided.
First, we would like to express our sincerest condolences to all who have affected by the several devasting Typhoons and the subsequent heavy storm.Also,we sincerely apologize for the substantial inconvenience to our customers using our services due to the impact of typhoons on flight operations.
During this second quarter,the cargo demand and international business travel demand were sluggish due to the downward trend of the economy condition caused by the trade friction between the United States and China. Under such conditions, as ANA continued to capture travel demand , sales exceed 1,000 billion yen as revenues increased, but income decreased compared to the previous year in terms of operating income, ordinary income, and second quarter's net income attributable to owners of the parent due to an increase in up-front expenses paid for expansion of the business from next year and onwards.
Although we expect the steady growth in domestic passenger service, the results forecast for the entire year has been revised downward based on this sluggish trend of international cargo and passenger service, the impact of numerous number of flight cancellations due to the typhoons.
Performance until the second quarter is expected to continue with sluggish growth in demand, and the results forecast for the entire year has been revised downward based on.
Recently, the Ministry of Land, Infrastructure, Transport and Tourism has announced the allocation of arrival/departure slots in Haneda Airport from the 2020 summer timetable. ANA Group will continue to maintain safety, quality and service, and steadily secure and develop human resources, fully utilizing allocated arrival/departure slots to achieve sustained growth.
We will promote the improvement and enhancement of earnings through all of ANA Group's businesses in order to meet the expectations of shareholders and investors, and we look forward to your continued support and patronage of the ANA Group.
October 2019
President and CEO
Shinya Katanozaka