Implementing steady structural business reform and aiming to bring the business into the black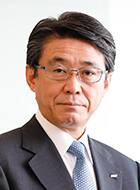 We would like to thank all our shareholders and investors for your support of the ANA Group.
Even as our Group has suffered a severe decrease in air-travel demand due to COVID-19, all of our employees have been working day after day to keep our customers safe, implementing thorough measures to prevent transmission of disease in airports and in our aircraft.
In the fiscal year ending March 2021, the travel business was greatly affected by the spread of COVID-19, with revenue from domestic routes decreasing by approximately 70% and international routes by approximately 93% year on year respectively. While passenger flights continued to be suspended, in the international cargo business we increasingly managed to capture the healthy demand for medical products, vehicle components and semiconductors, sparked by the resumption of economic activity. We achieved a cost reduction of 590 billion yen, including in fixed costs. However, this was not sufficient to make up for the decrease in passenger revenue, and our consolidated revenue was 728.6 billion yen, a year-on-year decrease of approximately 63%. Operating loss was 464.7 billion yen, ordinary loss was 451.3 billion yen, and net loss attributable to owners of the parent was 404.6 billion yen. Furthermore, we recorded a special loss of 86.3 billion yen for expenses for structural business reforms made to further improve earnings.
We are now into the fiscal year ending March 2022, and with the third state of emergency being declared in four prefectures including Tokyo, it remains difficult to predict when the COVID-19 pandemic might come to an end. However, we have seen that the rollout of the vaccine overseas is putting the brakes on the spread of the disease, and we believe that the rollout of the vaccine in Japan is the key to recovering demand for domestic travel. Based on the Transformative Measures to a New Business Model announced in October last year, we will continue to steadily implement structural business reform by reducing fixed costs, etc., and aim to get back into the black this fiscal year.
Going forward, the ANA Group will strive to create a resilient business structure that will be able to respond to any number of changes in our environment, including the resurgence of the pandemic. We would like to express our sincerest thanks to all our shareholders and investors for your continuous support and patronage of the ANA Group.
April 2021
President and CEO
Shinya Katanozaka