FY2016 Financial Results
Operating income, Ordinary income, and net income attributable to owners of ANA HOLDINGS INC. reacned record levels.
Operating revenues of ¥1,765.2 billion due to a decrease in air transportation revenues stemming mainly from the depreciation of exchange rates. However, due efforts to limit expenses through steady cost management, operating income was ¥145.5 billion, ordinary income was ¥140.3 billion, and net income attributable to owners of ANA HOLDINGS INC. was ¥98.8 billion.
Consolidated Financial Summary (Years ended March)
(¥Billion)
* EBITDA = Op. Income + Depreciation and Amortization
Operating Income and Net Income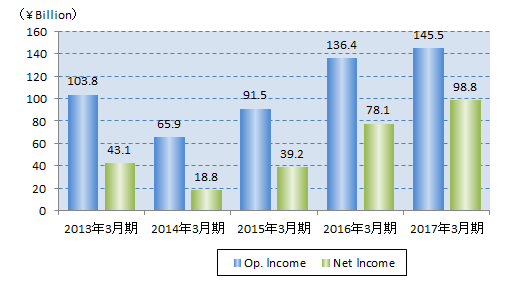 (Years ended March)
FY2017 Earnings Forecast
(Announced on April 28, 2017)
On the assumption that safety will be steadfastly maintained to expand the airline business, create new business and accelerate the growth of existing non-airline businesses. Under the Corporate Strategy, ANA Group aims to establish a strong corporate structure capable of responding to changes in the global business environment through management practices that expedite timely decisions on new investments, the creation of innovation, and strategic investments, The Group aims to achieve operating revenues of ¥2160.0 billion and operating income of ¥200.0 billion in FY2020.
(¥Billion)
(Years ended March)