FY2015 Financial Results
Operating revenues recorded the hightest ever while increasing in operating income.
Consolidated results for the fiscal year under review show operating revenues of ¥1,791.1billion. Despite the increase of airport fee and aircraft rentals that are linked to the scale operations, operating income made a large increase to ¥136.4 billion by ¥4.4 billion due to the evolvement of cost structure reforms and the decline of fuel cost.
Consolidated Financial Summary (Years ended March)
(¥Billion)
* EBITDA = Op. Income + Depreciation and Amortization
Operating Income and Net Income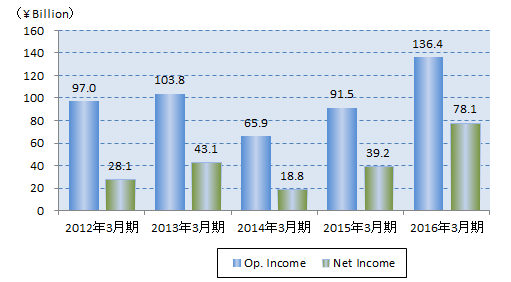 (Years ended March)
FY2016 Earnings Forecast
(Announced on October 31, 2016)
We will work to ensure major initiatives "expansion the airline business," and "creating new business and accelerate the growth of existing non-airline businesses," outlined for FY2016-2020 ANA Group Mid-Term Corporate Strategy to tie shareholder's returns by improving profitability.
(¥Billion)
(Years ended March)