A resort on the edge of an inviting beautiful azure lake
Lake Tazawa, surrounded by abundant nature, is located close to the center of Akita Prefecture. It is Japan's deepest lake and is 20 kilometers in circumference. The beautiful azure lake water exudes a mysterious atmosphere, and the lake is famous for the legend of Tatsuko, a maiden of legendary beauty. Visitors have many options for enjoying this beautiful area, including driving, cycling, riding the ferry, skiing and visiting the many tourist attractions and historic sites.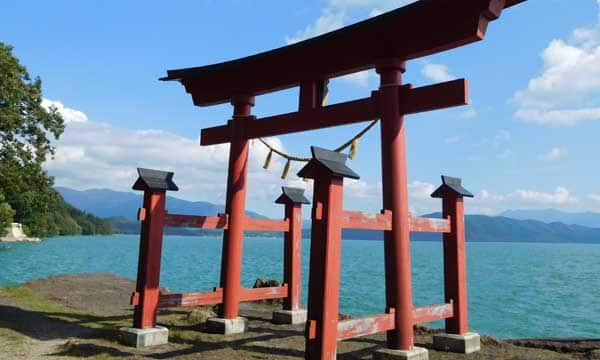 Gozanoishi Shrine is located against the backdrop of Lake Tazawa, featuring a beautiful red torii gate. The shrine enshrines Tatsuko who, wishing for eternal beauty, was transformed into a dragon. The name of the shrine comes from Yoshitaka, the lord of the Satake Clan (then rulers of Akita) who rested in 1650 on the flat rocky stretch called "Gozanoishi" that looks like a mat on the lakeside. Near the shrine's torii gate are some sights worth seeing, including Nanairogi (seven-colored tree), from which it is said to be derived from seven kinds of trees; the Spiritual Fountain of Katagashira, from which Tatsuko drank and was transformed into a dragon; and Kagami-ishi, the mirror stone in which Tatsuko is said to have seen her own reflection.
Tazawako Kunimasu Miraikan
The Tazawako Kunimasu Miraikan is a museum opened in 2017 as a center for exhibiting the history and culture of Lake Tazawa and sending a message to the future. Kunimasu, an endemic species of trout in Lake Tazawa, became extinct in 1940. In 2010, after 70 years, they were discovered to be alive in Lake Sai in Yamanashi Prefecture, more than 670 kilometers southwest of Lake Tazawa, which is why Kunimasu has come to be known as a "miracle fish." The museum keeps and exhibits Kunimasu, and also explains the story from their extinction in Lake Tazawa to their rediscovery in Lake Sai, fishing tools and dugout boats used at that time, the life of people living on the lake, environmental change and the biology of Kunimasu through many panels and videos.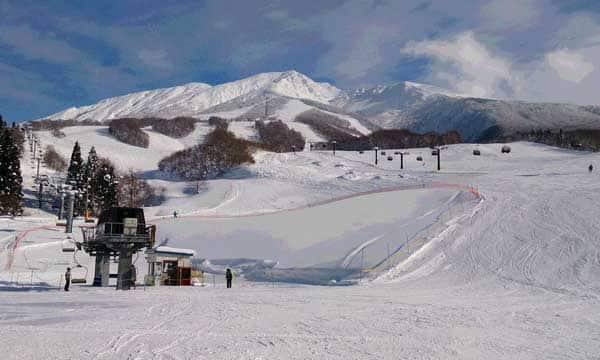 Tazawako Ski Area overlooks the beautiful Lake Tazawa. It features a large ski area with powdery snow and a series of dynamic downhill runs offer a variety of courses that visitors of all levels, from beginners to experts, can enjoy, and also hosted the mogul skiing World Cup. Tazawako Ski Area also offers backcountry skiing tours in which participants can enjoy skiing through natural mountain areas (local rules apply).
Location
Name
Lake Tazawa
Web Sites
https://www.city.semboku.akita.jp/en/sightseeing/spot/04_tazawako.html
Address
Kata Sako, Tazawako, Senboku-shi, Akita
Access
Approximately 15 minutes' bus ride from JR Tazawako Station
Approximately 40 minutes' bus ride from JR Kakunodate Station
Inquiries
TEL: 0187-43-2111 (Senboku City Tazawako Tourism Information Center "Foreik")