Mototaki Underflow and Mount Chokai
Mototaki Underflow creates an impressive contrast between the green moss and the white mist from the falls
Located in southern Akita Prefecture right along the Sea of Japan coast, Mount Chokai is a beautiful mountain that has long been worshipped. Melting snow from Mount Chokai, which was absorbed into the ground over a long period of time, emerges from deep beneath the ground creating the mystical Mototaki Underflow. The underground water that gushes out among the rock surface flows into a waterfall of 30 meters wide and from a height of 5 meters, growing a scenic coat of green moss. The water flying off the moss-covered rocks leaves traces of beautiful lines, creating a vivid contrast between the green moss and white splashing water.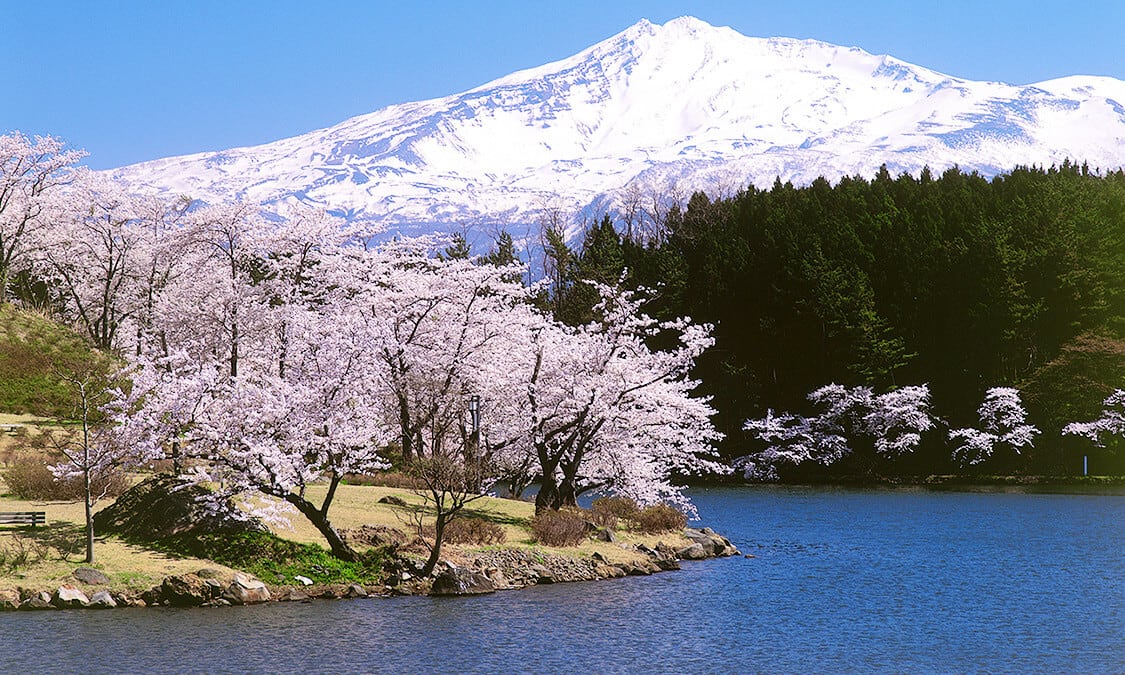 Mount Chokai is a 2,236-meter-high mountain nestled on the border of Akita and Miyagi prefectures. It is a volcanic peak facing the ocean, which can be rarely found in Japan. Because of its beautiful shape that resembles Mount Fuji, the mountain is also known as the Fuji of Dewa. A great number of climbers visit throughout the year to see the mountain covered with seasonal colors such as fresh greenery in spring, high mountain plants in summer and colorful foliage in autumn. Chokai Lake on the seventh station of the mountain is surrounded by mountain flora including daylily flowers around July. The mountain lodge where meals are served as well as the visitor center on the fifth station can be accessed by car via the Chokai Blue Line prefectural road during mid-April to late November.
Kujuku Islands in Kisakata
Located in the foothills of Mount Chokai, the Kujuku Islands in Kisakata consist of around 103 small islands that look like they are floating in the countryside, creating a mysterious landscape unique to Kisakata. These islands were once floating on a cove formed by the seawaters eroding the huge rocks that came from the eruptions of Mount Chokai. Kisakata was once known as the most beautiful sight of western Tohoku, while Matsushima stole the spotlight as the best sight in eastern Tohoku. However, the Great Kisakata Earthquake in 1804 caused an uplift of the land of over 2 meters, changing the waters around the islands into the current dry land. Designated a natural monument of Japan, the beautiful scenery of the Kujuku Islands can be seen from the observation deck of the Nemu-no-Oka roadside station.
The mystic Shishigabana Marshland that stretches for approximately 26 hectares at the northern base of Mount Chokai is home to a variety of odd-shaped Japanese beech trees. As marshlands are a designated natural monument of Japan, you can see a wide variety of mosses including the round-shaped "Chokai marimo," which is rare in the world and can be only observed here. Within the recreational forest in the marshland is also the 300-year-old King Agariko, a large beech tree with a circumference of 7.62 meters, which is literally the king of the forest.
Location
| | |
| --- | --- |
| Name | Mototaki Underflow and Mount Chokai |
| Website | https://www.akitafan.com/en/archive/tourism/1056 |
| Address | Kisakata-machi Seki, Nikaho-shi, Akita |
| Access | Approximately 20 minutes' drive from JR Kisakata Station |
| Inquiries | TEL: 0184-43-6608 (Nikaho City Tourist Association) |