Takeda Castle Ruins is famous for its sea of clouds. The morning mist that forms around the castle during bright blue mornings from fall to winter is a seasonal symbol. The Takeda Castle Ruins are located on a mountain peak, at an altitude of approximately 353m. The appearance of the castle surrounded by a sea of clouds makes it look as if it were a castle in the sky, and many people from around Japan visit to catch a glimpse of this dreamlike scenery. You just have to see this breathtaking scene for yourself―either from among the clouds at the castle or from Ritsuunkyo on the opposite mountains.
In spring, cherry blossoms blooming in Takeda castle ruins. The cherry blossoms are blooming from the entrance of the castle site to the castle tower, the cherry blossoms and the stone walls blend harmoniously and attract a lot of people.
The stone walls were built with a stone masonry technique known as nozura-zumi. Over 400 years have passed since this castle was abandoned, but the stone walls form a masterpiece that preserves the majesty of the castle's heyday.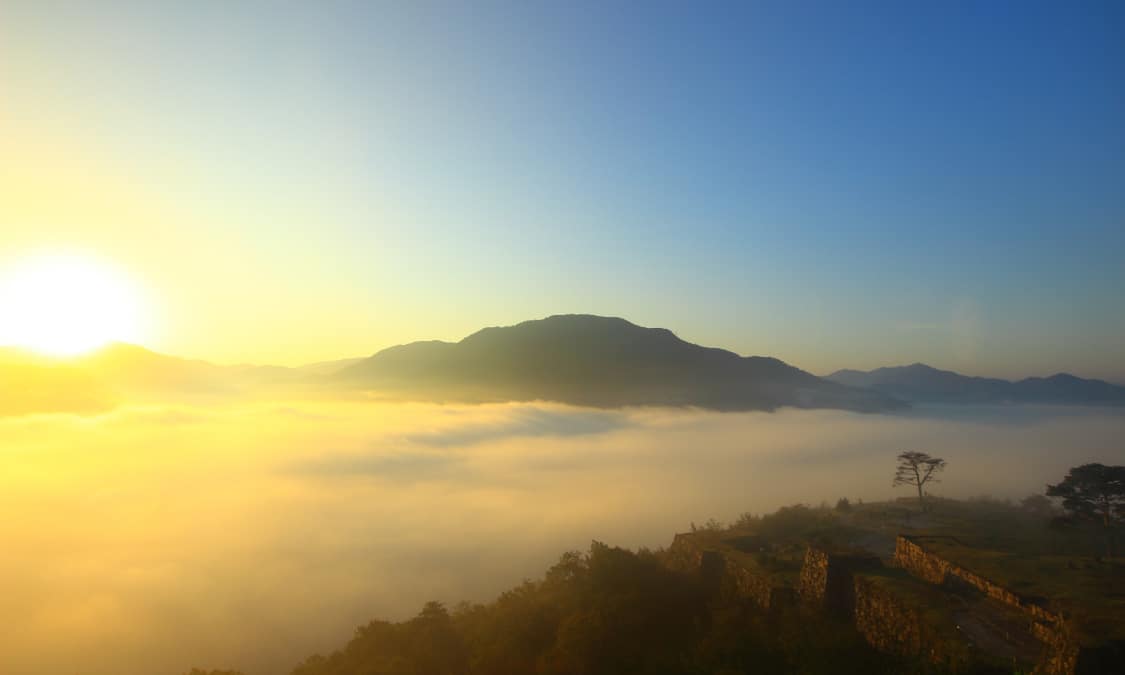 Located on a mountain peak with an altitude of approximately 353m, meaning that it looks like you're standing above the clouds no matter which direction you look on days when the sea of clouds forms.
Location
Name
Takeda Castle Ruins
Web sites
(In Japanese) http://www.city.asago.hyogo.jp/takeda/
Address
169 Takeda Kojozan, Wadayama-cho, Asago-shi, Hyogo
Access
From Osaka Station, take the JR Sanyo Main Line to Himeji Station, transfer to the JR Bantan Line, and get off at Takeda Station
From Osaka Station, take the JR Fukuchiyama Line to Fukuchiyama Station, transfer to the JR Sanin Main Line until Wadayama Station, transfer to the JR Bantan Line, and get off at Takeda Station
Business Hours
March-May: 8:00-18:00 (Last admission 17:30)
June-August: 6:00-18:00 (Last admission 17:30)
September-November: 4:00-17:00 (Last admission 16:30)
December-January 3: 10:00-14:00 (Last admission 13:00)
Admission times may be changed due to factors such as the weather.
Inquiries
TEL:079-674-2120 ("Tenku-no-Shiro" Information Center)
Admission Fee
Adults: 500 yen (free admission for children junior high school age and younger)
Groups: 450 yen (20 people or more)