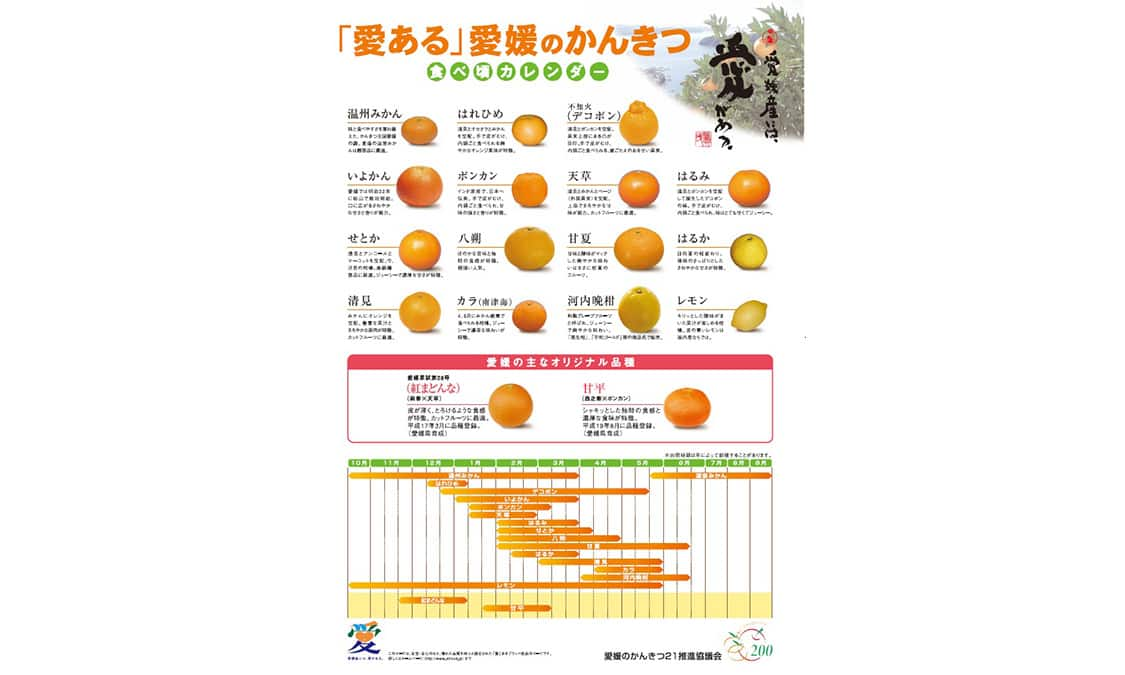 Ehime's citrus fruits are always evolving and new varieties are being developed all the time. Ehime produces around 210,000 tons of citrus fruits a year. Thanks to techniques and research polished for over 100 years, Ehime has by far the highest share of the citrus market in Japan. These citrus fruits can be enjoyed all year round. Although mandarin oranges are usually mainly sold from October to January, thanks to greenhouse cultivation and more varieties of citrus, you can now enjoy them all year round. Varieties have different harvest periods, so try different types and try to find your favorite!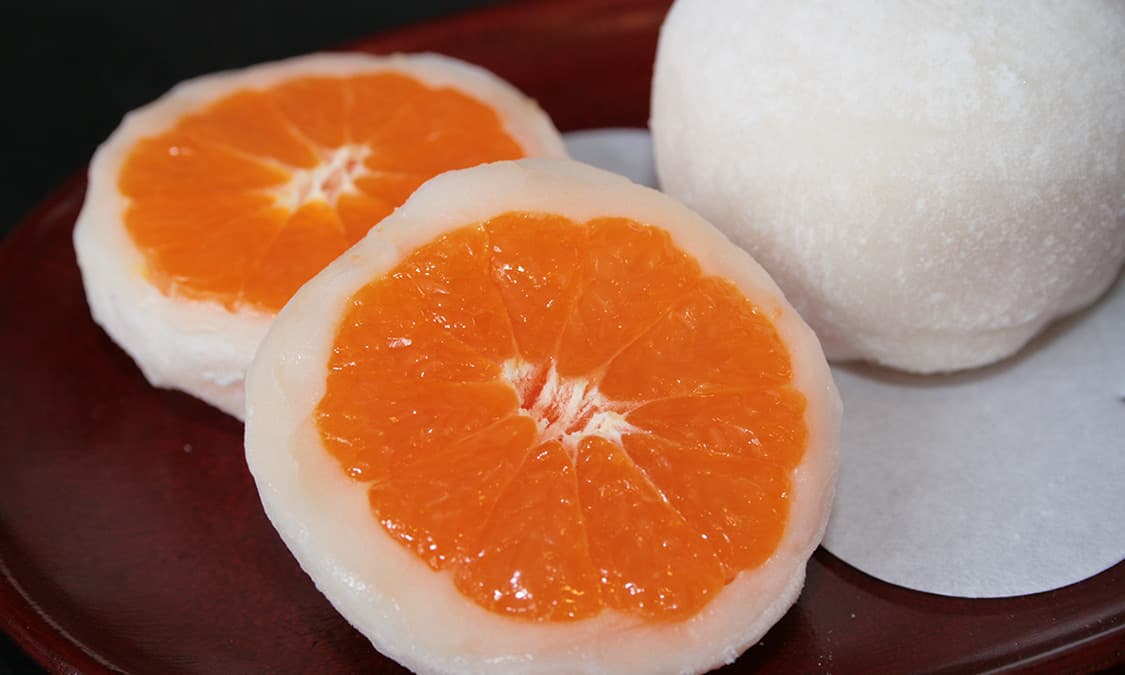 Beni Madonna oranges are an original Ehime variety that you definitely have to try at least once. Enjoy their sweet, tender flesh and jiggly jelly texture. Kanpei have a flat shape and crunchy texture. They're renowned for being easy to eat—you'll find yourself eating an entire bag at once! Both of these varieties are part of Ehime's proud lineup of original oranges.
When you go to Ehime, you just have to bring back mandarin oranges and citrus fruits as souvenirs. Look out for juices, jellies, as well as other delicacies such as seasonings. Each shop has its own original products and you'll have so much choice you won't know what to choose!
Ehime boasts the largest hauls of sea bream in all of Japan and sea bream has been made the prefecture's official fish. Ehime is home to a variety of sea bream dishes, loved by the local populace. In particular, the popular taimeshi (sea bream on rice) is made differently in Matsuyama (Chuyo) and Uwajima (Nanyo). In Chuyo, taimeshi is a local dish made by cooking an entire sea bream with rice in an earthenware pot or rice-cooker. In Nanyo, taimeshi is a fisherman's dish made by marinating sea bream in a special sauce, mixing with seasoning, and eaten on rice. Try both of these variations on taimeshi, each with its own distinct regional flavor.
How about trying out regional cuisine made with locally-reared sea bream that you can only try in Ehime? There are local sea bream dishes that have been passed down for generations such as sea bream somen and Horakuyaki. Then there's the sea bream katsu rice bowl (taireddon) invented by an elementary school student in Ainan. As well as this, in Uwajima, you can enjoy a sea bream burger invented by a female university student and produced by Yusu Fisheries Cooperative. The burger is called "Tabetai Burger," which is a play on the Japanese words of "sea bream (tai)" and "I want to eat (tabetai)." You should definitely try this when you go to Ehime.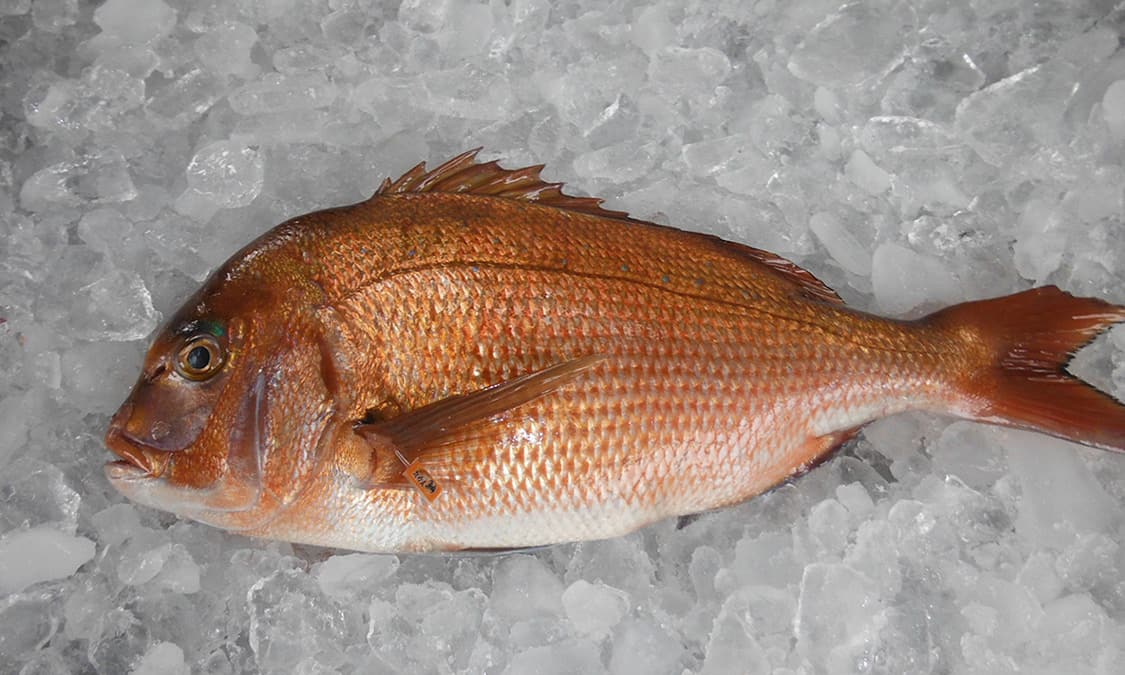 Mikan tai is a type of sea bream fed with mikan (mandarin orange) peel to promote Ehime. It is now a well-known an Ehime brand fish. These farmed sea breams were brought up on feed with orange pulp mixed in. They maintain their freshness excellently and have only a very mild odor. A subtle citrus flavor spreads out across the palate when you eat these fish. Mikan tai goes great with olive oil and eaten in carpaccio style.