At Ritsurin Garden in Takamatsu, Kagawa you can enjoy the diversity of the four seasons through night illuminations of autumn foliage and cherry blossoms, as well as plum blossoms, along with an entire thousand pine trees.
Ritsurin Garden is the largest Cultural Property Garden to have been designated a Special Place of Scenic Beauty by the Japanese government. Successive lords of the Matsudaira clan of the Takamatsu Domain repeatedly restored the gardens as their private retreat, and it was completed close to 300 years ago. This garden skillfully places 13 man-made hills and 6 ponds before the backdrop of Mount Shiun. This circuit-style park from the early Edo period has an excellent allocation of land, rock arrangements, and its rocks and trees exude elegance. A top recommendation is riding on a the Japanese-style boat tour around the south lake, and enjoying the same seasonal garden scenery said to have been enjoyed by feudal lords from the Matsudaira clan from Takamatsu Domain.
The Beauty of the Four Seasons
The flowers abloom the 1,000 spectacular trimmed pines change with the four seasons, with plum blossoms in early spring, and cherry blossoms in spring. With the ever-changing scenery of the park, every step you take unravels a new beautiful view. The park is lit up at night during the cherry blossoms and autumn leaves seasons, allowing visitors to enjoy magical scenery, different to the daytime.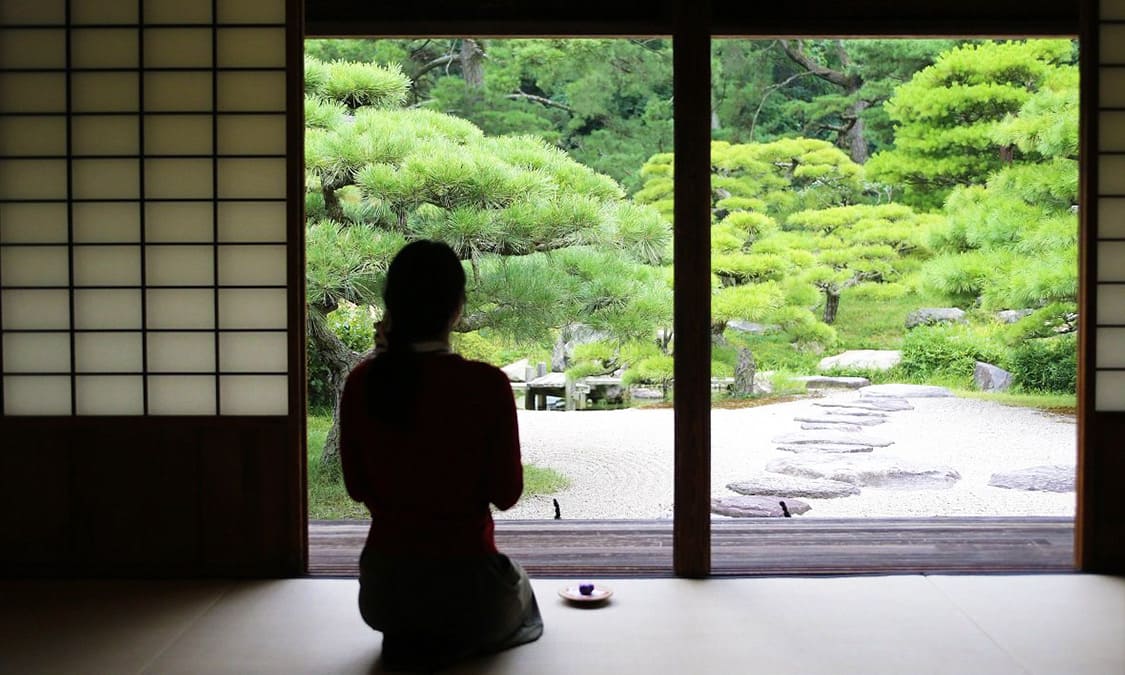 Enjoy Delicious Sweets and Tea While Looking Out Upon the Elegant Garden
The Kikugetsu-tei Teahouse is said to have been dearly beloved by generations of feudal lords. It was built in the Sukiya-zukuri architectural style in the early Edo period, and is the largest of the numerous teahouse-style buildings in the garden, earning it the name "large teahouse."
From the Kikugetsu-tei Teahouse, you can observe the beautiful scenery of the seasons while sipping on matcha green tea and nibbling on seasonal sweets.
The Kagawa Prefectural Produce Shop "Ritsurin An" next to the east gate of Ritsurin Garden sells a wide variety of Kagawa's finest products. Here you can buy traditional craftworks created amid the nature of Kagawa, such as Kagawa lacquerware, and Takamatsu hariko. You can also buy popular and seasonal products such as unique Kagawa goods, Sanuki udon noodles and somen noodles, olive products, and wasanbon sweets.
Location
| | |
| --- | --- |
| Name | Ritsurin Garden |
| Web Sites | https://www.my-kagawa.jp/en/ritsurin/ |
| Address | 1-20-16 Ritsurin-cho, Takamatsu-shi, Kagawa |
| Opening Hours | 7:00–17:00 (Varies by season) |
| Inquiries | TEL:087-833-7411 |