Udon is famous for Kagawa Prefecture, but besides chicken stock, oiri soft, and wasanbon, other ingredients used is olives to enrich the flavor. There is also "Udon Noodle Experience" where you can try to make Sanuki Udon by yourself! You can learn each step how to make udon from the beginning such as "mixing", "kneading", "treading", "extending", "cutting", and "boiling". There's nothing can compete the udon that you made by yourself!
Olive oil is rich in antioxidants such as polyphenols and vitamin E and it attracts people who are interested in beauty and health. Olive's seed was planted at Shodoshima in 1908 and it was 110 years ago. Shodoshima, where for olive cultivation as an industry in Japan, has established the image of an Olive Island. Now, olive cultivation is spread throughout Kagawa Prefecture and the quality of Kagawa olive has been recognized in the world. Many kinds of products and services have been developed to enjoy olive such as tea leaves, cosmetics, and aesthetics made by olive.
"Sanuki Beef", "Sanuki Yumebuta" (pork), and "Sanuki Kochin" (chicken) were raised in the climate of the Setouchi region. Among them, there is variety of Sanuki meats that the animals fed by special feed containing squeezed of Kagawa olives. They are known as "Olive Beef", "Olive Yumebuta (Pork)", and "Olive Chicken". The quality of these meats are the pride of Kagawa, they are very tender with sweetness and savoriness to the fat. Olive Yellowtail, raised on a feed containing crushed olive leaves also so popular! It is praised for being healthy and has a light flavor.
Whole chicken roasted is one of local delicacy. It is usually seasoned with special garlic. There are two varieties flavor: "Oya" is chicken roasted with chewy textured and "Waga" is chicken roasted with soft textured, easy to eat. What could be better than sizzling chicken with cold beer! Stroll down on the street and eat chicken fresh from the oven, you'll be addicted in no time! Just give it a try!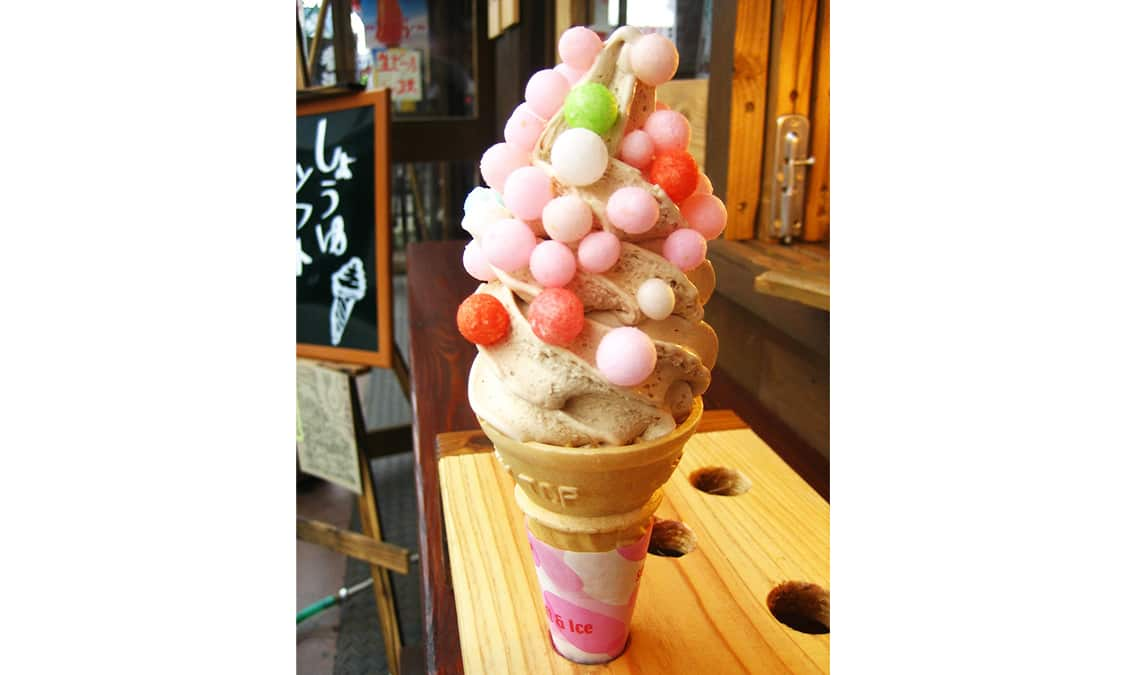 "Oiri" is a traditional rice candy often given in Kagawa Prefecture as a wedding gift that represents happiness. Ice cream and Oiri are a perfect match in term of appearance, texture, and sweetness.
Coarse sugar is made from sugar cane and its crystals polished into a round shape. Wasanbon is a kind of traditional Japanese sugar that has history of over 200 years and made by traditional techniques. They gently melt in the mouth and have a different sweetness, kind of combination between Japanese sweets and Western sweets.