Take a day-trip to Hita Onsen and watching a fireworks festival and cormorant fishing from a popular houseboat
Hita Onsen is a hot spring resort in Hita City, Oita Prefecture, where visitors can enjoy a day-trip hot spring bathing. As well as hot springs, there are also events such as houseboat cruises with Kaiseki-style meals, fireworks at the river festival, and cormorant fishing upon the opening of the ayu fishing season. The hot springs of the Hita Onsen are said to have positive effects on fertility, rheumatism, neuralgia, stress and fatigue. Come and enjoy Hita Onsen in a different seasons to relax your body and mind.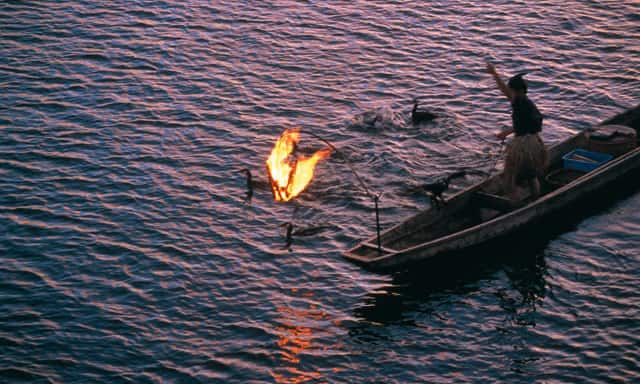 From the opening of the ayu (sweetfish) fishing season on May 20th until the end of October, the amazing skills of cormorant fishermen will be on display. Hita's cormorant fishing, with 400 years of history, is said to have started with Miyagi Chojiro, who became the lord of Hinokuma Castle, brought four cormorant fishermen from the Nagara River in Gifu around the time of retired regent Toyotomi Hideyoshi's reign in 1594. The successive magistrates seemed to have developed great entertainment to protect and nurture cormorant fishing, boating, and eating river fish in every season.
The Hita Onsen Inns are characterized by enjoying dinner and cormorant fishing on a houseboat. The giant fireworks festival is an eye-opening event of the "Hita River Sightseeing Festival" announcing the arrival of early summer, and it is well known for the close proximity of the fireworks to the spectators. In autumn view the moon, and in winter enjoy Nabe cuisine on a Yukimi boat equipped with shoji sliding doors and kotatsu heaters. Enjoy the wonderful variety of boating during each season.
Location
Name
Hita Onsen
Web Sites
http://www.en.oidehita.com/
Address
11-3 Motomachi, Hita-shi, Oita
Access
About 10 minutes' walk from JR Hita Station.
10 minutes' drive from Kosoku Hita IC.
Business Hours
Differs at each location
Inquiries
TEL:0973-22-2036 (Hita City Tourism Association)
Admission
Differs at each location